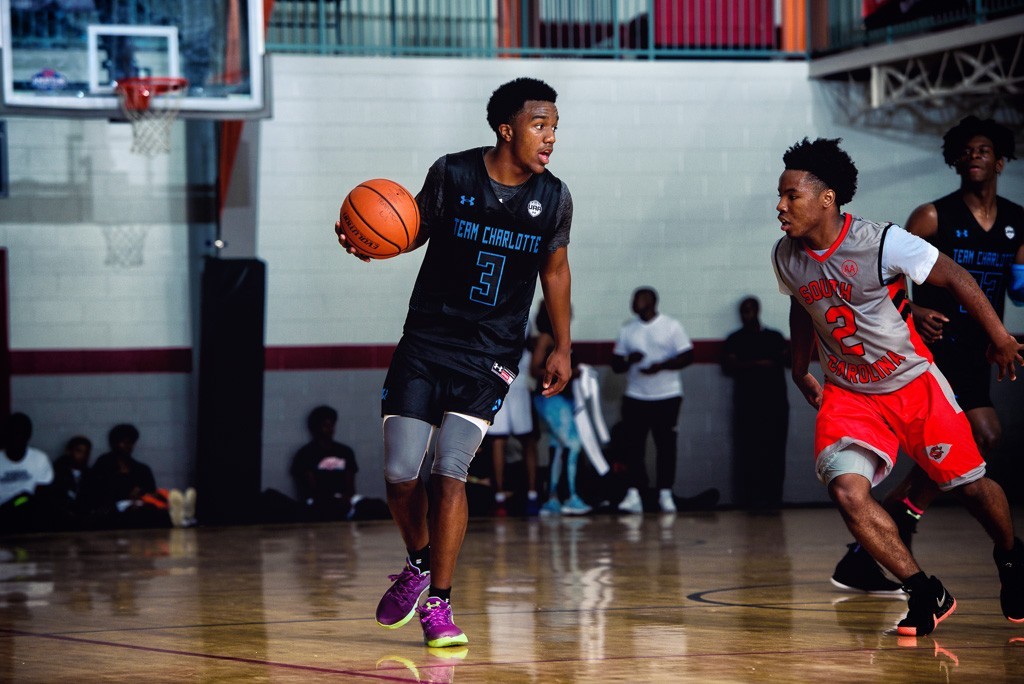 Wednesday marks the first day of the early signing period for basketball players in the class of 2019. Sure, the high-majors get a lot of attention on opening day there are some quality non-major players to take note of. Here's a snapshot of some names to know. 
Hunter Cattoor to Wofford - The Terriers have been one of the best non-major programs in the South under Mike Young since 2009. Why? Because he and his staff continue to evaluate well and land important players for their program. They snagged Fletcher Magee, the best shooter in America, from Florida. They returned to the Sunshine State and grabbed a player who should have a big impact during his tenure in college with Cattoor. He's a versatile guard who can score or beat you with his smarts. Cattoor was an anchor for the uber-successful Team M.O.A.M. program that dominated our HoopSeen platform in 2018.  
K.J. Johnson to Lipscomb - I love a competitor and no one competed quite like Johnson did on our HoopSeen stage in 2018. He's a winner, gets mad when he loses and plays his best games against the best teams. Lipscomb head coach Casey Alexander is a staple at our HoopSeen events and he knows what he is getting with the in-state point guard. Johnson should help the Bison maintain their level of success in the Atlantic Sun. Johnson probably won't start from day one because of returning players to the Bison lineup but don't be surprised to see him log minutes at both guard positions. He's too competitive to not earn time right away. Long term, he's an important player for Alexander and company. 
Chico Carter to Murray State (pictured above) - The Racers have a thing about finding really good guards. With Ja Morant likely leaving after this season for the NBA, the need for a dynamic two guard is there to be filled. Enter Carter. The tough-as-nails guard from South Carolina will certainly be asked to provide quality minutes at the position. He's been battle-tested after playing for the ultra-successful Team Charlotte travel program. Carter was outstanding at our Bob Gibbons Tournament of Champions back in the spring and he's primed for a big senior season. Racer fans are going to love him. 
Dontay King to Charleston - Earl Grant and his staff have a great class coming to town. Brenden Tucker is a prize, says Tai Young, but let's not look past Donta King either. The South Carolina native is spending his senior season at Potter's House Christian in Florida. King, a man child at 6-foot-7, 240-pounds, should come in and play right away for the Cougars. He's an offensive threat and will be a handful in the Colonial Athletic Association from the outset. King is one of the best players no one is talking about in the Southeast.
OTHERS THAT I LOVE: 
Kaleb Coleman to Lipscomb. He was Cattoor's teammate for Team M.O.A.M. and he should see the floor right away in Nashville. Coleman is a do-everything combo forward.

Lance Terry to Gardner Webb. The Atlanta area guard should be a double digit scorer throughout his career at the Big South. 
Colin Kenney to Furman. The Chesterton, Indiana native is a sleeper to take note of if you are in the SoCon. He's a high IQ player with some swagger. 
I wrote about the terrific 1-2 punch of Julius Dixon and Ta'Lon Cooper for Morehad State in my Just a Minute column on Monday. Julius Dixon and Ta'Lon Cooper should be terrific players for the Eagles during their team at the Ohio Valley Conference program.