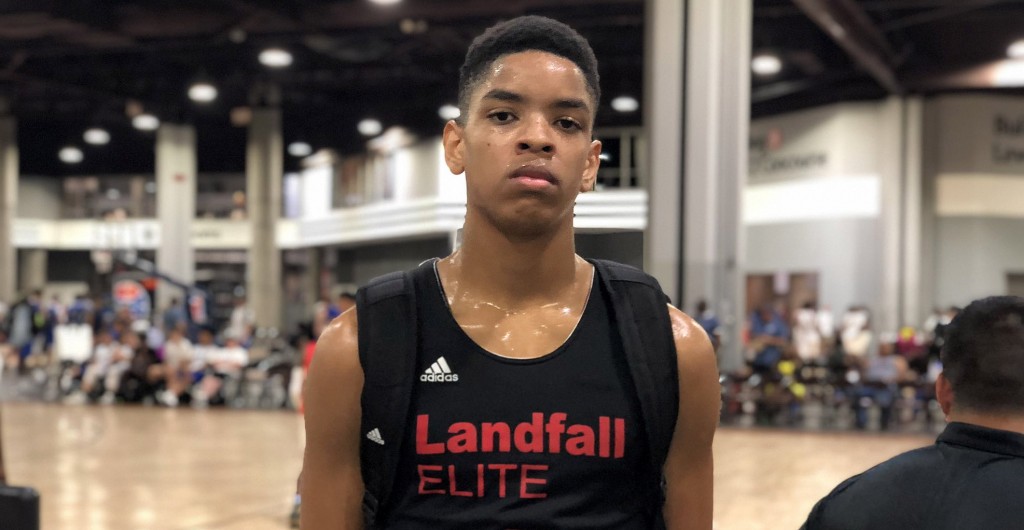 Josh Minott is going to be that player this spring. He's going to be the rankings riser. He's going to be the player who earns big offers. He's going to be the player that is trending after a big NCAA Live Period weekend. 
You can see it coming. 
His coaches know it. The college coaches that have quietly been in to Boca Raton, Florida to see him privately know it. The hoop mavens of South Florida know it. 
It's coming. 
And that is all written with the caution of not trying to overhype something. I failed in that attempt, I know. But sometimes you just have to say it. Minott is rising at the right time. 
The 6-foot-6 wing from St. Andrews School (15-5) is having a strong junior campaign. Minott is 16 points, 7.4 rebounds, 3.8 assists, 1.7 steals nearly a block a game. His game is growing and expanding at a steady pace. 
We saw his game thrive with Landfall Elite over the summer. He and his teammates went 7-0 in the 16 and under division at the 2019 Best of the South. When we saw him again in the fall at the Hoop Exchange event in Orlando, Minott was one of the most intriguing players at the event. 
The budding wing forward is a self-aware young man. He knows that improvement for the level he wants to attain won't come overnight. 
"I've been working all around. I've been working on getting my ball-handling better and my overall guard skills up. I want to develop my aggressiveness around the rim. I feel like my aggressiveness is developing. I've been dunking a lot and elevating above people," Minott said. "I'm really trying to get quicker. I could really use the weight room and get used to that. I'm trying to get my shot better and my overall game." 
His development as a player is coming but Minott said he's also trying to understand the mental approach to the game. 
"My mindset could use a could reshaping. It is always trying to make the right play with my teammates. But recently I've been told I'm being too passive. So, now I need to work on being a more dominant player," Minott said. "Of course, I'm going to continue to keep working on my ball-handling and my shooting. But I feel like I should reshape my mindset. I think I can help my team by becoming a more dominant player." 
A number of college coaches see the player he can become. A half dozen schools have already offered a scholarship. Minott said he holds offers from Dayton, Rice, Florida Gulf Coast, Florida Atlantic, North Texas and Stetson. 
Coaches from Baylor, Miami, Memphis, Oklahoma and Virginia Tech have been in to see him, Minott said. Central Florida, Clemson and Georgia are also involved. 
Minott said Dayton saw him in Puerto Rico when he played for the Jamaican junior national team at the FIBA Centrobasket 17U tournament.  The Flyers liked what they say and offered him early. Recently, the school brought him up to Ohio for an official visit, his first of his recruitment. 
"It went really well. They were really welcoming. I ended up seeing their exhibition game. The environment at Dayton was really nice. That's one thing in college that you just cannot match. Everyone in Dayton knows about the University of Dayton's basketball team."
Naturally, the Flyers showed Minott the path they have taken with their star player Obi Toppin. 
"Funny enough, when they were showing me their weight room, they showed me before and after pictures of Obi. I'm not knocking him or anything," Minott laughed, "but he was pretty skinny his freshman year. If you look at his development now, dude is scary. Scary…I know for me personally that I'm not the most buff person out there but it showed me that there is the potential in terms of weight and strength." 
Minott said he will take more visits in the future and he likes the direction things are moving in his recruitment. But his purposes are elsewhere this time of the year. 
"I'm really just focused on the season. I'm not looking at (recruiting) right now. I'm just trying to become the best player I can be. There will be a time for decisions. The best thing I can do to increase my player stock is just keep working on my game," Minott said.