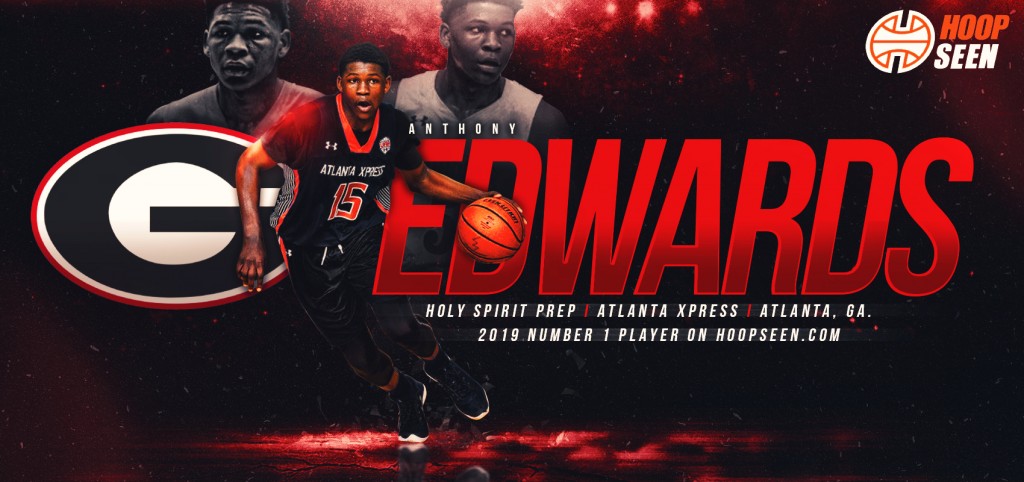 ATLANTA, GA - Anthony Edwards is headed to the University of Georgia. The nation's number one player announced his decision to stay in state on Monday morning at a press conference in the gymnasium at his school Holy Spirit Prep. 
Edwards is the highest ranked player to ever commit to the Bulldogs for basketball. Ever. 
Georgia head coach Tom Crean has made Edwards a priority since the first day he got the job in Athens. When Edwards announced he was prepared to return to his original class of 2019 graduating year, Crean doubled-down and went hard after Edwards as Holy Spirit played all over the country. Crean was usually on hand to see the McDonald's All-American play. 
Edwards also strongly considered Florida State. 
Edwards is the epitome of what the modern day professional shooting guard is all about. He's a scorer at all three levels and can play multiple positions with power, athleticism and full bore energy.
His journey to the No. 1 overall position and to the University of Georgia has not been an easy one. Starting high school at Atlanta's Therrell High School, Edwards made a steady climb from a talented underclassmen to the best overall player on the Under Armour circuit.  
Edwards has written several chapters of his story at HoopSeen events. He was a top performer as a 15U player at the Bob Gibbons Tournament of Champions. Just this past spring, he was the top overall performer at the historic tournament. 
Edwards was also a Best of the South All-Tournament selection from our July NCAA Live Period event in 2018.