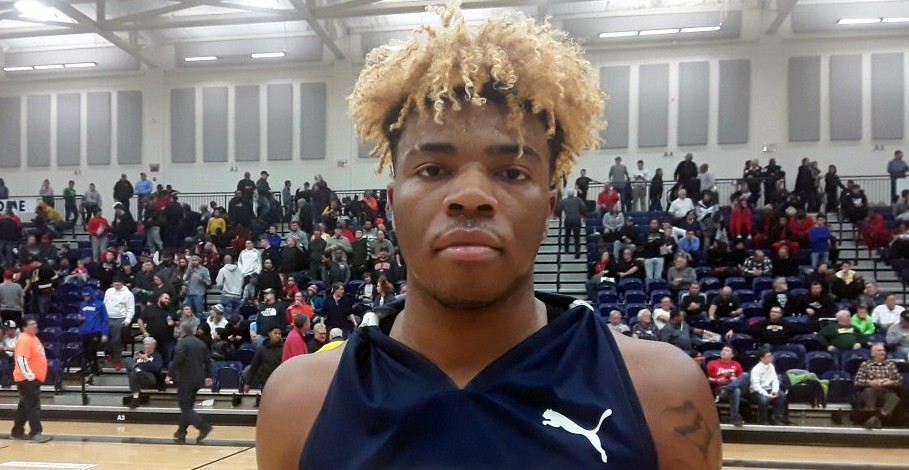 Dayton, Ohio - Thirty seven teams from all over the country came to Dayton Ohio for this years nationally ranked event, Flying to the Hoop. The snow altered, but did not shut down the teams plans to battle it out on the hardwood. In today's notebook I take a look at some of the five star prospects and those that have yet to establish a name for themselves. With so many talented prospects under one roof, the need to hand out some awards was too much to overcome.  
The signees standout
There are players that show up for the fans and then there are those fan favorites that show up for the win. Naim Miller stepped onto the court with one thing in mind, and that was to head back to Pennsylvania with a mark in the left side column. Mount St. Mary's is going to love what he brings to the table as a tough nosed guard that's capable of sliding across different positions defensively. Offensively, he answered when called upon scoring from both the inside and out without wasting to much time and effort. Despite his 24 points, his scoring is a plus as he looks to have a lot of the intangibles needed to positively impact a program's culture. All things point to a solid four year career as Miller heads to the Mountaineers.  
One person who's game was not even affected by the weather in the slightest sense was Xenia guard Samari Curtis. The Cincinnati signee scored from all three levels and provided some of the events best possessions. Some guys are just wired to score and that's the case here with Curtis. The schools all time leading scorer owned the local crowd. 
I'm sure Danny Manning is looking forward to integrating his new Canadian playmaker whenever he makes it to Wake Forest. Crestwoods Jahcobi Neath lived in the paint, showing off his explosiveness and ability to finish in a multitude of ways. Wake Forest didn't have to engage in a heavily contested battle to snag him as they were Neaths only ACC offer at the time. As time goes on, the homework they put into Neath could pay off after some time spent on the court. Neath's a competitor thats going to leave it all on the table for the Demon Deacons. 
CJ Walker was his usual self for Oak Ridge as he punished smalls and exploded past bigs. One thing is for sure and that is he fits the way the game has trended over the past few years. Watching him soar for rebounds and fly around defensively was almost as impressive as his sheer athleticism. Oregon is going to squeeze every once of juice that this competitive spirit has in him. 
Steve Demeo and the Northwest Florida staff stretched out far and wide for their most recent commitment out of Ohio. Garfield Heights forward Brison Waller made the most of his length defensively as he altered both jumpshots and layups alike. There's enough upside there to take note of as he improves through the junior college grind. 
Despite not being a major contributor on the final box, Louisville signee Quinn Slazinski found a way to make an impact on the defensive end. A few of the games final possessions were impacted by his willingness to defend, giving Huntington Prep the win over Bella Vista Prep. Chris Mack and company will make use of his toughness.
Best Shooter: Eman Sertovic's six three's kept Bella Vista in play as he provided the teams best lead cutter as a floor stretcher. There's no hesitation when open, and he made the most of what little daylight he saw. You'll envy his swagger in confidence in himself as a shooter as you know the ball is going up before it touches his hands. Despite defenses knowing that, Sertovic is was still able to wiggle himself free for a number of high quality makes. Still looking for his first division one offer, Sertovic could be a quality option for those looking for a distance shooter. 
The close second place finisher for best shooter was First Love(PA) guard Jett Roesing. With Naim Miller and DJ Gordon setting him up, Roesing made use of off ball screens to spring his self open repeatedly. From a stand still, his percentages are more than favorable and his mechanics will show you why. Currently holding a Central Connecticut State offer, more will soon get involved with the 6'3 shooter.  
Best Player: The 180 done from Saturday to Sunday was special as Terry Amstrong appeared to be a completely different player on the third day. A minor hamstring injury kept him bottled up but once back to his regular self, he poured in points at a rapid pace. There wasn't a more dynamic player on the court during the bombardment of posessions that the Arizona signee  kept for himself. Dunk after dunk earned him 30 points in what was just another one of his impressive showings this season.  
AJ Hoggard did himself a couple of favors with the way he performed this weekend. In transition he shined as he taught several defenders to wrap him up should they choose to foul him. And one's are a contanst possibility as his size, strength and aggressiveness tends to turn away timid defenders. Hoggard was the catalyst is in the teams runs as both a scorer and distributor. The case could be made that Hoggard was one of the events best 5 players. 
Best Sophomore: Kalen Etzler left a long lasting impression as one of the games best young talents. The 6'8 sophomore dazzled in spurts as he displayed his feathery soft jumpshot. There's several mid to high majors that have showed early interest so far, and don't be surprised to watch his recruitment skyrocket when schools are allowed to make contact. 
Strong @FlyinToTheHoop performance for Kalen Etzler as Crestview tops Minster 71-63. The 6'8" sophomore wing had 23pts, 5reb, 2ast, and 4blk

Full game replay: https://t.co/4eYcSZ1E0H@kalen_etzler24 @CVKnightsSports @CoachB2003 @VWindependent @tbsports#FTTH2019 #SUVtv #ABACE pic.twitter.com/Ba6Fs0L6w9

— SUVtv (@SUVtv) January 20, 2019
Young bigs that deserve the limelight
There will be more to follow this brief mention of Centerville forward Mo Nije but there's no harm in a slight precursor. The junior forward impressed with his magnetlike hands and ability to score from the low block. Like most prospects in the 2020 class there is room to improve but as I look ahead to six years from now, the ending product could vastly differ from what was shown on Saturday afternoon. All signs point towards Nije becoming an sought after prospect at the high major level. 
ISA at Andrews(OH) has a crop of young talent that had some terrific moments despite the lopsided score of their game against Bella Vista. Former Hamilton Heights forward Keaon Ambrose is coming into his own but its Charles Bediako that will cause high majors to day dream. His play got better through all four quarters and as time goes on, there's potential there for the high majors to get involved. Despite being only a sophomore, one could only assume that the regions high majors have taken notice of the 6'10 forward. Freshman guard Jaden Clayton played far from that of a freshman. By year three, his name will be featured in the Flyin to the Hoops event program. There will be no lacking of suitors.  
Best Sleeper: One of the major stock risers from this weekends action was Taft product Nehki Smith. 29 points and 10 rebounds is not a stat line that comes easy and can only be accomplished by a player that competes for the games entirety. Smith has a ton of things working for him on the hardwood. His frame is the best starting point as he appears to have already spent time in a college level strength and conditioning program. Secondly, he's a 6'5 lefty that doesn't need very much daylight to make teams pay from the perimeter. Several division one programs are involved in his recruitment but as he develops his ball handling, another layer of his game could be unvieled.
Earlier this season, Greg Tribble played his way on to my high major watch list and since then there's been no disappointment. The Ohio native played with purpose and provided solid production when asked to do so. The chip on his shoulder is a large as they come. The former Winton Woods guard made a statement in his home state.  
Best Freshman: If you haven't taken the time to watch Butchel guard Chris Livingston then I advise you to do so as soon as possible. As a freshman, Livingston has an array of advanced tricks that some seniors could only begin to dream of. For as impressive as he is offensively, he's no slouch on the other end as his length allows him to alter passes and contribute on the glass. I can't wait to watch him as a final product. 
Final Thoughts 
Guys like Centerville guard Ryan Marchel just know how to get stuff done. There's value in things that can't always be measured. Big moments were no deterrent as Marchal stepped up when called. 
I tend not to loosely use the word "steal" in regards to any commitments that a staff worked tirelessly to secure. But it's a fitting word to use when looking at the signing of Minster forward Jarod Schilze to St. Francis(IN) The 6'9 forward worked block to block, scored over both shoulders, and showed strength in the paint when needed. St. Francis should make good use of his back to the basket skill.
I maintain that Lipscomb signee Kaleb Coleman is going to have a productive career in the ASUN. He may not be the one to shatter school records but he will be at the podium for the teammate that he helped break a few. His game translates well into the win column. 
Our Best of the South on July 11-14th will be the biggest live period event in the country. With 35+ courts under the same roof, we will be the premier destination for college coaches and top non sponsored teams. For more information, click here.

In July, you must get it right.