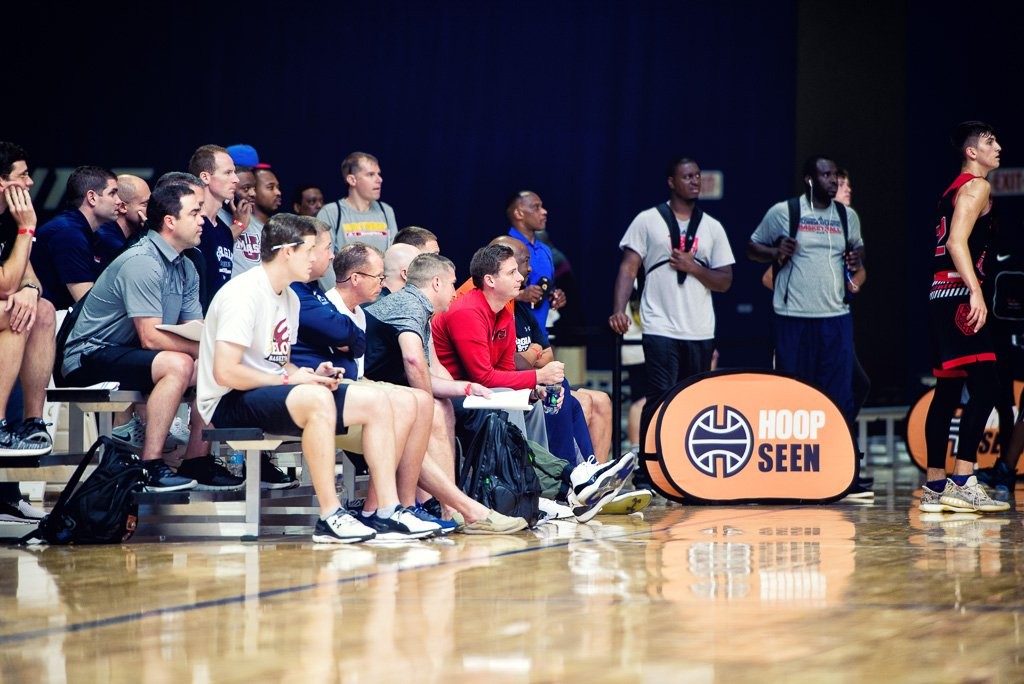 With today being the official start of college basketball's early signing period, I look to answer a few questions that still remain about Georgia's 2019 class. So far, there are 35 players in the state that have given their respective programs an early commitment so far. There have been surprises, major splashes and a host of talent that is still looking for homes. All of this and more will be covered below.
Which college has the best Georgia-flavored recruiting class in 2018? The obvious answer to this one is Auburn. They are adding two nationally known names in Brantley county forward Jaylin Williams and McEachern wing Isaac Okoro. Not only is Auburn the one of only two programs to gain two commits out of Georgia, the names that they added are players that seamlessly fit with what has been established. There seems to be a pipeline created from the peach state to Auburn's campus as currently four of Pearl's starters all hail from Georgia. Both are tough-minded players that fit with the culture that Bruce Pearl has cultivated over the years. Justin Young had more to say in this weeks Just a Minute segment. 
Which signing will help right away? I'm torn on this one. The two guys that come to mind are Wheeler forward Malachi Rhodes and Lincoln Academy's Moulaye Sissoko. Both are players with great floors that seem to grasp a lot of the game's nuances that a some of freshman don't. Both players can provide in their programs with a tough interior presence that's often found on winning teams. Despite the constant development in the way the game is played, one thing that most coaches agree on is that rebounding matters. Either guy may not snatch down double-digit totals as a freshman, but they could lift the intensity and effort of those around. Program guys are essential to any roster that's looking to go to the next level.
Which signings do you like the most from this class? One commitment that I felt really went unnoticed was McKenzie McFatten's decision to stay home. Georgia Southern is getting a bright smile attached to a developing talent that hasn't scratched his surface. His development has been a steady one for those that closely watched him with Team Power over the spring and summer. In a class that doesn't have a ton of size (if any class ever does), McFatten is one of the forwards that has the most well-rounded game. If all goes as planned, coach Byington could have a face that helps him keep the mid-major south Georgia's prospects from venturing away from home.
Was there a commitment that shocked you? Did I think Devin Butts was going to Georgia State? Yes, at some point I did. But I don't know if I would consider that one a total shock. Butts spoke on his relationship with coach Ben Howland but overall I think the chance to play in the SEC was probably too much to pass up. The one commitment that shocked me the most was probably Brenden Tucker to the College of Charleston. And that's no disrespect to their program. In fact, it's a nod to the fact that head coach Earl Grant and company came to Georgia to steal Tucker away from several high major programs. Sometime in August, Tucker released his top seven list that had Georgia, Virginia Tech, and Auburn as some of his suitors. When the decision to commit to the College of Charleston was announced, I remember saying wow to the news. For a non-major program, the commitments of Tucker, Deangelo Epps, Donta King, and Trevon Reddish would put them at the top of any commitment ranking list that I could put together.
Are there any anecdotes with this class that jump out to you on the first day of the early signing period? I'm surprised by the amount of Division 1 size and talent that Georgia still has on the board. Ibrahima Jarjou, Tay Watson, Issa Muhammad, James Glisson, Brady Spence, and Nathan Presnell are all members of our top 50 rankings. It wasn't even until this past weekend that Tucker's Nathaniel Ogbu got snatched up by Dartmouth. Also, there's an interesting stat that caught my attention. This time last year, of the 35 players that were committed at this point, 10 of them were going to non-division 1 programs. This year? I can only think of one and that's Burke County forward Jaleel Roundtree to Fort Valley State. I wonder if last year was just an outlier, as many players try to find Division 1 scholarships before opting to go other routes. Regardless of the reason, its just one of the things that stood out during this early signing period.