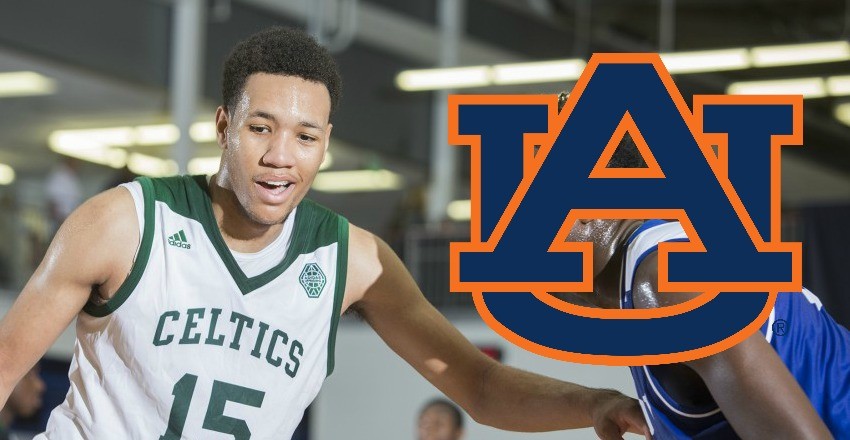 The football program at Auburn isn't the only sport at the SEC school that is capable of racking up top of the line talent. Bruce Pearl and his staff currently sit at the top spot within the 2017 HoopSeen class rankings but today, the Tigers got a step ahead in 2018 by landing the verbal commitment of EJ Montgomery.
A long and slender bodied power forward, Peal and his staff immediately made the Sunshine State native a priority recruit upon being hired a few years back. His sister, Brandy Montgomery, is a rising senior on the women's team, something that definitely didn't hurt the cause in the luring of the top-50 forward to the SEC program.
After attending Montverde Academy in Florida last year, Montgomery recently transferred into Wheeler High School in Georgia, a locale that the Tigers coaching staff have had great success in recently. Two of their commits from the 2017 class, Chuma Okeke and Davion Mitchell, call Atlanta home, an area that is rich in talent in any given year.
Entering his junior year of play, Montgomery is one of the more skilled and well-sized power forward prospects from within the 2018 class. Most comfortable facing the basket rather than playing with his back to it, the Wheeler High product is someone that can really pass the basketball as he flourishes from the high post setting and from the short corner regions on the floor. He brings ideal instincts to the offensive glass and has a sturdy intermediate jumper that the lefty is more than happy to get off.
The first commitment in the 2018 for the crew at Auburn, expect for Bruce Pearl and his staff to raid the Peach State further and in doing so, attempt to grab another recruit from the 2017 class in cementing its case for a top-five group when things are said and done with.