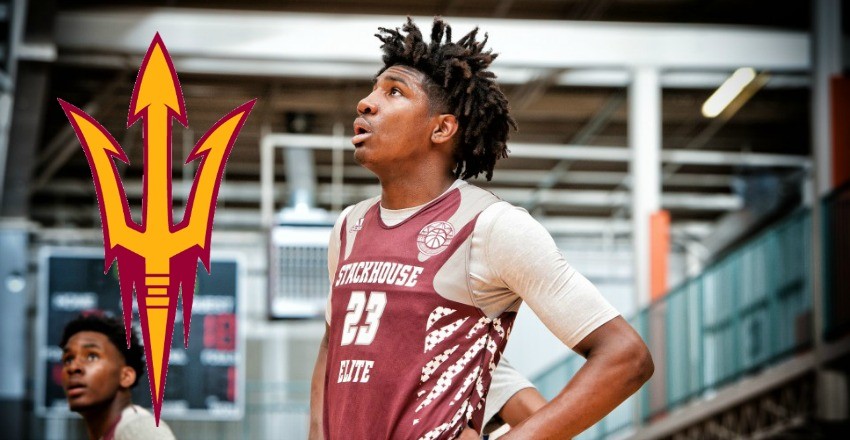 While a lot was being made about the commitment of Marques Bolden on Thursday, Arizona State snuck in and nabbed one of the best big men left on the board in Romello White. The 6-foot-9 center, who was previously committed to the old staff at Georgia Tech, gave his verbal commitment to Bobby Hurley and his ASU basketball program.
The number-73 ranked prospect within the HoopSeen 2016 Rankings, White brings immediate value and should contribute right off the bat in Tempe next season. A very hard playing and energy giving big man who does great work on the glass and can move his feet defensively in guarding the high ball screen, Sun Devil fans need to be excited.
After visiting the Pac 12 school last week, White called it a day with his recruitment. Joining two others in his class in the fall, the Wheeler High standout should create a killer duo down low between himself and top-100 big man Jethro Tshisumpa. The two 2016 bigs will cause havoc on the glass, in protecting their basket, and further, allow for their guards on the perimeter to get after it and take chances in the passing lanes as they know they will have two tremendous shot blockers on the back end.
The third member of the class is another top-100 prospect coming in the form of 6-foot-6 wing Sam Cunliffe. The west coast recruit is known for his sharpshooting skills but has also developed some ball skills in facilitating for his team within the half-court offense.
In the end, Arizona State will continue to scour the transfer market in attempting to hit one more home run but the commitment of Romello White should bring further muscle and toughness within the interior immediately come this winter.