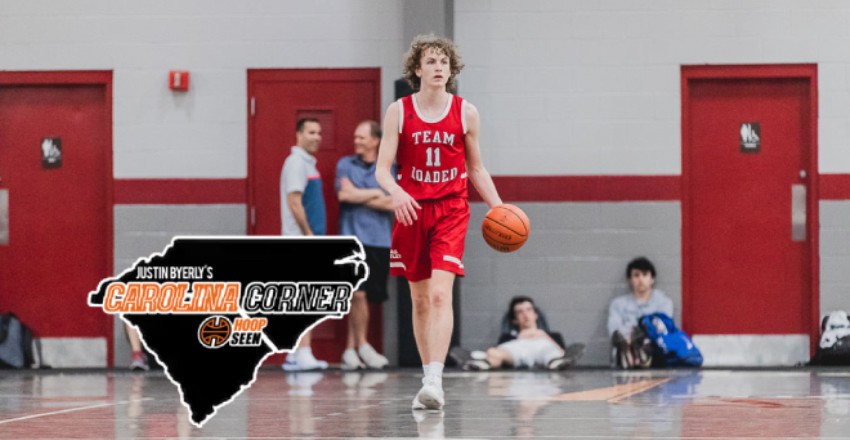 In this week's Carolina Corner we take a look at some coaching changes in Winston-Salem, D'Marco Dunn lands another big offer, Carter Whitt picks up two SEC offers and more.
CHANGES IN WINSTON-SALEM
GOULD TAKES OVER AT QUALITY EDUCATION ACADEMY
Winston-Salem Prep has been one of the most dominant programs in NCHSAA basketball over since 2004. The Phoenix have won six titles dating back to 2008.
Head Coach Andre Gould has been a staple of the program that has sent players to play college basketball at schools such as Wake Forest, East Tennessee State, Miami and Georgia Southern.
Gould announced this week that he will be the new head coach at Quality Education Academy in Winston-Salem. He will be taking over the spot vacated by former head coach Isaac Pitts. Quality Education Academy is in the CAASC Greater Piedmont Conference and is sanctioned by the CAASSC. Gould said they are in the process of getting into the NCISAA.
His whole staff is coming with him to Quality Education. In regards to the schedule they will play, "We are taking care of the home base first and then play best of the best. Not shying away from anyone. Never did it before not doing it now. Which in turn helps the school out. Not getting caught up on names."
Gould also stated that "New challenges, and liking what they are doing education wise, doing a great job with African-American students," as to why he decided to take the job.
LOWE TAKES OVER AT WINSTON-SALEM CHRISTIAN
Antonio Lowe, the former head coach at Moravian Prep which was considered the top independent team in the state last season has taken over head coaching duties at Winston-Salem Christian. Lowe is part of the Team Loaded NC, Adidas branded AAU program and is known for bringing talent wherever he is at. Last season Lowe had a Moravian Prep roster that including Josh Hall, NC State signee Shakeel Moore, UNC-Wilmington signee Jamarhi Harvey and Southern Mississippi signee Javarzia Belton.
At Winston-Salem Christian, Lowe has already brought in some players that are attracting some major college attention. 6-foot-7 wing Daniel Nixon who played this past travel season with Team Durant and recently was offered by Georgetown has transferred in along with 6-foot-4 guard Quante Berry who holds offers from ETSU, Florida, South Carolina, Rhode Island, Vanderbilt and more.
CARTER WHITT PICKS UP TWO SEC OFFERS
The number two ranked player in the HoopSeenNC class of 2021, Carter Whitt has picked up offers from Alabama and Arkansas today. The 6-foot-2 point guard from Leesville Road High School in Raleigh has became one of the more sought after guards in the country with his play during last summer as a part of Team Loaded NC.
He announced his intentions to run with Team Thad back in April before the COVID-19 crisis. Whitt was named to our Bob Gibbons Tournament of Champions All-17U Tournament Team last May.
The list of schools that have now offered Whitt stands at twenty-plus.
DUNN PICKS UP ANOTHER BIG OFFER
One of the hottest prospects in North Carolina, D'Marco Dunn picked up an offer from Arizona today.
The class of 2021, 6-foot-4 guard out of Westover High School in Fayetteville has reeled in offers from North Carolina, Vanderbilt, Louisville, Wake Forest, UNC-Greensboro, Maryland, Texas, Xavier, Clemson, Marquette, South Florida and Appalachian State. He averaged nearly 21 points per game this season in North Carolina.
Originally from Tucson, Arizona, Dunn lands his first offer from the West Coast.
He recently helped lead Westover to a NCHSAA 3-A co-Championship with the COVID-19 virus cancelling the state championship games.