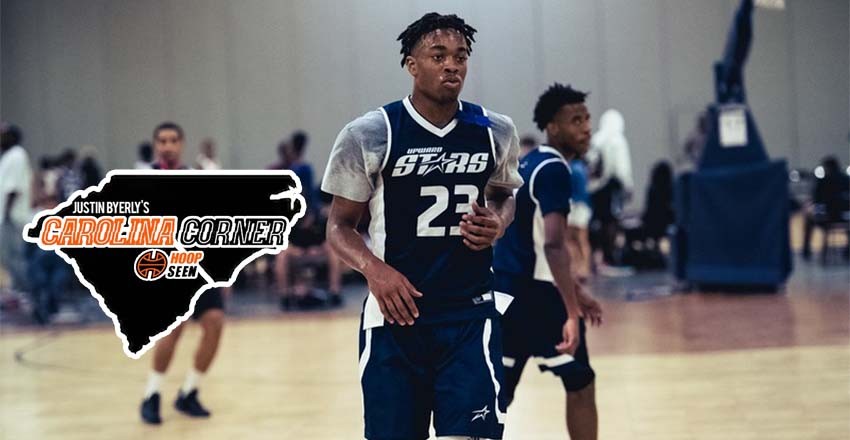 Here we are in the middle of April and I haven't watched a live basketball game in person since the Western Regional finals in Hickory, North Carolina on March 7th.
The last few weeks of March and into April are the busiest time of the year for people like me in this profession. What has kept me busy during this time is the transfer market for players who are linked to North and South Carolina.
In this week's Carolina Corner we take a look at WNC's best unsigned senior, Justin Amadi decides, a couple of Carolina seniors make decisions, a look at the pipeline Florida State has in North Carolina and more.
Freeman is Freedom's Next College Player
Last year, Freedom High School was led by Fletcher Abee who is now at The Citadel. Fast-forward one year and James Freeman was one of the reasons for the continued success that the Patriots have had this year.
The 6-foot-4 guard averaged 19.5 points, 7.5 assists and 6.8 rebounds per game. He helped lead Freedom High School to the finals of the NCHSAA 3-A state title before it was canceled amidst COVID-19 worries.
One of the stats that stood out for Freeman was his ability to not turn the ball over, averaging a 3.53 assist to turnover ratio.
Playing in Western North Carolina, Freeman wasn't able to showcase his game in front of numerous scouts and other forms of media during the season. He has offers from Lees-McRae at the Division II and Brevard College at the Division III level and offers from Caldwell Community College and Louisburg Junior College at the JUCO level.
Amadi Going with James Madison
One of the most athletic players we saw on the HoopSeen stage this season was Justin Amadi for the Upward Stars program. The 6-foot-6 jumping-jack was a thrill to watch and would leave the crowd wanting more after ever rim-rattling dunk.
Amadi was the third piece to a brilliant Dorman High School squad this season which also featured seniors PJ Hall (Clemson) and Myles Tate (Butler). Amadi was a difference maker on the offensive side of the ball as well as the defensive side with his ability to change the game by blocking shots and rebounding.
Amadi had offers from Presbyterian, USC-Upstate, Charleston Southern, Coastal Carolina, North Texas, Nicholls State, Ball State, Kent State and Missouri State before choosing new head coach Mark Byington and James Madison.
Amadi was named one of our Top Overall Performers at our season-ending Best of the South in downtown Atlanta.
UNC-Wilmington Adds Another
New Head Coach Takayo Siddle has added another of the state's top unsigned guards with Jamahri Harvey choosing the Seahawks late last week. Harvey joins JaJuan Carr from Pender High School and St. John's transfer Ian Steere over the past two weeks for the new staff.
Harvey was a standout with NC State signees Josh Hall and Shakeel Moore from Moravian Prep, considered one of the top teams in the Southeast from top to bottom. The 6-foot-4 guard can score from all spots on the floor and knows how to get the ball in the right hands on the offensive side. Coupled with his offensive game, Harvey showed signs of being able to defend at the next level in multiple games we saw him play this season.
Ballard Chooses Florida State
Florida State Head Coach Leonard Hamilton was born in Gastonia, North Carolina and attended Highland High School and played at Gaston Community College for two seasons. His connections to North Carolina have led Fayetteville's Michael Joiner, Charlotte's Ian Miller, Raleigh's Anthony Richardson, Cherryville's standout Terry Whisnant, Greensboro's Montay Brandon, and West Charlotte's Patrick Williams to Tallahassee.
His connections to the state this week also helped him land 7-footer Quincy Ballard from Quality Education Academy in Winston-Salem, North Carolina. Ballard, originally from Syracuse, New York recently picked up offers from North Carolina State, Maryland, Cincinnati and hometown Syracuse jumped on board.
NC/SC Transfer List
| | | |
| --- | --- | --- |
| Player  | Old School  | New School  |
| Andy Pack | Elon |   |
| Alex Caldwell | SE Missouri State |   |
| Asanti Price | Georgia Tech |   |
| BJ Mack | USF |   |
| Cartier Diarra  | Kansas State | Virginia Tech |
| Cam Allen | UC-Bakersfield | Towson |
| Charles Minlend | San Francisco | Louisville |
| Chevez Goodwin | Wofford | USC |
| Chris Martin | Presbyterian  |   |
| Cress Worthy | UNC-Asheville  |   |
| Damari Paris | Eastern Michigan |   |
| Davion Mintz  | Creighton | Kentucky  |
| DJ Myers | Western Carolina  |   |
| Dontarius James | Xavier |   |
| Dontrell Shuler | Charleston Southern |   |
| Gabe Bryant | Gardner-Webb |   |
| Gerrale Gates | New Orleans |   |
| Harrison Curry | Detroit |   |
| Ford Cooper | Missouri State |   |
| Ian Dubose | Houston Baptist | Wake Forest  |
| Ian Steere | St. John;s  | UNC-Wilmington |
| Isaac Suffren | Lafayette | Howard |
| Isaiah Wilkins | Virginia Tech |   |
| Jalen Harris  | Arkansas | Georgetown |
| Jalen Johnson | Tennesee | ETSU |
| Jairus Hamilton | Boston College | Maryland |
| Jamarius Burton | Wichita State | Texas Tech  |
| JC Tharrington | App State  |   |
| Jordan Bruner | Yale | Alabama |
| Justyn Hamilton | Temple |   |
| Keishawn Brewton | Coastal Carolina |   |
| KC Hankton | St. Louis |   |
| Kody Shubert | Presbyterian  |   |
| Madison Monroe | Oakland |   |
| Mike Wynn | Wake Forest |   |
| Quan McCluney | College of Charleston |   |
| Qon Murphy  | Houston Baptist | New Hampshire |
| Quentin Jackson | Temple |   |
| Raquan Brown | New Orleans |   |
| Rayshawn Neal | SC State |   |
| Stephen Edoka | UNC-Asheville |   |
| Tahj Small | Troy |   |
| Trey Wertz | Santa Clara | Notre Dame |
| Trey McGowens | Pittsburgh | Nebraska |
| Trey Murphy | Rice | Virginia  |