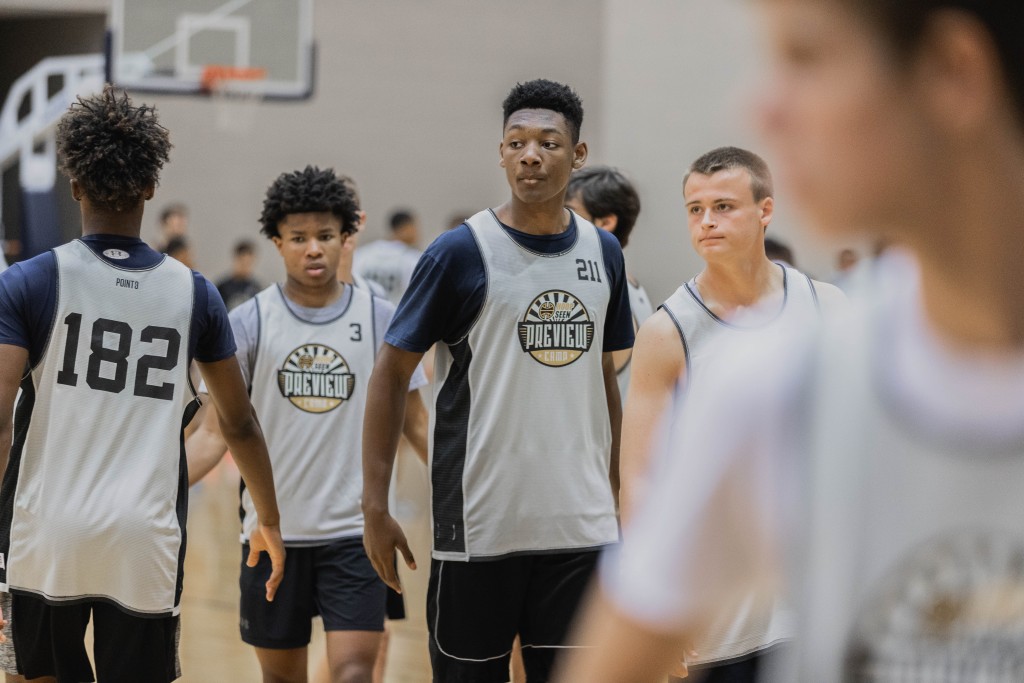 The high school season in North Carolina has tipped off with both classifications (Public and Private) now having played regular season games. Basketball season is here. 
Season Opening Thoughts 
It's very early but, Raleigh (NC) Millbrook out of the East is looking like the team to beat in the 4-A ranks. Even with New Mexico signee Nolan Dorsey out with injury, Millbrook dominated Heritage HS in all aspects of the game and won convincingly 85-67 behind 30 points and 13 rebounds from 2021 forward Will Felton. 2021 teammates Eric van der Heijden scored 10 points and Jaylen McCoy added 14 in the win. 
Charlotte (NC) North Mecklenburg is looking like the team to beat in the West for the 4-A state title. Georgia Tech signee Tristan Maxwell scored 21 points and Robert Morris University signee Trayden Williams scored 17 points in the season opening win over Charlotte (NC) Independence 79-55. 
Top Performers from the Week 
2021 forward Will Felton of Raleigh (NC) Millbrook High School scored 30 points and had 13 rebounds in a win over Raleigh (NC) Heritage High School last night. Felton was a top performer at our HoopSeenNC Fall Preview. 
2020 guard Tyrece Thompson of Asheville (NC) High School dropped 39 points against Hendersonville (NC) High School in a loss last night. 
2020 point guard Lee Langstaff followed up his 31 point outburst against Carmel Christian with 23 points last night in a big win over Bethel Christian Academy. USC-Aiken and Holy Cross have reached out to the senior after his big scoring week. 
2020 wing Reggie Raynor had 31 points and 8 rebounds for Fayetteville (NC) Northwood Temple in a win over New Life Christian Academy. 
2021 guard Carter Whitt had a triple-double of 19 points, 11 assists and 11 rebounds for Raleigh (NC) Leesville Road last night. 
NC State signee Cam Hayes had 16 points and 9 assists for Greensboro (NC) Day in win over The Burlington School. 
VCU signee Josh Banks scored 23 points for Charlotte (NC) Olympic last night in a win over Charlotte (NC) Garinger. 
Ranking the State 
North Carolina has always been a hotbed for basketball and sometimes the recruits end up outside of the state and sometimes the top talent stays home. I take a look at the programs in North Carolina and rank them based on their recruiting hauls this signing period. 
1. North Carolina - A huge class of Roy Williams signing three 5-stars in Day'Ron Sharpe, Caleb Love and Walker Kessler. The Tar Heels also secured the signings of RJ Davis and Puff Johnson to round out the five-man recruiting class. 
2. Duke - Coach K has pulled in another top-two nationally ranked class with 5-stars DJ Steward, Jalen Johnson and Jeremey Roach followed with Mark Williams, Jaemyn Brakefield and Henry Coleman and Duke has it's next round of fabulous freshman. 
3. NC State - This is Kevin Keatt's biggest recruiting haul. He landed 5-star Josh Hall, Camren Hayes, Shakeel Moore, Nick Farrar and Ebenezer Duowana. 
4. Wake Forest - Danny Manning secured the signings of Djimon Bailey, Jaylon Gibson, Quadray Adams and Marcus Watson. A strong four-man class headed to Winston-Salem. 
5. Charlotte - Head Coach Ron Sanchez pulled in some homegrown talent for his second recruiting class. First off is Davidson Day (NC) guard Jackson Threadgill who chose the 49ers over Georgia and Wofford. Sanchez also pulled in 6-foot-8 forward Jordan Garcia from Texas. 
6. Davidson - Head Coach Bob McKillop has been one of the premier mid-major coaches in the country for a two decades now and this 2020 class is a strong one. First off is Emory Lanier, the son of Georgia State Head Coach Rob Lanier. Emory is a 6-foot-3 PG. Second is Grant Huffman, a 6-foot-3 shooting guard from Ohio. 
7. Appalachian State - Head Coach Dustin Kerns came to our HoopSeen Best of the South and reeled in Michael Eads, a 6-foot-4 guard out of Florida and also signed Davidson (NC) Day big man CJ Huntley. 
8. UNC-Greensboro - Head Coach Wes Miller signed two Link Prep teammates in 6-foot-8 forward Jared Hensley and 6-foot-4 guard AJ McGinnis. 
9. Gardner-Webb - Head Coach Tim Craft signed Team CP25 guard Jordan Sears and 6-foot-6 small forward Jamaine Mann out of NY. 
10. East Carolina - Head Coach Joe Dooley has signed Fayetteville (NC) product Derrick Quansah, a 6-foot-9 forward. 
Who's Left in Top 10
With Josh Hall and Shakeel Moore both choosing NC State this weekend, our top-ranked unsigned senior is 6'6, wing Justin Thomas of Fayetteville (NC) Village Christian. He comes in at #7 in our list of 2020 prospects and is the last unsigned player in the top-10. Thomas holds offers from George Mason, East Carolina, Georgia Tech and St. Bonaventure. Thomas shined during our HoopSeen Tip-Off and was named a breakout player from our own Justin Young. Thomas hasn't scheduled any visits yet and this is looking like a recruitment that could pan out to the spring and the right fit.