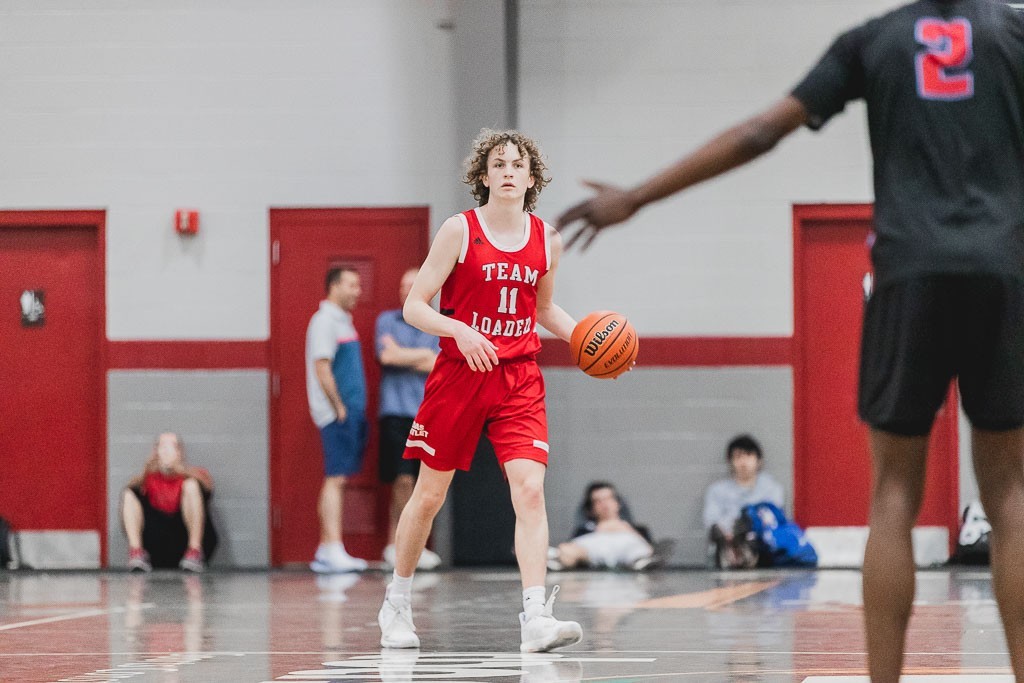 Greensboro Day gets transfer, catching up with overseas pro, The Carolina Corner, Carter Whitt takes unofficial visit and more. 
Greensboro Day Lands Top Junior 
Rising junior Brock Williams will transfer to Greensboro Day School and join Cam Hayes and Virginia recruit Carson McCorkle in the backcourt for one of the best private school teams in the state. Williams recently picked up his first offer from Elon University back in June. Williams makes the trek over to Greensboro from Burlington Christian where he averaged 34.7 points per game last season. He was named to our HoopSeenNC NCISAA All-State 2-A team. 
Shelton Visits UNC-Asheville 
Justus Shelton, the 6-foot-10 forward out of Burnsville, North Carolina spent this spring and summer with the PSB program based out of Charlotte. Shelton took an unofficial visit to UNC-Asheville this week. With an evolving skillset, Shelton should be on college radars as a guy that may sign late with the way the 2020 big class is scarce overall. Shelton's mother played in the WNBA and she is the women's coach at Mountain Heritage High School. 
Lincoln Academy Adds Two More
New Coach Larry Davis has added two more players from Georgia to his roster in Winston-Salem, North Carolina. Quincy Ademokoya and Rafael Pinzon. Ademokoyo is a 6-foot-7 forward and Pinzon is a 6-foot-5 point guard. The newest additions should couple nicely with 2021 prospect Bryce McGowens who transferred to Lincoln Academy last week. Pinzon has an offer from Xavier and Ademokoyo has an offer Depaul and St. Louis. 
Carter Whitt Takes Unofficial Visit 
Carter Whitt, a member of our All-HoopSeen Shoe Team took an unofficial visit to Ohio State yesterday. The 6-foot-1 lead guard for Team Loaded NC was one of the best players on our stage during the Bob Gibbons Tournament of Champions. He is a class of 2021 prospect playing up a year on the 17U adidas Gauntlet circuit. Whitt has numerous high-major offers and was one of the best lead guards that we saw on our HoopSeen stage this travel season. 
Carolina Corner 
Hottest Prospects in North Carolina? 
My phone has been busy the last couple of weeks and it seemed a lot of the calls were coming in for Team United guard Josh Banks. The 6-foot-3 scoring guard out of Charlotte, North Carolina picked up an offer from Virginia Tech recently and he is high on their board. He is a natural scorer who can really hurt defenses with his quick first step and ability to finish. He can get hot from outside and cause problems there too. Virginia Tech should get an official visit from Banks soon. 
De'Ante Green of Christ School/Team CP3 picked up two Division One offers over the past week and a half. The 6-foot-8 forward received offers from Winthrop and North Carolina A&T. The class of 2022prospect had a strong showing this spring and summer with Team CP3 16's. "First of all I improved my body tremendously this summer. I feel I have improved my ability to run the floor and my ability to shoot threes and take my opponents off the dribble." College coaches have taken notice and I expect his recruitment to keep trending upwards with his size and the schedule that Christ School plays every year. 
KJ Keatts, a class of 2022 guard out of Raleigh Broughton (NC) High School picked up an offer from Eastern Kentucky University this week. Keatts in the son of NC State Head Coach Kevin Keatts. The elder Keatts is the former boss of EKU Head Coach AW Hamilton during his time at Hargrave Military Academy. 
Hottest Prospect in South Carolina? 
We have mentioned Javon Benson's name before on our HoopSeen platform and he shined with the Carolina Wolves during our Atlanta Jam, picking up a host of mid-major offers. Things started to pick up recently with an offer from hometown South Carolina. The 6-foot-8 brut has scheduled an official visit for September 6-8. With the class of 2020 overall not being as strong as past years classes, high-majors are in line for guys like Benson. 
Overseas Notebook
Most of the prospects I have covered over the last 14 years had one goal. The NBA or playing professionally overseas. Here is a glimpse into life playing professionally across the pond.
Former Erwin Asheville (NC) standout Malik Moore had a standout career at USC-Upstate and recently signed his first professional contract overseas with BC URALMASH in Yekaterinburg, Russia. I had the chance to catch up with Malik and see how things are going. "It's going good over here. The biggest difference over here is definitely the food. It comes in smaller portions and they eat really healthy, not many fatty foods, "he said. When asked about how the game is played in Europe compared to the States, Malik stated, "The game is honestly more fundamentally sound. They like to play with their bigs a lot and pick and roll. The style of play here is very basic compared to America."
BC URALMASH plays in Yekaterinburg, a city with a population of 1.5 million people and is the fourth largest city in Russia. "The city is beautiful, a lot of things to see and explore. No violence here like in America, it's quiet and peaceful," Moore said.