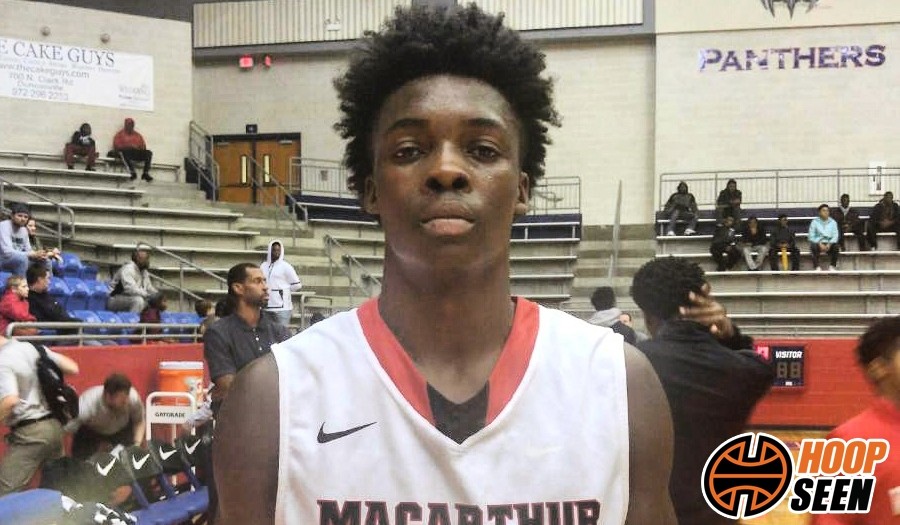 DUNCANVILLE, TEXAS – The Thanksgiving HoopFest tipped off on Friday afternoon with one of the best guard match-ups we may see all season. Here's our Fab Four from the action at the gorgeous Sandra Meadows Arena in metro Dallas.
Andrew Jones, CG, Irving MacArthur (TX), 2016: Let's get right to the point here. The 6-foot-4 guard is the best available guard in the country from the class of 2016. We're going to update our class of 2016 sooner than later and Jones gave us plenty to think about on a cold, wet Friday afternoon here in Dallas. After a somewhat slow and shaky start in his pairing against talented junior Trae Young, Jones took over in the second half of an offensive slugfest. He missed just two shots, scoring 23 of his game-high 37 points in the second half and was in full control in the elite guard battle. Baylor, Kansas, Oklahoma and SMU all had assistant coaches on hand for the game. Jones will play Kentucky-bound guard De'Aaron Fox on Saturday.
Trae Young, PG, Norman (OK) North, 2017: Match-ups with two big-time players on a big-time stage can sometimes burn out because of the spotlight that shines ever-so-bright on the game. But in his game against Andrew Jones, Young went to work in a major way. He didn't disappoint. In the first half alone, Young was torching the nets from deep and did so with an ever-present confidence. You could tell Young had this game circled on his calendar and he didn't disappoint in delivery. Whether in the open floor, in the half court, from beyond the three-point line and to the rim, Young scored in every way possible. His control as a point guard shined through, helping his 6-foot-8 teammate Cameron Smith go to work in the paint. Young finished with 31 points and seven gorgeous assists in the loss to Jones & MacArthur.
Schneider Herard, C, Plano Prestonwood (TX), 2016: Offensively, the massive 6-foot-10, 260-pound center was outstanding on the low blocks and on the baseline. He used his size to seal off defenders and converted the move to buckets at the rim. Paired against a much smaller team, Herard had little trouble scoring. The future Mississippi State Bulldog is one of the most physically gifted players there is in high school hoops. Thinking about his progression in college alongside a defensive stopper like Abdul Ado and a face-up four man like Mario Kegler makes for an interesting, and potentially scary, frontline in Starkville.
DeAndre Williams, SF/PF, SATCH (TX), 2016: The unsigned 6-foot-7 forward had a terrific day against South Grand Prairie. The long and rangy forward finished with 23 points and 13 rebounds all the while holding off a talented Warrior team. Williams knocked down jmpers from deep, was good as a help side defender and finished on the break. For schools looking at their recruiting priorities going into the high school season, Williams is a nice mid-major guy to chart and follow moving forward.