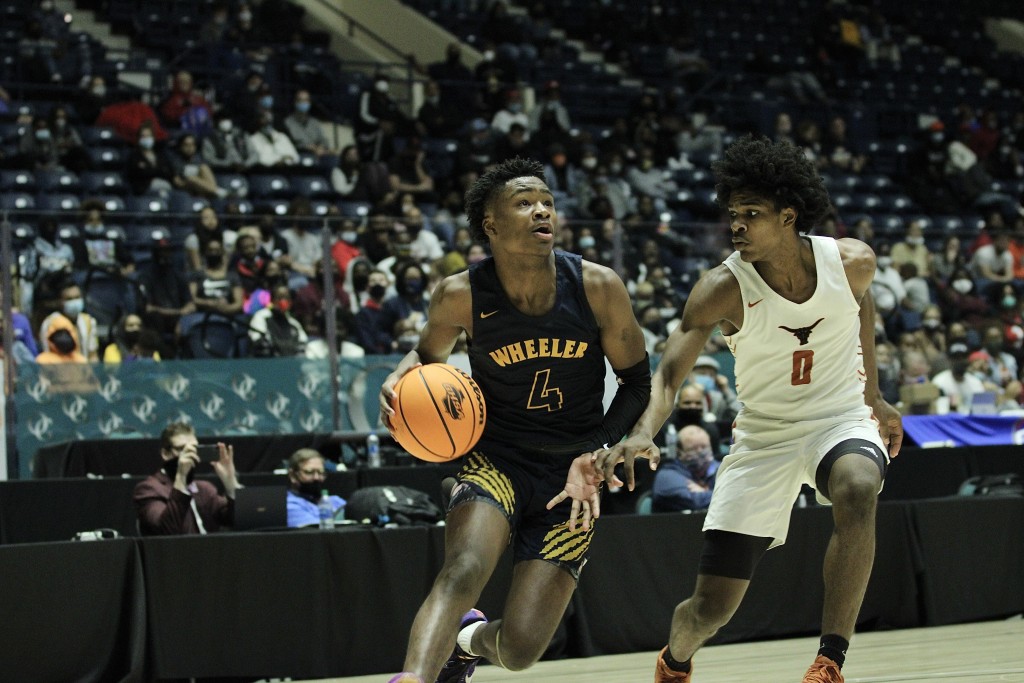 Friday night saw the Wildcats win their second state championship in as many years – and eighth state championship overall – with a 71-61 over region rival Kell. 
Last season, Wheeler won a state championship in 7A, and in their first season in 6A, the Wildcats repeated their March magic.
Wheeler used its depth and defense to overcome the Longhorns. Defensively they held Kell to 39% shooting from the field, and they made sure that the cast around Scoot Henderson had quiet evenings.
Offensively, they had four players finish in double figures. Isaiah Collier led the way with 16 points including three made 3-pointers. Ja'Heim Hudson, Kaleb Washington and Max Harris each scored 12 points. Hudson also added 12 rebounds to round out a double-double.
Scoot Henderson scored 29 points on 11-23 shooting from the field. Jaylen Harris added 11 points. Outside of that duo, Kell struggled to find consistency on the offensive end.
Both programs entered region 6-6A this season. As the season played out, they quickly found themselves entangled in a bitter rivalry with each other. Wheeler won both of their regular-season games, and Kell won the matchup in the region championship game.
When the state tournament brackets were revealed, a fourth meeting between the two was destiny. Having these powerhouse programs battle for the state championship was the only option for basketball's overseers.  
The programs took two different paths en route to the championship game. Wheeler won each of its games by 10 or more points while Kell found themselves ingrained in tough, gritty battles.
From the jump, it was evident that these teams wanted to face each other for the fourth time. They both brought championship energy as they battled back-and-forth throughout the first quarter.
A 7-0 run in the second quarter allowed Wheeler to gain comfortable separation. From that point forward the Wildcats controlled the game on both ends of the floor.
Wheeler maintained a lead that hovered around 10 points for most of the second half until a fourth-quarter surge from the Longhorns cut Wheeler's lead to five with 2 minutes left in the game.
As he has shown throughout his career, Max Harris is comfortable in high-pressure situations. Harris knocked down a 3-point shot as well as a trio of free throws to take pressure off the Wildcats. At the buzzer, Khedric Oliver emphasized the victory with an emphatic dunk.
After some time to reflect on the season, both teams will turn their attention to making another championship run next season.
For Kell, Scoot Henderson, PJ Johnson and Aaron Smith make up their returning starters. Sharpshooting freshman Jaylen Colon could step into a more prominent role for the Longhorns.
Wheeler loses a lot of its production. Isaiah Collier will be the only returning starter. Juvon Gamory emerged as a scoring threat late in the season. He's a likely candidate to help Collier manage the backcourt next season. As the Wildcats have shown in the past, they'll have a plan to ensure that they're in the championship mix again.