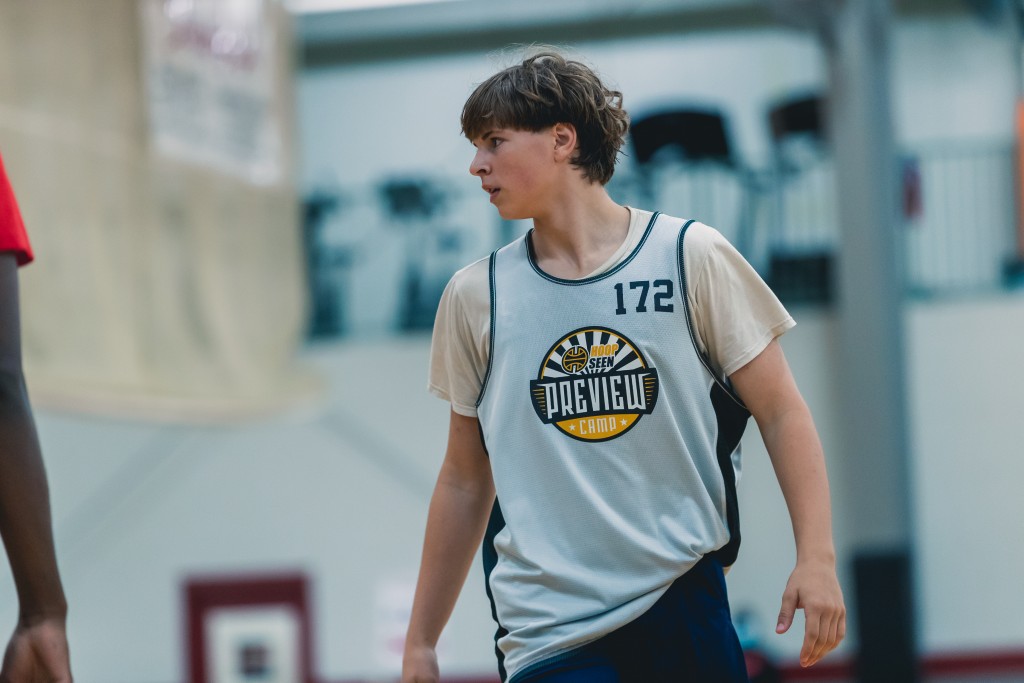 Our Fall Preview camp is in the books as we welcomed 80 prospects from across the southeast. It was an eventful day that led to players breaking out while others solidified their reputation. Our staff of evaluators and coaches came together to discuss every players strengths and weaknesses that participated through out the day. Here are our team I evaluations. 
Devon Wiggins, 2022 G, Chapel Hill: This stocky downhill guard was relentless in his pursuit of getting a paint touch. When his drives didn't result in a basket he was often the recipient of a pair of easy free throws. His explosiveness and frame made him a difficult cover, especially in transition. On the other end, Wiggins was a stout on ball defender that could turn his matchup time and time again. In a a lot of ways, Wiggins was the motor that drove team one's car.
Chase Alderman, 2023 G, Saint Pius: There wasn't very many stones unturned by Chase Alderman on the offensive end of the court. With a wide ranging skill set, Alderman was one of his teams most consistent threats to put the ball in the basket. From a high lofting floater to long distance shooting, Alderman shows signs of who he can become as he progresses along. As defenders became aware of his ability to shoot, his handle shined through as a secondary tool. Once he was able to crack into the teeth of the defense he was able to show us his instincts as a scorer and passer.
Amir Arrington, 2023 G, The Galloway School: It was refreshing to see an underclassmen grasp the concept of moving without the ball. Arrington fully embraced his role as one of his teams best long distant threats as he cashed in multiple three's throughout the day. With great footwork and a nice smooth stroke, the Galloway school lefty was able to make his presence felt from right out of the gates. Classification aside, Arrington shot every ball with the confidence of someone that has obviously put the work in behind the scenes.
Joshua Cameron, 2022 G, East Coweta: Being just one vote shy from being named as one of our top performers should encapsulate what kind of day Cameron had at our Fall Preview camp. From the start I could tell that Cameron had a great grasp of the offense and would execute in a way that only a point guard can. More often than not, Cameron would play with the pace that was needed for his team to have an optimal offensive possession. His ability to walk the line of both a scorer and passer was impressive as he boasted a team of capable weapons. Keeping them intertwined was a feat that he seemed to take in stride. Overall, Cameron made his team better on both sides of the ball. 
Eros Javier Carpio, 2021 G, Pine Crest: Carpio's ability to score around the rim was more than wlcomed from his team 1 peers as he provided them with some much needed interior physicality. Carpio was far from afraid to bang with the trees whenever he found himself within reach of the rim. Through his skill and craftiness he was able to churn out points without over dribble or extending himself. Even with his interior play, Carpio was able to show off his long distance capabilities. While it's tough to identify this role at a camp, Carpio could be deemed as a solid glue guy for his teams ahead.
Terrell Dixon, 2022 F, Brandon: From the start of the day it was easy to see the upside of Terrell Dixon, especially on the offensive side of the ball. Although his day was cut short due to injury, he left myself and our staff with enough insight to gauge his current skill set. His long arms allowed him to hit the glass hard while he also showed off some range from the outside. That same length caused the offensive some turnovers as Dixon played the passing lanes extremely well. With time spent in the weight room, Dixon could become a nice swiss army knife prospect that can contribute in a number of ways.
David Giddens was named a top performer by our staff. Read more about his performance here.