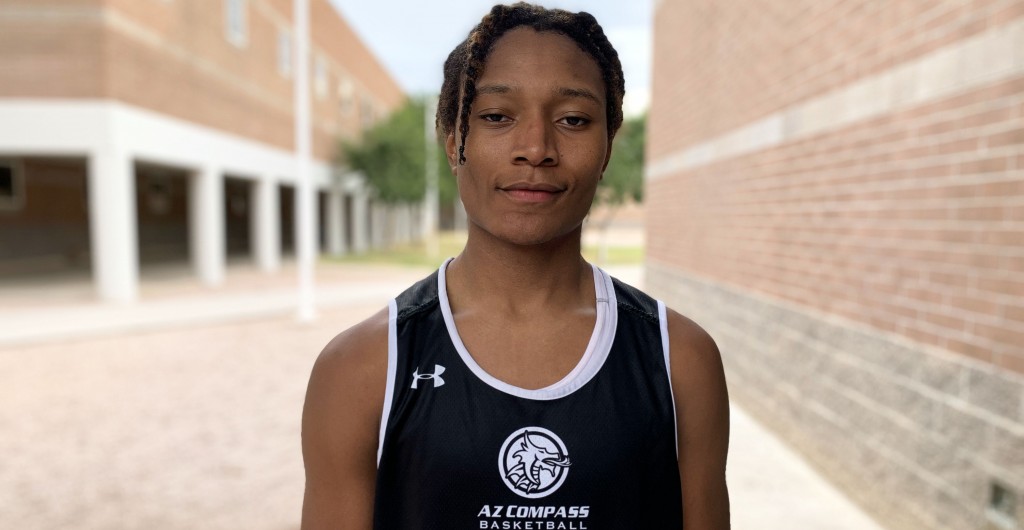 GILBERT, AZ - Day two at the Border League was a long one and a good one. With action happening at five different locations in the East Valley of Phoenix, you could pull up to any court and see some big-time action. We dropped in to three different gyms and saw a tremendous amount of talent across the board. 
RELATED: Jaden Hardy has the signature game of 2020
TOP DOGS 
TyTy Washington, Compass Prep (AZ): You get the feeling that Washington wakes up on days like Saturday ready for everything that comes his way. Everything. He set the table for what turned out to be a day that is fit for a portfolio. He carved up Southern California Academy with pinpoint shooting and passing, establishing the tone for what turned out to be a defensive stomping of SCA. Washington showed off the tool box in this win. He knocked down a baseline jumper, then a corner three, then drilled passes on point to his talent-rich roster and controlled the pace throughout the action. 
Then in the nightcap, a game that the Arizona hoop mavens wanted to see, Washington went to work against Hillcrest. Compass won convincingly 65-56. Washington finished with 18 points, seven rebounds and six assists in the win. You could make the case that Washington has been one of the true elite players in the field this week at the Border League. His effort on Saturday certainly cemented home that train of thought.
Milos Uzan, East Side Boyz (NV): The Desert Pines point guard is coming off a solid weekend at last weekend's HoopSeen West Preview camp, powered by Pro Insight. On Saturday morning, we saw the full control game from the lead guard. Uzan looked much more comfortable with his hometown squad, as you'd expect. He controlled his team like a guy who should be (and is) actively pursued by the Pac-12 schools. Uzan is a big point guard that you can't take off the floor. Arizona, Arizona State, Cal, Texas Tech, UCLA, UNLV and Washington are all in the mix. 

Aidan Mahaney, Team Grrr (CA): He was cooking in a morning game against the KT Kings/Calvary Christian in the morning game of the Border League. His shot-making and playmaking ability is coach-friendly. You can trust him with the rock and he's going to find a way to get a bucket or create one. Mahaney pulled up of the dribble multiple times for a three and wiggled his way around athletic defenders for space. It's easy to see why West Coast hoop mavens are saying he's worthy of an active recruitment. 
THE KIDS ARE ALRIGHT
Tru Washington, Mountain Pointe (AZ): In a back and forth battle between two of the top teams in the Southwest, the class of 2023 guard had his number called in the clutch. And Washington delivered with the go-ahead elbow jumper. The lefty guard took the ISO moment and drilled the shot. Washington paced his Mountain Pointe team over Desert Pines (NV). It was a great day for the Washington family. He's related to TyTy Washington of Compass Prep. 
Devin Williams, Husky Nation (CA); The long and very lean forward is an eye-catcher the minute you walk into the gym and catch the layup line. He's Brandon Ingram thin and it wouldn't come as a big surprise if he watches the New Orleans Pelican on film often. Williams has some toughness to him that comes to light when challenged. We caught glimpses of why he's going to be a prospect that draws a lot of attention down the road. Williams, a 6-foot-9 class of 2023 prospect, will stand in the paint and guard all the while step out and shoot the face-up jumper.
Carl Cherefant, KT Kings (FL): Around this time last year, I went down to Florida and spent some watching Calvary Christian and their promising young roster. Fast forward to a beautiful Saturday morning in the Phoenix suburbs and the class of 2023 guard looks like a guy who is making an impressive upswing in his game development. In a back-and-forth game against Team Grrr (CA), the game came down to the wire and young Mr. Cherefant was the game-winning shot-maker. He played well in his moments for Calvary, hitting a corner three, slashing with size throughout the game and showing moments of good things to come. We've seen talented wings like him come from the Sunshine State over the years. Don't be surprised to see him flirt with top 150 national lists during his prep days ahead.