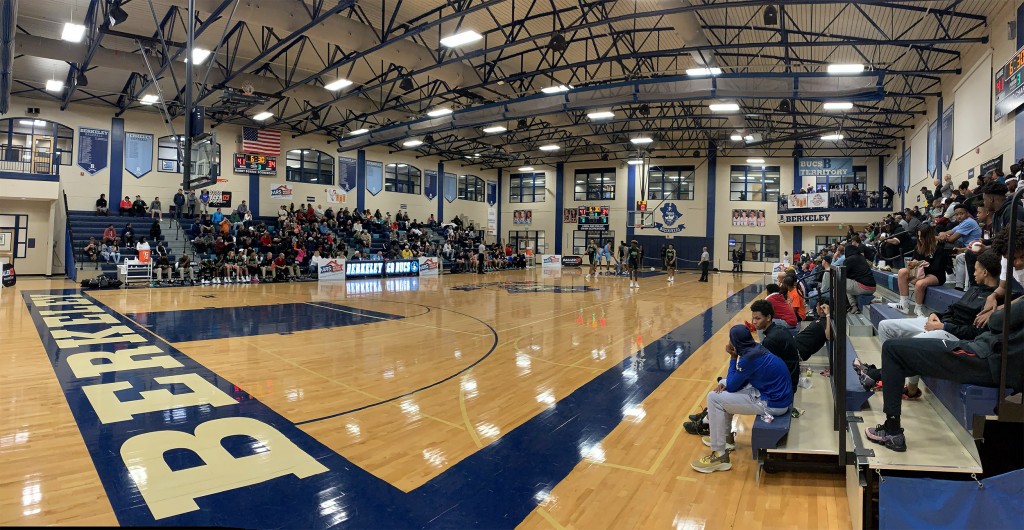 TAMPA, FL - The Saturday schedule at the ARS Rescue Rooter National HoopFest at Berkley Prep was filled with close games and a nightcap battle. We rundown our notebook from the action. 
TOP DOGS 
Mike James, Oak Ridge (FL): It seems like every time we see him, he gets better and bigger. Perhaps we need to go harder on the narrative of him as top 50 national prospect. James finished with 23 points on 10-16 shooting from the floor. He also grabbed six rebounds in the win. James fills out his 6-foot-6 frame quite well and is learning how to use his physicality at a different level than his peers. He's one of those players to pay close attention to this spring and chart which head coaches come in to see him during the first live period of April. He could become a priority prospect for regional high-majors. 
Ven Allen-Lubin, Orlando Christian Prep (FL): The class of 2022 forward was one of the premiere performers on Saturday. He pumped in an efficient and impressive 24 points and nine rebounds in a win. Allen-Lubin is the constant producer for OCP and when we've seen him at our HoopSeen events with Team Parsons. He was one of the best overall performers of the event this weekend. Be sure to check out our one-on-one conversation with him. 
Dionte Blanch, East Lake (FL): All the future Murray State guard did was pump in 28 of his 35 points in the second half and almost single-handily put his team on his back for a great comeback against Orlando Christian Prep. Blanch is a one-man wrecking ball and has the kind of drive and determination that has served Murray State guards well in their storied backcourt brilliance over the years. We saw the same version of Blanch in 2019 on the HoopSeen circuit. 
SENIOR SPOTLIGHT 

Alijah Harrison, Tampa Catholic (FL): Paired against Huntington Prep, the 6-foot-5 wing had himself a good outing. Harrison was masterfully efficient en route to his 24 points, missing just two shots on the day. He connected on four three-pointers. In the game, he scored his 1,000th career point of his four-year starting career at Tampa Catholic. Surprisingly, Harrison's recruitment is quiet. He's a quality player with a four-year resumé that warrants a look from Division II/Low-major programs.  

Kobe Knox, Tampa Catholic (FL): One of the reasons why Tampa Catholic beat Huntington Prep was because of the shooting touch from the lineup. Knox connected for four three-pointers en route to 25 points (7-10 FG, 4-6 from 3, 7-8 FT). Knox said he's heard from UNC Greensboro, San Diego and North Florida most recently. He will eye visits after the season is over. 
Jadrian Tracey, West Oaks (FL): The 6-foot-5 wing had a good day in a blowout win against St. Pete. He is a slasher supreme with good college size and an ever-improving skill set. Tracey won't move forward with his recruitment until after the season is over, staying in line with the conversation he's put out there since the first half of the season. A bevvy of mid-majors are involved. 
COLLEGE BOUND 

Selton Miguel, West Oaks (FL): Kansas State has a guy coming to Manhattan who can really fit it up from all spots on the floor. We've seen him and his mates put together a heck of a week and a half of work. West Oaks beat Oak Hill and Combine Prep on the road last week. On a chilly grey morning in Tampa, West Oaks was at it again with a win over St. Pete in impressive fashion. SIguel scored 32 points on 12-20 shooting from the floor. He hit six three-pointers and had seven assists. Miguel continues to be one of my favorite point producers in the 2020 class. I've said it before and I'll keep saying it - Miguel is a likely Big 12 All-Conference guy.
Varun Ajjarapu, Berkeley Prep (FL): The US Coast Guard Academy bound guard was a major reason why the host team beat Cornerstone Christian squad on Saturday evening. He finished with 20 points and connected on four three-pointers. His grittiness and determination was huge foundation to his team's success over the weekend.
THE KIDS ARE ALRIGHT 
AJ Brown, Orlando Christian Prep (FL): A year from now, don't be surprised to see Brown's named mentioned with some of the very best players at his position nationally. He's quite a player with quite a future. We continue to see flashes of good things to come from Brown and his recruitment is starting to show signs of life that says it will be a full-time high-major affair. 
Austin Nunez, Cornerstone Christian (TX): The class of 2022 guard turned up his speed and put together another strong outing. Nunez finished with 24 points (9-16 FG, 4-8 from 3, 2-4 FT), four assists and four rebounds in the loss to Berkeley Prep. It was a great impression weekend for us with regards to Nunez at the National HoopFest. 
NOTES FROM THE NOTEPAD 
Oak Ridge (FL) junior guard Jalen Smith said he has offers from South Florida, Florida Atlantic, Stetson, Texas State, Liberty, Hofstra and SMU and he is hearing from Murray State. 
East Lake (FL) junior guard Dean Gabrelcik was one of the best shooters we saw at the National HoopFest here in Tampa. The 6-foot-4 guard has as pretty of a stroke as you're going to find here.
SCOREBOARD
West Oaks Academy (FL) 84, St. Petersburg (FL) 44
Oak Ridge (FL) 55, Tampa Prep (FL) 43
Orlando Christian Prep (FL) 68, East Lake (FL) 56
Berkeley Prep (FL) 61, Cornerstone Christian (TX) 59 
Tampa Catholic (FL) 79, Huntington Prep (WV) 76