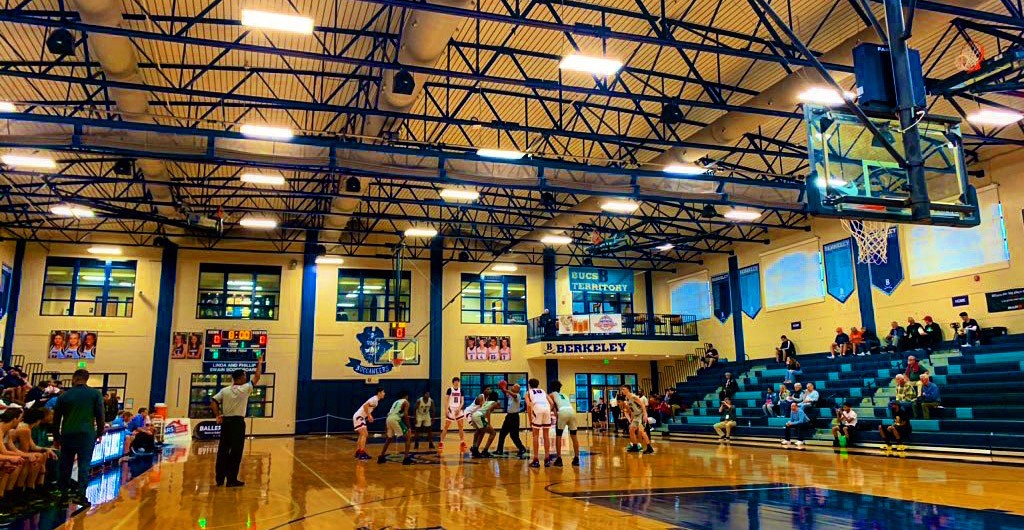 TAMPA, FL - The annual ARS Rescue Rooter National HoopFest at Berkley Prep has brought in some of the top teams from Florida and some national prep school powerhouses. Who stood out on Friday night?  
TOP DOGS 
Jerrell Colbert, Cornerstone Christian (TX): One of the main reasons we wanted to be in Tampa was getting another look at the impressive 6-foot-10 junior in person. He's quite the prospect. Colbert will debut inside our top 25 national rankings for the class of 2021 in the coming week. He's a terrific high ceiling prospect with tremendous length. Colbert uses his wingspan to sky over the defense for rebounds and block/alter shots. He has great hands and runs the floor without any issue. Colbert is what you want to find in a high-major prospect that can take on a national recruitment. 
Brayon Freeman, Huntington Prep (WV): The Washington DC area native and his mates were pushed to the brink on Friday night against the home team, Berkeley Prep. It took overtime to take the victory and it took some clutch buckets down the homestretch from Freeman to help seal the victory. Freeman was 8-10 from the floor, hitting two of his three three-point shot attempts. He was also 5-7 from the foul line. He scored eight points in the overtime period to put the game in the bag. On a night his team needed a closer, Freeman stepped up to the plate.
SENIOR SPOTLIGHT 

Jordan Wood, Cornerstone Christian (TX): The 6-foot-8 senior came out strong for his team against St. Pete (FL), showing off a terrific versatile skill set. He hit three three-pointers in the first half and was automatic when he had his feet set and shoulders squared up. Wood rebounded well and played a nice high/low game with stud junior Jerrell Colbert. Wood has the skill set to warrant a late senior season recruiting surge.  
Keegan Harvey, Montverde Post Grad (FL): His team was down to IMG Post Grad for a good part of the second half in the nightcap but thanks to his key play down the stretch, Montverde was able to bring home the win. The 6-foot-10 Aussie is a skilled big man who has a nice base of fundamentals to work with. Since being in the United States since September, he said he's picked up some interest from the likes of Georgia Tech, Cal, Holy Cross, Valparaiso and American. 
Darius Miles, IMG Post-Grad (FL): The 6-foot-6 wing forward had a really good night of work in a tough loss against Montverde Post Grad. Miles, who hails from the DC area, finished with a productive and efficient 13 points and seven rebounds on the game. He was at his best the closer he was near the basket. With his length and active play, Miles poses problems inside and out. His recruitment is trending with some high-majors, particularly Texas A&M and LSU. 
Kegan Karnes, Berkeley Prep (FL): The senior from the host school put on an absolute show on Friday night. He pumped in a day-high 32 points and hit six of eight from three. His grit was unmatched on the day. Just a terrific effort from Karnes against an annual foe in Huntington Prep. We've come to see this type of effort from him every year, whether it was at our HoopSeen events or here at the National HoopFest. 

COLLEGE BOUND 
Anwar Gill, Montverde Post Grad (FL): The LaSalle bound guard looked like a guy who could compete at the college level right now. And his 28-point effort was the kind that hard-nosed and wise Philly hoop heads would love to see. Gill was gas-pedal-to-the-floor tough in his team's come-from-behind win on Friday night. Gill was the difference-maker in the win. He was one of the day's top overall players. 
Isaiah Cotrell, Huntington Prep (WV): The West Virginia bound big man put together a productive 18 point, six rebound effort in his team's overtime win over Berkeley Prep. Cotrell's post moves were exceptional and his activity on both ends of the floor was consistent. Cotrell should be a terrific player for Bob Huggins and the likely go-to option for the Mountaineers during his college career. 
THE KIDS ARE ALRIGHT 
CJ Hawkins, Berkeley Prep (FL): The strong sophomore impresses us every year in this setting. He pumped in 19 points and eight rebounds against a big and impression Huntington Prep frontline. Hawkins is an all-effort guy inside the paint. His simplistic game works for his squad and he took on a rotation of high-major big men as well as he could in an overmatched pairing.
Austin Nunez, Cornerstone Christian (TX): The sophomore point guard did a nice job of running his post-centric squad and fed his hot hands throughout the game. Nunez did a nice job of controlling the tempo and forced the action at his pace. He finished with six assists and 
SCOREBOARD 
Cornerstone Christian (TX) 71, St. Petersburg (FL) 45
Huntington Prep (WV) 71, Berkeley Prep (FL) 68 OT 
Montverde Post Grad (FL) 79, IMG Post Grad (FL) 73