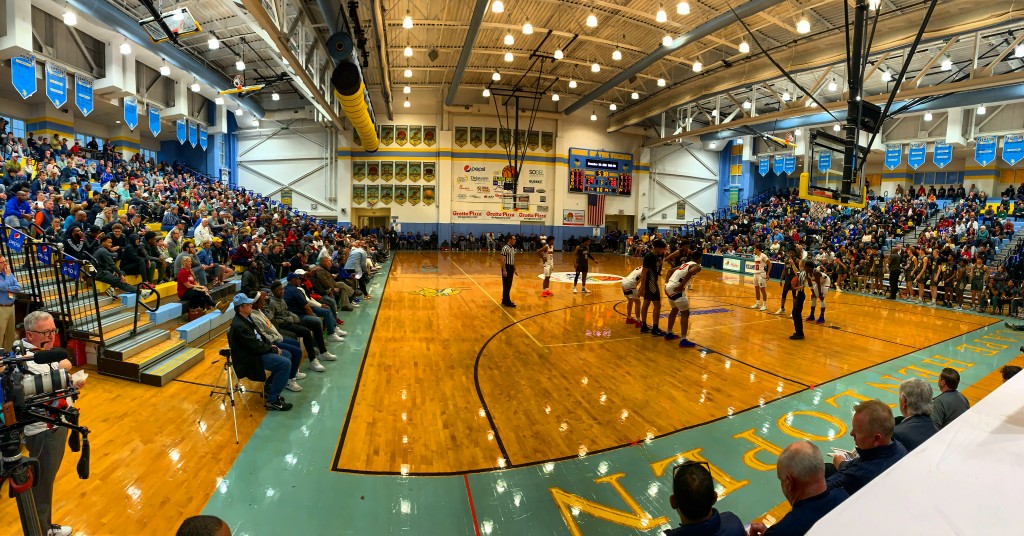 LEWES, DE - The final day of the annual post-Christmas party on the coast featured one of the best games of the year. The Slam Dunk to the Beach was the stage to see on Sunday. 
TOP DOGS 
Cliff Omoruyi, Roselle Catholic (NJ): The Slam Dunk to the Beach has never had a triple double in it's rich history. They said it. Never. Until tonight. The 6-foot-11 paint terror posted the first one tonight against First Love (PA). Omoruyi recorded 17 points, 19 rebounds and 11 blocks in the win. His motor is relentless and his drive couldn't be restricted. It was some kind of weekend for the young fella. He was just terrific in every category. 
CJ Wilcher, Roselle Catholic (NJ): Xavier has one of the best classes coming to town with the 2020 group. Wilcher is a major player in that trio. The built-like-a-free-safety guard plays like what your Rodney Harrison nightmares are made of. He's a heat-seeking missile that plays with control and pace. Toughness and versatility is the common theme of the 2020 Xavier class. Wilcher should pair perfectly with Dwon Odom and Colby Jones. That's a group that can push a team deep into postseason play. 
TJ Berger, Westtown (PA): The future Penn guard shot very well all weekend long, drilling shots from a step behind the triple line. He also showed some put-it-on-the-floor swagger. Berger finished with 23 points on 6-10 shooting from the floor, including 5-8 from three and 6-8 from the foul line. Berger also ripped down seven boards and passed quite well. What a nice player for the Quakers. 
THE KIDS ARE ALRIGHT
Dereck Lively, Westtown (PA): Five years from now, the likely seven-footer could be one of the best long term players in the 2022 class. He's all kinds of long and lean and fluid of a player. But he's still at the baby deer stage of his high school basketball development. That's a scary thought. Lively played well on Sunday evening, posting 10 points, nine rebounds, two blocks (but probably had more than the box score said) and a pair of steals. He has a nice touch on his jumper and rim runs with speed. Lively will be in our initial top 25 for the class of 2022 national rankings without any debate. 
SENIOR MOMENTS
RayShon Harrison, Legacy Early College: The 6-foot-4 combo guard came up big in the second half in a highly-contested game against Immaculate Conception. He shined on both ends of the floor, turning his aggressive on the ball defense into transition buckets for his squad. Harrison finished with 16 points. South Carolina State and Morgan State have offered. 
Yuri Covington, National Christian (MD): He was a jet with the ball and was a head down, hard-charging defense-pressuring dude with the rock in his hands. He finished with a loud 23 points and kept his team in the match-up against a much bigger Westtown team. Covington finished with 23 points and five rebounds in the loss. Covington, an unsigned senior, said Canisius and North Texas have recently offered.
HI, MY NAME IS… 
Tyler Coleman, Paul VI (VA): In the back and forth marquee match-up of the event, the 6-foot-7 forward showed why the hoop mavens in the DC area are high on him for Atlantic 10/CAA level programs. He's an efficient player near the rim and he could convert the easy buckets. You know you're going to have a fundamentally sound player coming out of a powerhouse like Paul VI. 
NOTES FROM THE NOTEPAD 
Luis Kortright, St. Raymond (NY): The senior scored 24 points and was outstanding as an attacker. He was a perfect 12-12 from the free throw line and grabbed five rebounds, three assists and a pair of steals in the win. 
RELATED: Archbishop Stepinac beats Paul VI, upsets national top 25 poll
Our HoopSeen stage is designed to provide the best exposure opportunities for top independent programs. Tons of coaches, social media exposure, and elite competition are some of what you'll find at our events. For more information on our 2020 events, visit our events page, or call our hotline at 470-266-8862.