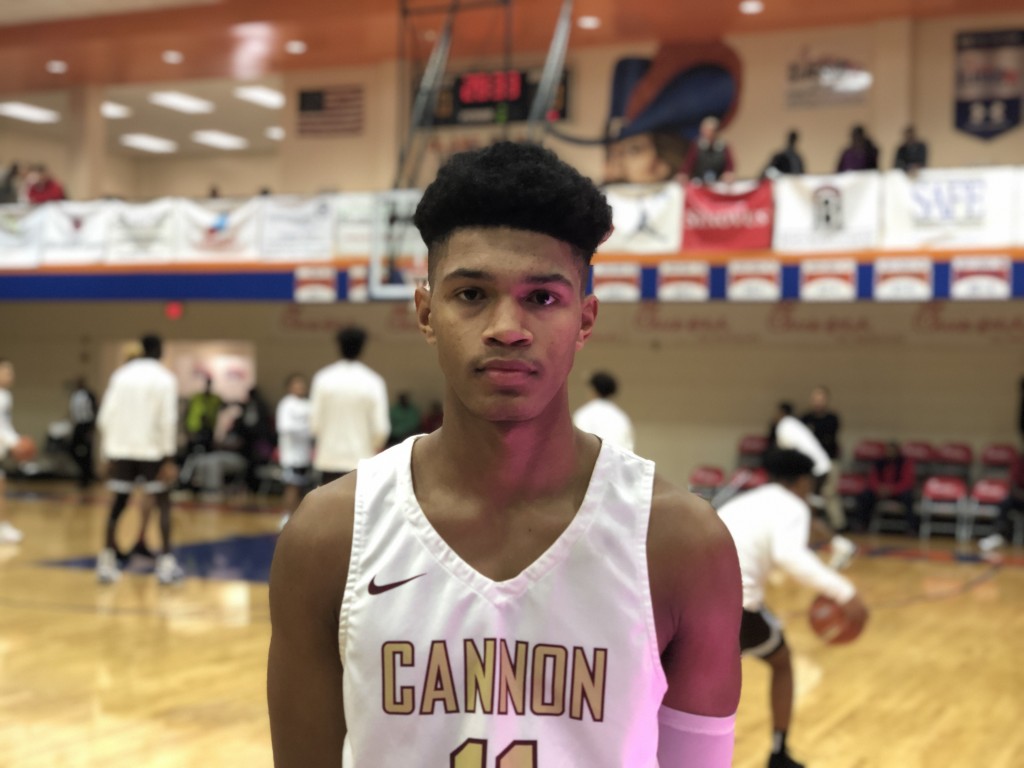 Columbia, SC - Day two of the Chick-Fil-A Classic was full of talent and some close games. We saw some new faces that we are going to keep on our radar and we saw what the nation's #1 shooting guard, Jalen Green can do. Here is a rundown of the day two action from Richland Northeast High School in Columbia, South Carolina. 
Jalen Green Brought the Crowd
Throughout most of the day there was a good crowd at Richland Northeast High School, when the nation's #1 shooting guard and Prolific Prep took on local program Ridge View High School there was not a seat in the arena. Green brought the mix-tape mafia with him and all of his crowd-pleasing dunks were instantly on the internet. He is one of the most explosive players in the class and went 10-17 from the field, finishing with 26 points on the night and getting the win over South Carolina-bound Javon Benson and Ridge View High School. Memphis assistant coach Mike Miller was center-court for Green along with Auburn's Bruce Pearl. 
Benson, playing in front of his future coach at South Carolina, Frank Martin and assistants with an impressive outing, showing that he can stretch the floor with his outside shooting. He finished with 28 points going 4-7 from beyond the three-point line and grabbed 7 rebounds in the 68-62 loss. 
Chirst Church's Butler Brought The Coaches
7-footer John Butler had head coaches from South Carolina, USC-Upstate and assistants from Minnesota and DePaul all watched as Butler went for 15 points, 9 rebounds and blocked 8 shots. With as big as Butler is, his handle and court-vision is super. He sometimes brought the ball up the floor and he controlled the ball off of rebounds. 
Duke recruit Jaemyn Brakefield had a much better showing than he did last week at The Bojangles Bash over at Ridge View High School. The future Blue Devil made 4-8 from the three-point line finishing with 30 points and grabbing 14 rebounds. The game against Michigan recruit Isaiah Todd and his Word of God Holy Ram's was close early but Huntington Prep had too much firepower taking the win 88-50. 
6-foot-3 guard Po'Boigh King had a really good showing against Huntington Prep leading Word of God with 15 points on 4-14 shooting from the field and going 3-7 from the three-point line. The big-bodied guard had the crowd up on it's feet with a dunk attempt that just didn't fall. He currently holds offers from Ole Miss and Arizona State. 
Cannon School trio of Jaden Bradley, Jarvis Moss and DJ Nix combined for 61 of Cannon School's 83 points in the win over Travelers Rest (SC) 83-69. The highly-ranked Bradley also dished out 11 assists. Junior guard Jarvis Moss connected on five three-pointers with his 21 points and sophomore DJ Nix went 8-11 from the field en route to his 20 points. Cannon School improved to 10-4 while Travelers Rest went to 5-3. 
North Georgia signee Case Roach led Travelers Rest with 17 points and 5 rebounds. Roach is a guy that can come in and be an all-league type player for Dan Evans. Roach is a bigger guard with some athletic ability. He has a good looking shot and can make them consistently.