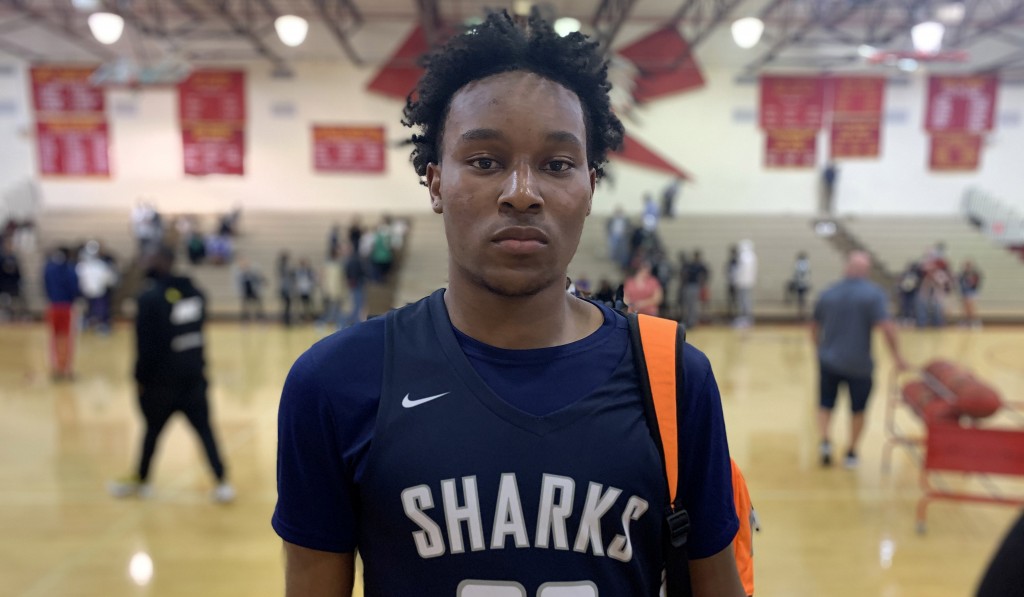 FORT LAUDERDALE, FL - The Sunshine State Preseason Classic is a nice showcase style event to tip-off the action in South Florida. We slid down to Cardinal Gibbons High School for a couple of days to see the action at the preseason event. 
TOP DOG
Greg Glenn, Calvary Christian: The class of 2022 prospect was the most versatile player I saw on Thursday evening. The 6-foot-7 forward can add value to his team in a variety of ways. He's so big and strong that wings struggle to guard him in the low post. He's tough and agile enough to get buckets against athletic defenders. His passing is strong as is his vision. As the game evolves into position-less and multi-faceted lineups, a guy like Glenn has value in such a setting. We discussed his game, his recruitment and more in on our One-on-One series. 
SENIOR MOMENTS
Roger McFarlane, University School: The unsigned senior should be an attractive option for program looking for a tough wing option with good grades and a resume of experienced, high-level basketball. McFarlane came out strong in the first half against Blanche Ely, missing only one shot. He scored 14 points in the first 16 minutes of action. His three-point shot was a reliable option for the Sharks. 
McFarlane said he will play out the high school season and see what kind of options that come his way over the coming months. He said Central Florida, Appalachian State and Georgia State have shown an interest. He took an official visit to New Orleans in the fall but the Privateers are no longer in his recruitment. A 4.1 student, McFarlane should have plenty of opportunities in the late signing period. 
HI, MY NAME IS… 
Dylan Canoville, Calvary Christian: The 6-foot-5 forward was the most athletic and explosive player in the building on Thursday night. And it wasn't even close. His bounce off the hardwood was outstanding, and for the opposition, also quite intimidating. Canoville has a different gear compared to his peers at this level. That's why he should be a really interesting player to chart in the 2021 class moving forward. He said he's heard from Nebraska-Omaha, Charleston, Florida State, Florida Gulf Coast and IUPUI to date.
NOTES FROM MY NOTEPAD 
Taylor Hendricks, University School: The narrative on the 6-foot-8 sophomore has been this - he's getting better every year out. His steady uptick in development has been fun to watch over the years and now he's the top big man on a team that has boasted Vernon Carey, Jr. and Scottie Barnes over the last four years. Hendricks drilled a corner three-pointer in motion and looked comfortable in the flow of the game. Three years from now, he could be one of the most interesting players in the South's 2022 class. 
THE KIDS ARE ALRIGHT
Justin Abson, North Broward Prep: The big man is a wide body in the paint and used his size to hold off opposing rebounders. He boxes out well and knows how to position his body to corral the rebounds. He was the go-to guy for NBP in the opening game of the event. Defensively, he was an active shot-blocker and shot-changer. Abson scored nine points, grabbed 14 rebounds, blocked four shots and had four assists. The 6-foot-7 sophomore said he's had coaches from Florida Gulf Coast, Baylor, Florida Atlantic, Jacksonville and Southeast Louisiana come by the school to see him. 
Carl Chevenfant, Calvary Christian Academy: The 6-foot-5 wing was an eye-catcher in a match-up against Boyd Anderson. He's a long-armed, live-wire wing who can play in the paint, shoots the three, and defends multiple positions. This was his first ever high school basketball game and he looked comfortable in this setting. Chevenfant will be a name that recruiters know in the coming years. 
SCOREBOARD
North Broward Prep 64, Taravella 57
Calvary Christian 72, Boyd Anderson 49
University School 70, Blanche Ely 53