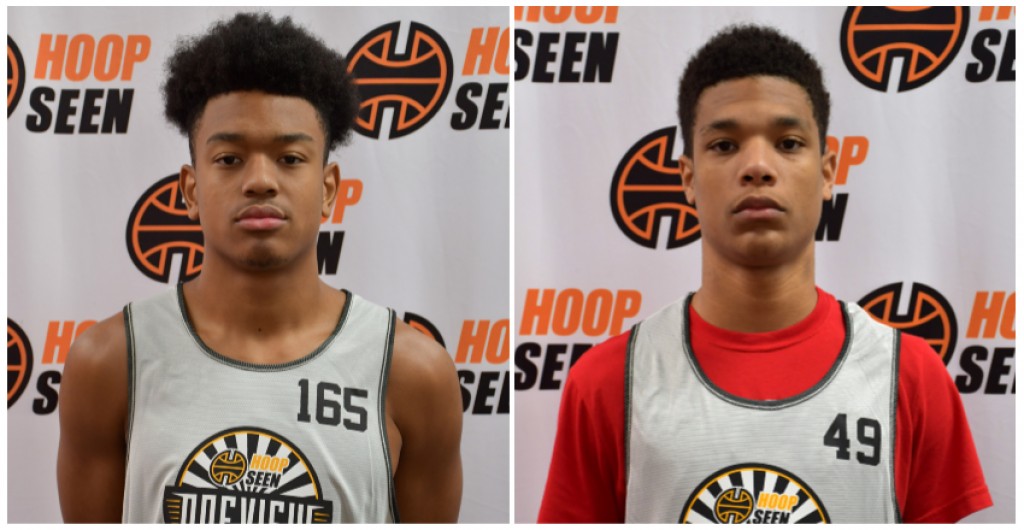 The first session of our Georgia HoopSeen Fall Preview camp is in the books and our staff of evaluators and coaches have gone through their notes of every player in the camp. Every. Single. One. Today we look closer at Team 3 from the camp.
Jalen Boston, Greenforest Christian, 2022, SG/SF: A big physical wing with pretty good ball-handling skill, Boston was a tough player for the opposing teams to guard. Due to his wide frame, he was able to get any point he wanted to get to. He also plays great defense and he uses his leaping ability to chase down blocked shots. Boston is willing to defend at all spots on the floor. 
Jordan Collins, McEachern, 2022, PG: A small but quick point guard, Collins showed off his good ball-handling and awareness when he commanded the rock. The 5-foot-6 guard does a good job of placing passes in the half-court and transition. 
JaQuan Heard, Cass, 2020, PG: A quick and shifty small guard with a scorers mentality, Heard did a nice job in this setting. He is very good defensively and uses his athleticism to stay in front of ball handlers. Wants to defend. 
Jordan Jefferson, Osborne, 2020, SG/SF: A bouncy wing with a very good shooting stroke, Jefferson can get hot and make two or three triples in a row. He has decent ball-handling skill but relied more on his pump fake to draw defenders then blows by them for finishes. We were impressed with his ability to crash the offensive glass. He's a nice slasher with size. 
Braden Pierce, River Ridge, 2022, PF: The 6-foot-8 post was one of the more intriguing big men in the camp. He's a long big man who can run the floor and moved well on both ends of the floor. He executed the pick and roll well and was actively engaged in the action. Keep an eye on him this high school season. He could be a riser to watch. 
Kenneth Raggs, Rockdale County, 2022, SG: The young guard still developing a consistent feel for the game on both sides of the ball. He does have the ability to knock down the open three also runs well in transition. 
Shomik Shahjahan, Miller Grove, 2021: PG: A small guard with a high basketball IQ, Shahjahan used a variety of crafty finishes and has a great touch on his floater. Shahjahan shoots the three at a consistent rate. Great in the pick and roll situations. He finds the right player and makes the right reads. 
Joseph Staiti, West Forsyth, 2020, SF: A long and athletic wing, Staiti,drew praise for his overall skill set. He showed that he can do it all. The 6-foot-4 senior defends the one through the four with his college-ready frame. He showed that he can shoot the three very well and he finishes strong at the rim. You could make an argument that he was possibly the best rebounding guard at the camp. 
Jonathan Taylor, Laney, 2020, CG: One of the nice surprises of the day, the Augusta area guard used his amazing first step to get into the paint and finish at a consistent rate. He constantly attacked the basket and played hard with the ball. He's a sneaky athlete who plays bigger than his 6-foot-2 size. Taylor finished through contact all day long and got to the foul line. He rebounds the ball very well and is a threat to go coast to coast every time he touches the ball. 
Caleb Williams, Buford, 2020, SG: A do-it-all wing, Williams defended with purpose. He ran the floor and scored very well. One of the reasons why the 6-foot-4 wing had success is because of his strength. He plays bully ball very well and kept defenders at bay. If they did challenge him at the rim, they bounced off of him. He was also a great teammate and did not hesitate to encourage others. 
Landon Wilson, Mountain View, 2023: PG: A strong and athletic point guard. Only a freshman, Wilson was able to compete defensively and showed that he can string together some tough finishes in traffic.