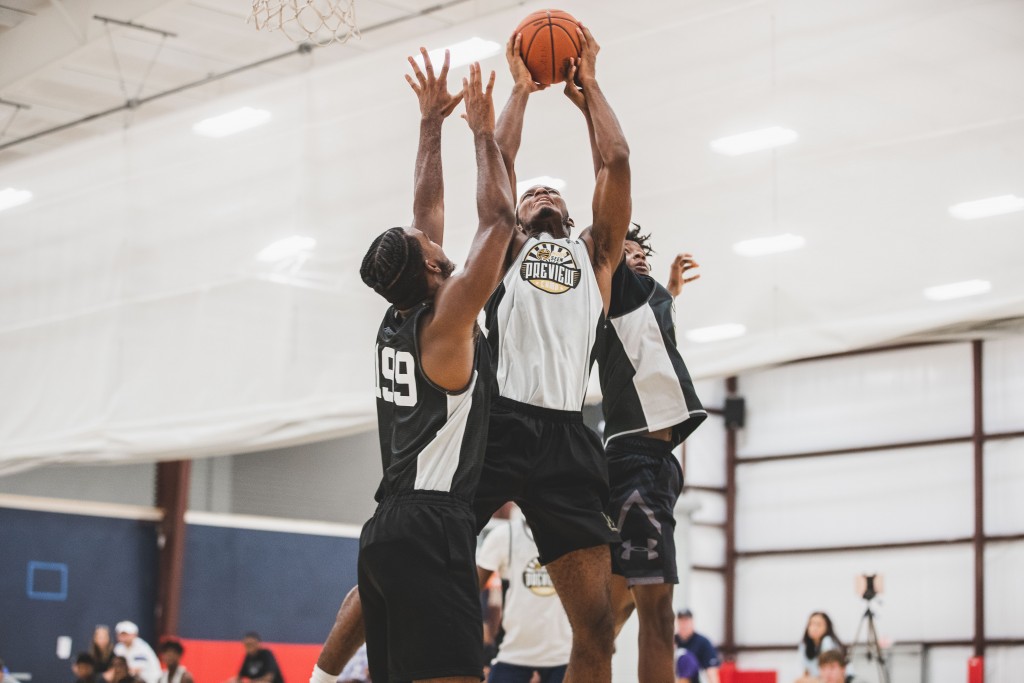 Our Alabama Fall Preview camp is in the books and our staff of evaluators and coaches have gone through their notes of every player in the camp. Every. Single. One. Today we look closer at Team 1 from camp.
Trevon Ragland, 2021 G, Sparkman: This long and wiry wing player showed very well at this year's Fall Preview Camp. He showed very good athleticism and at 6'3 the ability to play above the rim from the guard position. He had several eye-opening dunks throughout the camp all while showing the ability to knock down shots from the outside. Needs to continue to improve his handle which would add another dynamic to his already nice feel for the game. We look forward to seeing how he develops over his junior season. - Derik Williams 
Nathan Johns, 2021 F, Jemison: A lot of players nowadays just want to be the all glitz and glamour not many players just pack their lunch and hard hat and go to work anymore. That is not the case with this 6'6 junior from Jemison High School. Throughout camp including session work and 5v5 play, he played hard from beginning to end. Still needs to add some bulk to his frame that will help him be more of a force on the inside. He's a capable shooter from distance but earns his living around the basket eating up the rebounds. He is extremely active on the offensive glass which is a unique skill in itself. Every coach wants this type of guy on their team the true definition of a "Fox Hole" player. - Derik Williams
Zameron Boozer, 2020 F, Lannett: The 6'9 big man looks great getting off the bus and does not disappoint once he steps foot on the court. His physically imposing stands out, but really turns heads is the motor he plays with as a traditional big. He makes his living in the paint and has that unteachable skill of trying to dunk every time he gets a touch. The Lanett high School prospect is a terror on the defensive as he goes after every shot that is put up in the paint. He has a nice ability to contest and blocks shot out of his guarding area. One of the best help defenders in the state needs to continue to develop his offensive game. He has good timing which allows him to stay out of foul trouble. - Derik Williams
Ja'Lyn Whitt, 2023 G, Paul Bryant: The freshman showed some toughness battling with bigger, faster, stronger, and older players. Showed the ability to be a knockdown 3 point shooter, but needs to be more aggressive at looking to take and make shots from the outside. Needs to propose and marry the weight room which will help him be able to compete physically as he begins his high school career. Whitt has good vision in the open court and looks to make the right plays. as his body continues to develop it will only improve his ability to handle the ball against pressure. - Derik Williams
Jarvis Moss, 2021 G, Selma: The flashy guard has a lay-up package that is second to none. He is a blur in the open court and does a great job at pushing the tempo. Needs to work on change of pace because he sometimes over penetrates, but does a great job at making pull-up trees in transition. Once he is able to control his speed should be a good looking prospect when he graduates in 2 years. - Derik Williams
Gaden Madison, 2021 G, Thomasville: A legit two-way player who takes pride in sitting in a stance and locking up on defense. He has the ability to play on three positions on the wing on both ends of the floor. even though he is only 6'2 he has the ability to guard bigger players in the post. He has a high basketball IQ and seems to always make the right play. The junior doesn't shy away from contact, he actually seeks it which is a great trait to have. - Derik Williams
Sam Youngblood of McAdory was one of our camps top performers. Find our story about him here. 
The story of Christopher Blount started at our Fall Preview camp. You can find our story about him here. 
The story of Blake Floyd started at our Alabama Fall Preview camp. You can find our story about him here.