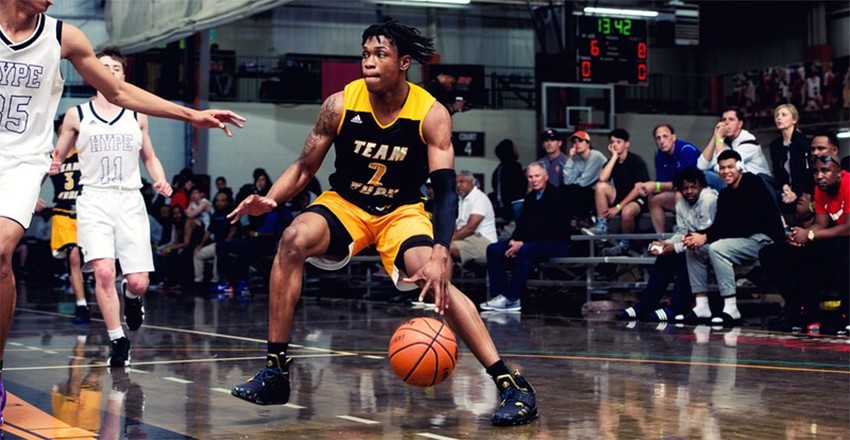 What a fun time to be in the gym. HoopSeen presenting one of the most iconic tournaments in the annual Bob Gibbons Tournament of Champions had another record-shattering event and here are some of the top performers from Tennessee. 
Keon Johnson was one of our top overall performers at the event and he was mentioned here. These three players jumped off the pages to us over the weekend. 
Ryan Wilcox, Team WHBH 2020 (pictured above)
Athletic youngster excels in the transition game, always looking for a crowd-pleasing flourish, he runs the floor with ruthless aggression and showed some added basketball skill knocking down some perimeter jumpers. He likes to finish with the left but appears to be a right-handed shooter. Adding more game off the bounce and becoming a more complete decision maker will allow him to take the next step into a recruitable prospect. He is on his way after helping lead his squad, Team WHBH to the Black Silver Championship Crown at the TOC. 
Jalen Page, EAB 2020
Leadership skills galore, he checks all the boxes as someone who you can bring into any locker room and have him be the face of your team. His skill set is emerging, his shooting has become a weapon, he loves to defend and he is a coach on the floor. His natural position will be off the ball so working on his ball handling will be priority one. He likes to rebound and start the break, he makes good decisions with the ball and has an even temperament when things don't go as planned. 
Charlie Browder, Tennessee Bobcats 2020
Nimble big man is so light on his feet and has made such massive strides in his improvement it is a shame to let out the secret that the roundball might not even be his best game. His touch around the basket is feathery, he rebounds with size and his hands are clamps once he secures the carom. He is creative on the block showing a plethora of back to the basket finishes and is most at home on the baseline. He is regarded as one of the top tight ends nationally in the Class of 2020 and will take his gridiron and hardwood skills to the Christ School in the Fall.