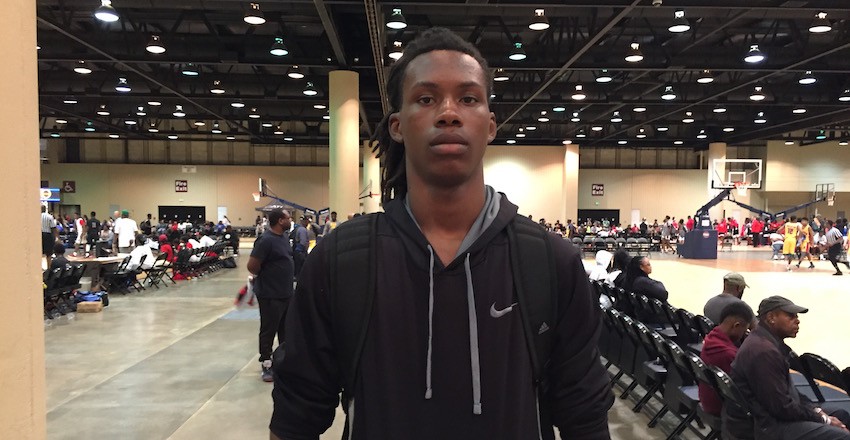 Year after year, players have utilized Team Carroll's Southern Spring Invitational to springboard their travel season as the spring gets underway. Last year it was 2021 forward Keshawn Murphy who announced himself to the state, as he was one of the biggest takeaways from the event.
This year's tournament was moved from April to May due to a scheduling conflict at the facility, but that didn't stop 2021 Autaugaville (AL) big man DeWaun Stubbs from leaving his mark and potentially starting his college recruitment with Team Carroll's 16U group. He was one of the best sleeper finds from the Southern Spring Invitational and could end up being one of the best post prospects in Alabama's 2021 class. 
Standing at 6-foot-9, Stubbs was an eye-catcher because of his length, athleticism, and motor. While he isn't currently the biggest threat on offense, the sophomore was an ultra-competitor on both ends of the floor. His length and athleticism make him an exciting option above the rim and he isn't shy about showing it off, either. Stubbs has excellent timing that allows him to block shots at a high rate, and his second jump is second to none. He caused havoc on defense with his shot-blocking ability and run-and-jump style, and, in turn, it resulted in points for his team.
Coming into the event, Stubbs was a virtual unknown to everyone outside of the Team Carroll organization. With a population of just over 900 people, Autaugaville is located between Selma and Montgomery and boasts a 1A high school, Autaugaville High. Stubbs was a standout for the team this past season as a sophomore. While many don't know the name yet, he's a promising prospect that is just scraping the surface of his development.
With the ability to practically block every shot within his reach and the motor to get a fingertip on every loose ball, Stubbs showed similarities to Houston Rockets big man Kenneth Faried and former Auburn player Horace Spencer. In fact, he had good things to say about the Tigers coming off their Final Four run.
"I grew up an Auburn fan, so I would say that is my dream school. I liked watching them play this year," Stubbs said following a game.
While he still has a long way to go as far as development goes, Stubbs could be a potential sleeper prospect for high-major programs in the feature. He would fit right in at a place like Auburn with long, athletic post players that can move their feet and get up and down the floor. The upside is definitely there and it won't be surprising to see many mid-major and high-major schools making their way to Autaguaville over the next few years to see Stubbs.