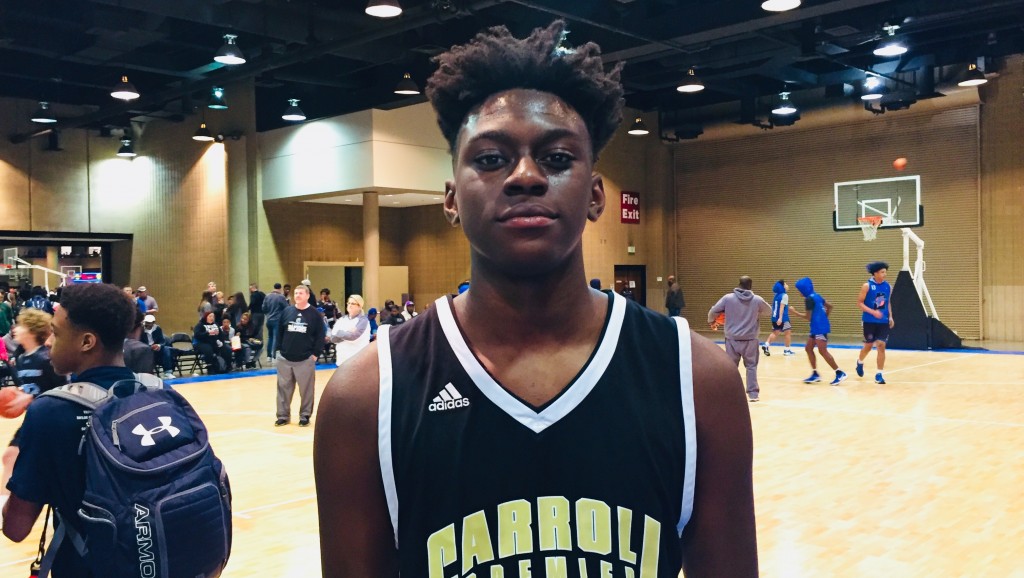 Some of Alabama's top travel basketball programs converged in Birmingham this weekend for the Southern Spring Invitational hosted by Team Carroll Premier. As usual, the event showcased some of the best talent in the South.
Here are the biggest headlines from the weekend, led by an impressive freshman that has all the makings of a high-level prospect.
KESHAWN MURPHY BURSTS ONTO THE SCENE
Earlier in the week, I received a couple of tips about a young prospect playing with Team Carroll Premier's 15U group. It's safe to say those tips were accurate, but boy did I get more than I bargained for.
2021 Birmingham (AL) Ramsay forward Keshawn Murphy (pictured above) blew all the expectations I had of him out of the water. The long, wiry 6-foot-7 forward is a unique prospect with his combination of size, length, and skill, and he has an unlimited amount of potential. Despite his size, the freshman plays like a guard and could ultimately be classified as a potential point-forward. Murphy is a confident shooter, as he knocked down a number of jumpers in multiple viewings. He also runs and moves fluidly, making him a tough matchup for opposing players. He still needs to add some weight and toughness to his thin frame, but there's a promising future for the youngster.
Murphy used this event as a coming out party. Many are not aware of his talent and potential right now, but that will change in a matter of time. There will be plenty of high-major programs involved when it's all said and done. In fact, excluding the 2019 big three of Trendon Watford, Kira Lewis, and Jaykwon Walton, Murphy may be the best long-term prospect in the state of Alabama. He's that good and he's only going to get better.
TEAM THAD CRUISES TO AN IMPRESSIVE WEEKEND
Team Thad's 17U group had a strong weekend as they claimed the championship in the Platinum division. The Memphis-based program played a dominating style throughout the weekend with endless pressure and intensity.
2019 Carver-Montgomery (AL) wing Jaykwon Walton continued his recent play dating back to the high school season. The junior was the best player in the event and is trending as a national name headed into the evaluation periods later this month.  
At 6-foot-6, Walton has the ability to shoot over the top of defenses. He has proven that he is a consistent shooter from deep, as he racked up a ton of points from the perimeter. However, he has also gotten tougher and stronger, allowing him to take contact at the basket. Walton continues to trend upwards and he will be a guy many high-major programs will like at the end of the month.
Kentucky guard KyKy Tandy also had an impressive weekend, as he showcased his unique scoring ability. The high-octane guard sliced and diced defenses on his way to the rim, but he also was a threat from behind the arc. After Walton went down with an injury in the championship game, Tandy picked up the pace and showed why he is a priority prospect for many high-major programs. He has a killer instinct that is hard not to like.
One of the unsung heroes from Team Thad's big weekend was Daniel Ramsey. The 6-foot-8 4 man was dominant in the post, as he dunked all over opponents from game to game. The Georgia product has been working in the weight room and it is evident. With some explosion and bounce, Ramsey isn't just a shooter anymore – he's an intriguing prospect that will garner some attention throughout the spring and summer.
ALABAMA IS FILLED WITH TALENT IN THE 2020 CLASS
Between the Alabama Fusion, JSI Elite, and Team Carroll Premier, there is plenty of talent in Alabama's 2020 class. Many of the state's best underclassmen was on display this weekend.
I thought Oxford power forward Zondrick Garrett played really well. The 6-foot-7 lefty hit some shots from the perimeter and also passed the basketball well.
Kam Woods of Midfield is one of the state's most entertaining players. He scored 42 points in a loss to WACG on Saturday. Woods is one of the best scorers in the state.
Sumter Central guard Kedrick Turnipseed had a nice weekend. The stout, 6-foot-2 guard is extremely athletic and one to keep an eye on this travel season.
JSI Elite 16U is paced by UMS-Wright point guard Trey Bonham. The talented point guard can score, but he's even better at setting up his teammates.
You know what you're going to get with Willie Screws each time out. The hard-nosed 6-foot-4 forward is a consistent force that delivers on both ends of the floor.
Central Park Christian guard Jayden Stone may be the best player in the class. More on him later this week.
A NOTABLE 2021 MATCHUP
Pro One Select Navy and Team TUFF matched up in pool play on Saturday, giving us a matchup between two of the best post players in Alabama's 2021 class – Albertville's Trinity Bell and Alexandria's Landan Williams.
Both players played extremely well in the matchup and were the best players for their respective teams. Bell brings a powerful style to his game, whereas Williams focuses on a more polished skill-set.
Bell's athleticism, strength, and explosion make him a successful player. The 6-foot-7 big man is good around the goal, as he can overpower players and finish through contact. He also rebounds at a high rate and could be a quality defender.
Williams was one of the best low-post scorers from the weekend. He can score with his back to the basket with a variety of moves. He also benefitted from his good hands on dump offs close to the goal. He also knocked down a couple of 3's, too.
This won't be the last matchup these two players have in their high school careers but it sure was a fun one. It's shaping up to be a fun battle between the two.
HELLO, MY NAME IS …
Dmitry Rivny, a Russian import from Birmingham's Central Park Christian, was the talk of the tournament to begin the weekend. He impressed spectators with his mixture of big dunks and shooting ability from 3.
The 6-foot-8 forward is bouncy and athletic, but he also has a nice touch and the ability to shoot the ball from deep. He can play both forward spots and should be recruited by a lot of mid-major and high-major programs.
Rivny has only been in the states for six months. After the travel season, he could be a hot prospect for many college programs.