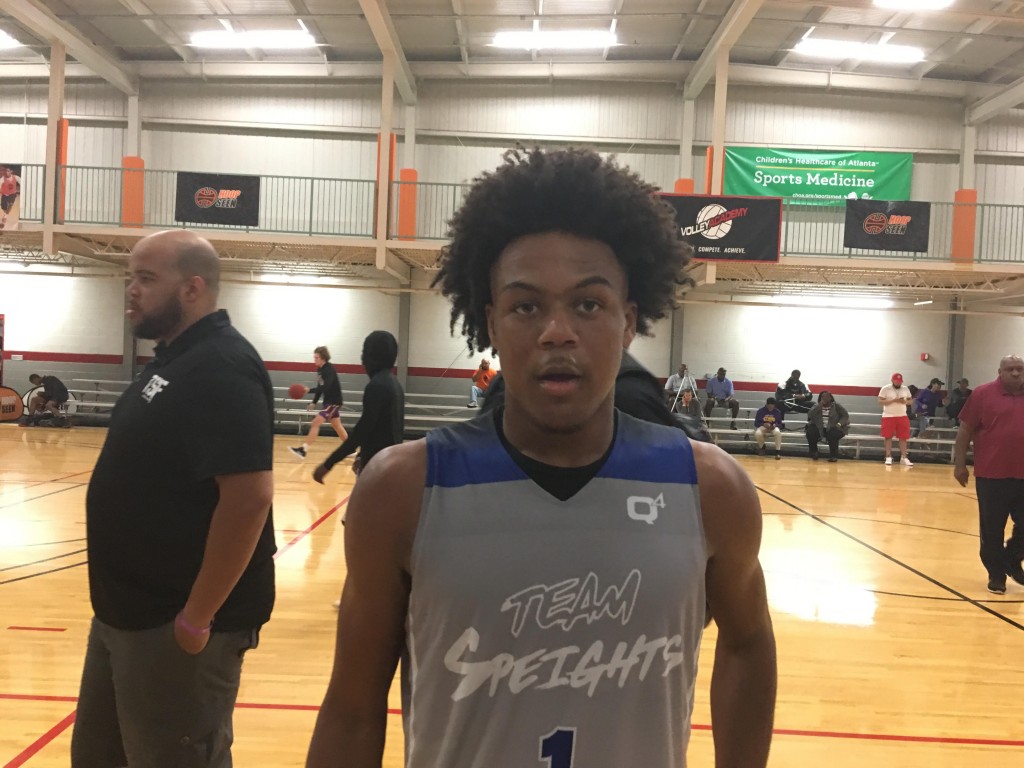 Coaches from every level joined us today as 242 teams took part in our Atlanta Jam. As our staff spread out to cover some of the southeast best, there were several players that stood out amongst the rest. Using Friday as a way to prepare for the next two days, I walked away from our four game slate with some new prospects to track. Some well-known prospects stepped up while a few under the radar prospects took advantage of a packed baseline of coaches. 
The tenacity of Diante Blanch stands out
The fireworks went off as Team WHBH(TN) engaged in a highly contested matchup against Team Speights Elite(FL). A dog of a defender, Dionte Blanch made life difficult as a disruptive defender in the half court. With a baseline packed with coaches, Blanch provided some of those "little things" that most throwback coaches would appreciate. So far, Blanch would get the nod if our all-defensive team was created today. Offensively, there's some poise to his approach that would make you check off the distributor's box before that of a scorer. His setups for the night were timely and mostly on target as he split time at both guard spots. Teams that press, junk up the game and look to punish others for 40 minutes should prioritize Blanch. At this point, Blanch claims offers from Bethune Cookman, Louisiana Tech, and Missouri State. 
Jacobi Wood brings more to the table
Jacobi Wood impressed our staff a few weeks ago at our Bama Jam, and while he's been a well-known name amongst us and division one staffs alike, more was added to his evaluation today. Scoring aside, Wood mixed it up more than I've remembered in past games on the defensive glass. With more teams playing small, his included, his ability to rebound should only gain him more traction with programs that look to play with small ball lineups. Also noticeable was his consistent pace of play despite playing against defenders who's sole purpose was to muck the game up with physicality. College of Charleston, Charleston Southern, Winthrop, Campbell, Presbyterian, East Tennessee State, Wofford, and Belmont were just some of the teams in attendance.  
A player on the rise, Alex Fudge
Mid-major programs are going to want to get very familiar with Team CP25 wing Alex Fudge before he hits the next stage of his development. Some of the most impressive possessions of the evening came from the 6'6 wing that seems to make the most of his long, developing frame. Prospects with his size, ability to handle the ball, and finish at a high rate do not come often or easy. Even defensively, when the Tigers started to make a run, his versatility allowed him to be shifted across a number of positions. With time to continue developing into a complete player, his eventual gains in the weight room could make him one of the better two-way prospects in the southeast. As his momentum builds, it is not out of the question for high majors to get involved with his potential. 
Mr. Fox Hole, TN Tigers Kavon Blankenship
Fresh off of our Bama Jam championship, the TN Tigers started off our Atlanta Jam with a Friday night win over Team CP25(2021). The high pace of play from Kavon Blankenship led the way as the teams shot making spark plug. When a play was needed he would often deliver without sacrificing the playmaking ability of his running mate Will Pruitt. Defensively is where Blankenship shined, shifting across all 5 positions and holding his own. There's a certain grittiness to appreciate about him as he routinely looks to guard the other teams most effective scorer. Every move or possessions isn't sexy, but there's no denying his on the court productivity.