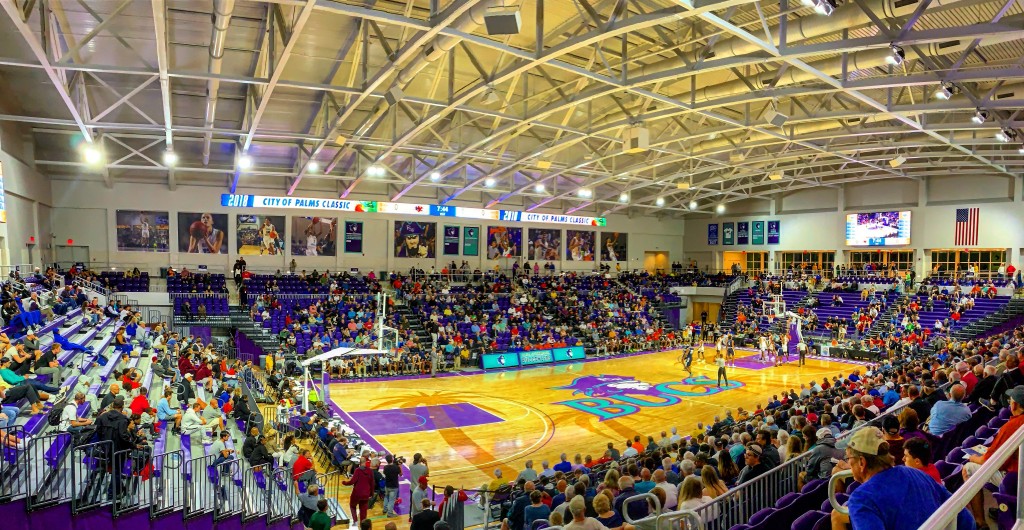 FORT MYERS, FL - With the bracket getting smaller, the games are getting better. The quarterfinal games on Thursday night at the City of Palms Classic 
WATFORD WOWS AS IMG FALLS
The Fort Myers legend of Trendon Watford continues to grow. On Thursday night, the 5-star forward from Mountain Brook (AL) was nothing short of brilliant. 
He and his team knocked off IMG, one of the top teams in the country, in impressive fashion. Mountain Brook won 72-67.
Watford went off, scoring 38 points on 9-19 shooting from the floor. He won at the free throw line, sinking 19 of 23 attempts. He also ripped down 12 rebounds. He was paired with two five-stars in North Carolina bound Armando Bacot and Villanova bound Jeremiah Robinson Earl.
The win sent Mountain Brook to the semifinals, where they will play McEachern (GA) on Friday night. The win was big for the Alabama squad after last year's run of two games lost on total of three points. This year, the Spartans came back with some redemption on their minds. 
With the win on Thursday against IMG, that need was satisfied. 
Watford will finish his career as one of the most potent scorers at the storied event. Last year, he was the top junior at last year's City of Palms. This year, he may just be the best senior. 
We featured him on the opening day of the event and broke down his four finalists - Alabama, Indiana, LSU and Memphis. 
TOP DOGS 
Fort Lauderdale's University School won the 2017 City of Palms. The Sharks returned this year knowing they, in turn, would be the ones with eager teams swimming around them hoping for a shot to steal the crown.
On Thursday night, 5-stars Vernon Carey, Jr., Scottie Barnes and company ran into a buzz saw named Imhotep Charter from Philadelphia. 
Truthfully, for three quarters of action, this wasn't a very fun game to watch. Neither team could find their shot. The score was 25-15 at halftime. The action wasn't pretty. University only made two field goals in the first half and it didn't help Imhotep lost Xavier bound guard Dahmir Bishop to injury. 
Then the fourth quarter came around and things got interesting. 
Donta Scott, a Maryland bound wing guard, was outstanding for Imhotep. He finished with 23 points (8-14 FG, 3-5 from 3, 4-8 FT) and seven rebounds. When his team needed a bucket, he provided. Scott has a Josh Okogie (Minnesota Timberwolves/Georgia Tech) flavor to his game. 
His heroics didn't come without some pushback from the University School. The Sharks came firing back thanks in large part to the play of 2017 MVP Scottie Barnes. He came roaring back in the fourth with some monster buckets. His defense on Scott, a big three-pointer and play at the rim put his team into position to win. 
Barnes finished with 21 points and nine rebounds before fouling out. Duke bound Vernon Carey, Jr., finished with 24 points and 13 rebounds. 
HI, MY NAME IS…
Sometimes things just goes right for a player. On Thursday afternoon, everything was clicking for Johnny Davis of La Crosse Central (WI). The 6-foot-5  guard. He scored 33 points on 14-18 shooting and grabbed 11 rebounds. He also had four assists and three steals. Wisconsin has offered. Virginia, Iowa, Nebraska, Green Bay, Milwaukee, UNLV and Northern Iowa have shown interest, too. On this particular day, Davis looked and played like a top 50 national player in the 2020 class. 
Vashon (MO) 2020 WF Cam'ron Fletcher gives you a peek of some serious wow potential. He's 6-7 and great from the wing to the rim. On Thursday morning, we caught glimpses of a guy who could be a top 25 level player nationally in the 2020 class.
Phillip Russell of Vashon (MO) was the go-to guy for the Wolverines in their win over Osceola. Russell pumped in 28 points on 9-12 FG, 5-7 3 pointers, 5-7 FT. He added some big steals to boot. His toughness has helped earn three offers to date - Valpo, UMKC and SEMO. Russell said he has interest from Kansas State, UAB and Butler.
Diego Rivera of Miami Christian (FL) has played well here at the City of Palms. He scored 22 points and had eight assists in his team's dismantling of Gray Collegiate. The senior is the anchor of the frantic Miami Christian attack. 
THE KIDS ARE ALRIGHT 
Chase McDuffie, Gray Collegiate (SC): For the second straight game, the 6-foot-5 sophomore was an eye-catcher. He has shot 7-16 from three over the course of two games. On Thursday morning he showed flashes of why he should be a high-major prospect.
Joyful Hawkins, Brunswick (GA): The 6-foot-7 forward was impressive on the offensive end of the floor as he scored 8-10 shooting from the floor. He also grabbed five rebounds and had a pair of steals. We've touted him for quite some time now so it wasn't all that surprising to see him have the kind of game he had on Thursday afternoon. He's one of the best rookies in the Peach State and playing on a stage like the City of Palms, Hawkins gave quite a good impression. 
UNSIGNED SENIOR MOMENTS 
Tommy Brunner has been one of the best unsigned seniors at the City of Palms. In a bad loss to Miami Christian, Brunner was keeping his club in the game with his scoring. He went for 28 points on 11-17 shooting from the floor. He also had six assists. Hofstra, UNC Wilmington and Furman are in the mix, he said.
Gray Collegiate's Khalil Robinson He won't light up the scoreboard as a shooter but he gets the job done. He scored 11 and handed out 11 assists. He's one of the better available pass-first point guards in the South's senior class.
SCOREBOARD 
Vashon (MO) 85 Osceola (FL) 76 
Miami Christian (FL) 96, Gray Collegiate (SC) 80 
La Crosse Central (WI) 70, Brunswick (GA) 57
Miami Palmetto (FL) 60, Lakeland (FL) 52
Petal (MS) 78, Glens Falls (NY) 56
Imhotep Charter School (PA) 57, University School (FL) 54
Mountain Brook HS (AL) 72, IMG Academy (FL) 67