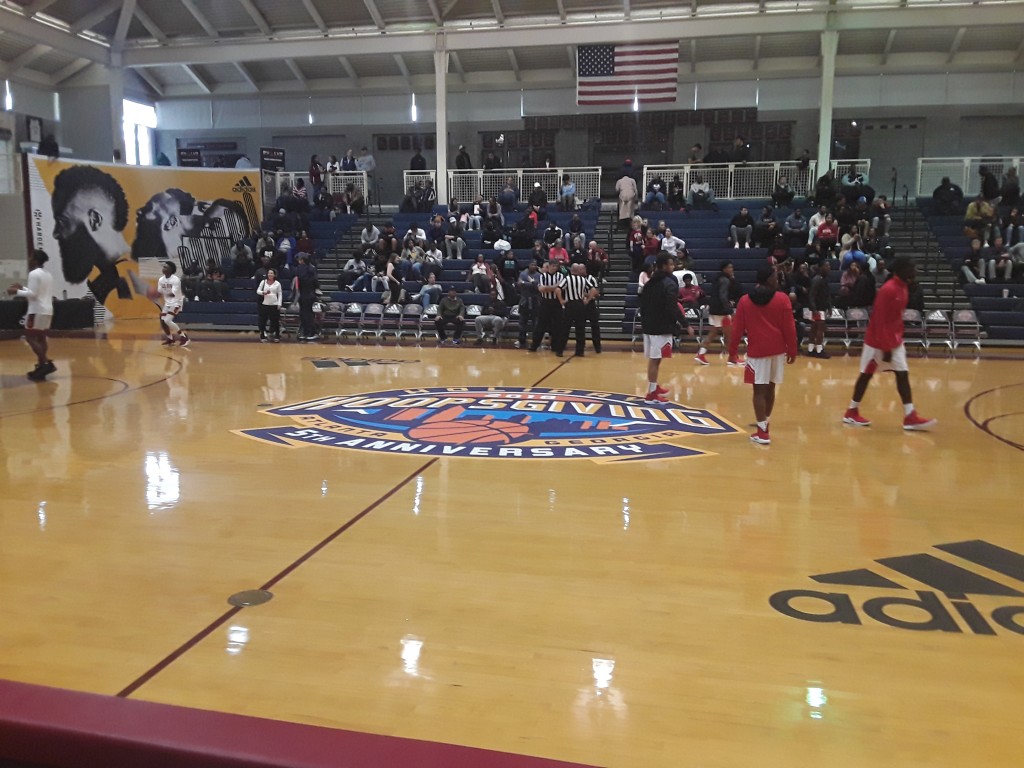 There was a lot to digest from this weekends Holiday Hoopsgiving that featured some of the top players and teams around. With such a deep field, I saw it fitting to create two notebooks from this prestigious event. Here's part I 
Greenforest has a ton of young talent to watch going forward as Lamar Oden, Christian Fussell, and RJ Noord lead a talented group. Fussell showed during out Preview camp series that he's turning the corner into a legitimate division one prospect while Oden has been a well known gem amongst those that know the state. Fussell can alter shots without much working given those long arms that shoot out from his 6'9 frame. Oden checks off a lot of the boxes that programs are going to covet when discussing wings that can guard different positions and contribute offensively. At 6'6 he could end up being one of the better two-way wings in Georgia's 2020 class.
30 points and 17 rebounds. That's not a typo. Robbie Armbrester had to break, or at least come close to overthrowing someone elses name that was once in the Hoopsgiving's record book. The strong bodied bruiser moved any one out of the paint that stood in his way to an easy layup. Back at our Elite Preview Camp we raved about his versatility and his ability to make a statement at a young age. He did just that as he dominated that paint.
Therrell guard Roman Son could be in play for some low major programs to get involved with him if they haven't started too already. His value as a guard is evident on a post-heavy Therrell team that will look for him to make key plays when perimeter play is necessary. He's shown the ability to play at several different tempo's as he must blend his fast-breaking nature with the toughness advantage they may have on a nightly basis. Don't look too much into Therrell's current record and overlook what could be a solid guard in Georgia's deep 2020 class.  
It's hard not to like the physical play of Wasatch Academy forward Mady Sissoko. Standing at a long and lean 6 foot 9 inches, the high energy forward would constantly throw himself to the floor if there was the slightest attempt at a 50/50 ball. Rebounding and blocking shots was also a constant for the high major prospect.
One of the names that made it to my high major watch list is Huntington Prep guard Greg Tribble. With AJ Hoggard primarily running the show (and rightfully so) sometimes Tribble found himself looking to pick his spots and let the game come to him. With the ball in Tribble's hands it's a different story as I witnessed a prospect that knows how to make and create shots for others. With several different gears to choose from, Tribble has a knack for creating tough baskets in transition and via ball screens. It' will take some time to get adjusted to his new role with Huntington Prep as he just made the trip over from Winton Woods, but once he's acclimated, watch out.  Programs from the MAC, Horizon, and Ohio Valley have offered the 2020 guard, but high major programs should begin to get involved while his stock is growing.
One of the more under appreciated things about Team Georgia Magic this spring and summer was the tough nosed play of available guard Stevin Greene. With many scouts and coaches being wrapped up in the development of Devin Butts, Stevin Greene would go on to post stat lines that should've put him on the radar of many small college programs. Great shooting throughout two games was a much needed reminder of what he brings to this Morgan County team. Games of both 18 and 29 points were recorded as he still managed to keep a smile on the faces of his division one bound running mates.