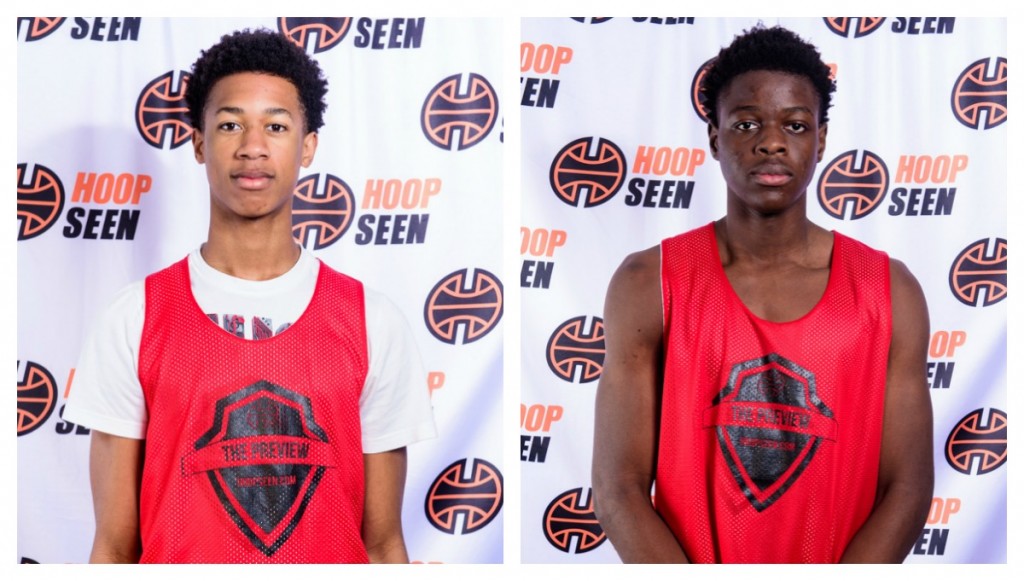 We had a full camp on Sunday for the 2018 Georgia Fall Preview. Each team was balanced with talent, size and grade levels. We begin our team by team evaluations today. Meet Team 14. 
Kevin Brown, SG, 6-2, New Faith Christian, 2020: The consistent feedback with Brown was this - he's an active rim attacker who plays with high energy throughout the day. He was an energy giver to his entire team and liked having the ball in his hands. 
Brandon Deravine, F, 6-6, Campbell, 2019 (pictured right): He was one of the best seniors in the camp because of his versatility as a forward and wing. He's a nice spot up three pointer and can hit his open shots. Once he rips a rebound, he's looking to pass and move into the transition game. Deravine plays with versatility and has a nice high skill set for his size. Truthfully, he's a bit of a streaky shooter but he's a crafty finisher. 
Tucker Greene, CG, 6-1, Bradley Central (TN), 2021: The sophomore guard hit his open threes when the moment came his way. He was confident from three and knocked down the triples. 
Donavan Morris, CG, 6-1, Peachtree Ridge, 2020: Morris can hit the open jumpers when they open up for him. He's good off the dribble and proved himself as a good catch and shoot guy. Morris is extremely coachable and drew big praises from his coaches at the camp. 

Jeremiah Pipkin, CG, 5-10, Cass, 2021: Small and quick, Pipkin liked to play fast and with the ball in his hands. He got up and down the floor with speed. 
Kyree Rice, CG, 5-10, Jonesboro, 2019: Fast from end to end, Rice was good in transition. He was willing to guard end to end. Liked his effort on both sides of the ball. He made the shots he is supposed to make. 
Brendan Tucker, SG, 6-3, Dacula, 2019: The College of Charleston commit was one of the most athletic players in the event and he was one of our top overall performers, as voted on by our coaches. Read more about his day HERE. 
Alex Walters, CG, 6-1, Lovett, 2021: Heady and energetic. Walters jumped into our drill work and gave good effort. He picked his spots to shine as a facilitator and scorer. 
Robert Ward, CG, 6-1, Westlake, 2020: The quick twitch guard created well in the open floor because he has the ball on a string. He graded well as a competitor. Loved the way he got into the mix and battled. He made tough layups and created well in the open floor. His ball-handling is his best trait. 
Kaleb Washington, SF/SG, 6-7, Pebblebrook, 2021 (pictured left): One of our top dogs from our underclassmen Elite Preview camp, Washington stepped into the general camp and had his good moments once again. He's a good to great passer in transition and plays well in speed. Washington has unique size and length for his position. He is a good shooter with continued growth ahead of himself. a