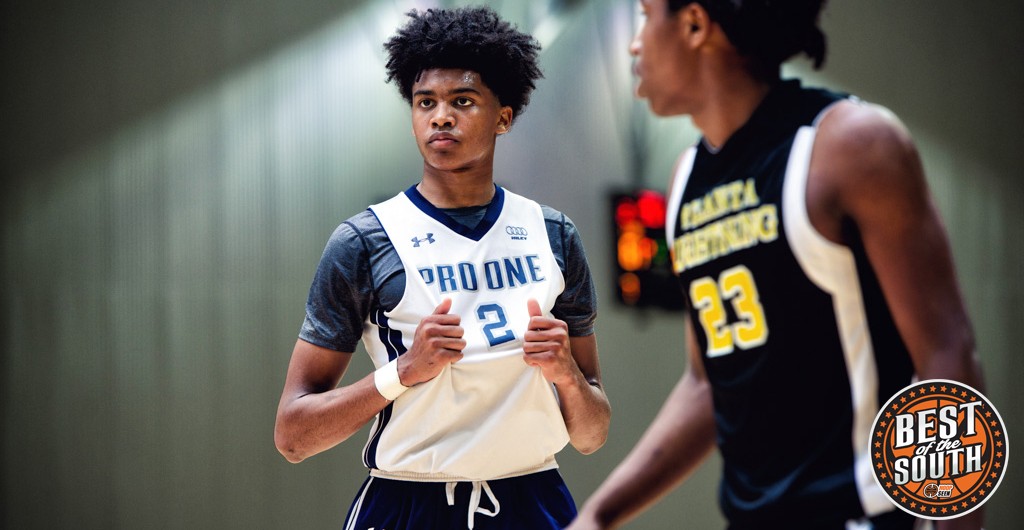 The 2018 Best of the South was loaded with talented players and teams. Our staff has poured through our piles of notes and worked through our notes to identify the very best players in this year's field.
RELATED: Part I 
Tremere Brown, Georgia Kings, 2019: Tremere Brown did himself some favors during our Best of the South by picking up offers from Alabama State and Alabama A&M. Back in the spring I knew he had a chance to garner some Division 1 interest due to his size and skill level that was intriguing for a 6'7 prospect. Brown impressed on both sides of the ball, especially defensively where his solid positioning and long arms disrupted offenses. Both his April and July periods showed that he was capable of and it appears like he's starting to turn the corner. – Tai Young
Hunter Cattoor, Team M.O.A.M., 2019: One of the top mid-major guards in the event, Cattoor was also one of the most entertaining. The 6-foot-3 guard can flat out play. He's a versatile and productive guard from three positions. Cattoor can shoot, he's a skilled passer with vision and can handle the rock. M.O.A.M. was one of the best teams in the Best of the South and he was one of the reasons why. M.O.A.M. was undefeated for the week and racked up wins over Team Thad, Atlanta All-Stars and Team Power.— Justin Young 
Jacques Glover, B-Maze Elite, 2019: The first thing that jumps out about Glover is his ability and willingness to defend. Glover is a tremendous on-ball defender which will force his future college coach to play him as a freshman. His speed & quickness creates havoc on the offensive end. Glover can also knock down the 3 ball keeping defenders honest. Elite low-major programs will make him a recruiting priority this fall.
C.J. Melton, Pro One Select Navy, 2019 (pictured above): Melton shook off a lackluster April period with an impressive showing at the Best of the South. The long, wiry 6-foot-4 shooting guard impressed with his skill-set and shooting ability, especially from the mid-range. He was automatic from 15 feet with pull-up jumpers throughout the weekend, and it looks like that has become the primary part of his game. It was evident that the rising senior is becoming more comfortable with the ball in his hands, as he was much more effective off the dribble, too. - Garrett Tucker 
Earl Smith Jr., SR1 All-Stars, 2019: The SR1 All-Stars always have interesting prospects. That's a tradition. I hadn't seen them this grassroots, so when I finally got to, Earl Smith Jr. jumped off the page. Smith is a long lefty that's a wing at the next level. He even has the ability to handle ballhandling duties from time to time. With a capable jumper, he's pretty tough to stop when he gets downhill going towards the rim. Low-majors, Division IIs, and JUCOs should be tracking him. - Kory Keys
Rodney Smith, Ballin' Blazers, 2019: I like stumbling across a game and seeing a guy just make play after play. That was Ballin Blazers' Rodney Smith. The Chamblee (GA) High School product is a 5'11" combo guard that was comfortable on the ball or off it. Smith is crafty and was at his best making plays off the bounce, whether that be at the rim or from the perimeter. Low-majors need to circle his name. - Kory Keys