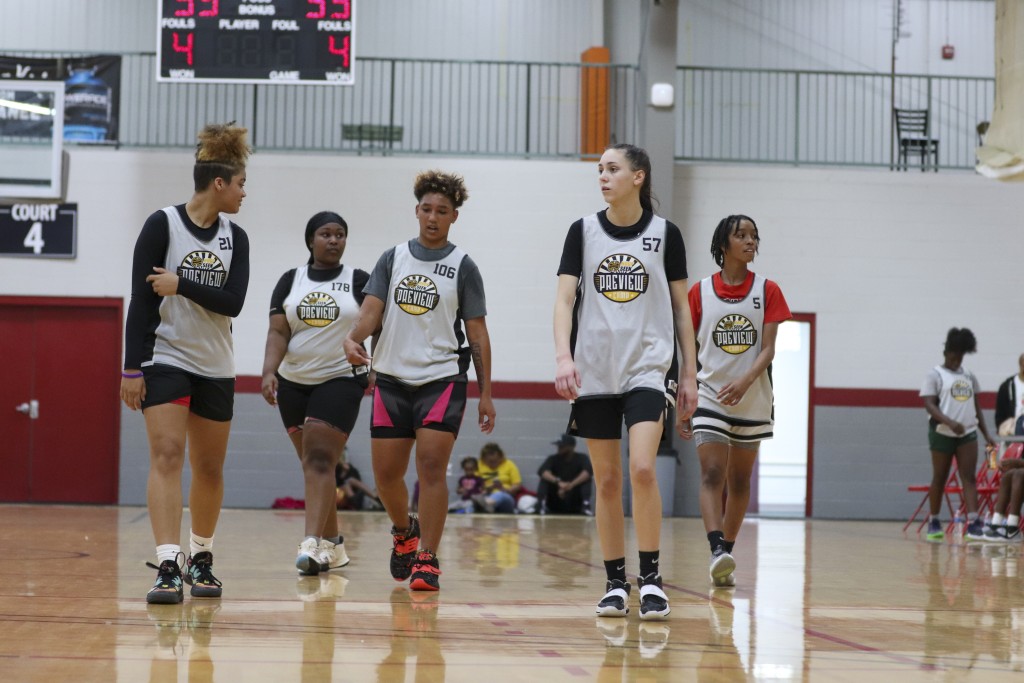 Our first HoopSeenW camp was incredible. We were able to get eyes on a number of talented girls and watch them go through high level drills and play three games of 5-on-5. Here is a breakdown of team 3.
Jayla Cook: Cook was named an overall top performer. Read more about her here.
Lauryn Crump: Crump was one of the top overall shooters at the event. The 5-foot-8 PG out of Woodland High School has a nice skill set, especially considering she has two more years remaining of high school ball. She has a nice, fluid shot that she can get off quickly from just about any range. Crump was also really impressive on the boards. Look for there to have a big junior season.
Kimora Hicks: The freshman out of Hampton High School flashed glimpses of what she can do on the offensive end. Already at 5-foot-9, she takes advantage of her height in the paint, especially against smaller guards. She is an unselfish player, often looking to make the extra pass for an even better shot than she had.
Jada Morgan:  Morgan was named an overall top performer. Read more about her here.
Tivona Myles: At 5-foot-9, Myles has solid length at her position. She utilizes her length, especially on the defensive end to get into the passing lanes and cause deflections. Her court awareness also impressed coaches and spectators in attendance.
Cameria Reed: Reed showed her ability to excel in transition where got a ton of easy buckets. She runs the floor well and knows how to fill her lane. When the ball is in her hands, she makes good decisions based on the numbers. As a lead guard, she has attributes that can make her a legitimate floor general with her IQ and court vision.
Cora Shaw: Shaw played with a high motor through the drills and her three games of five-on-five action. The junior out of Grayson does all of the little things. She's on the floor for loose balls, taking charges, and she crashes the boards on both ends. One thing a coach will not have to ask her to do is to hustle.
Jalexia Taylor: Taylor was named an overall top performer. Read more about her here.
Annaclaire Yearick: Yearick's coach raved how coachable and eager to learn she was. Her IQ on the defensive end is so fun to watch; she has a good understanding of helpside defense and has good anticipation on jumping the passing lanes.