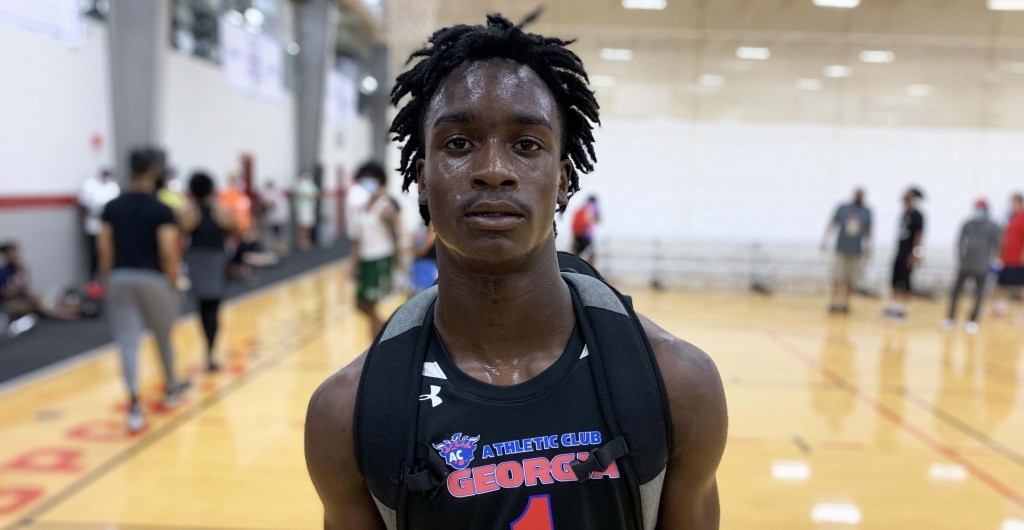 The early signing period is now over for the class of 2021 and we've seen a number of players from the state of Georgia put their signature on the National Letter of Intent. Forty-two to be exact. With that many players headed off to hoop at the next level, there's a lot to talk about. 
RELATED: Georgia's 2021 college-bound players | Georgia 2021 Rankings 
Which college in the state of Georgia pulled in the best recruiting class in 2021?
Georgia Tech. 
This is the best class that Josh Pastner and staff have reeled in since he's taken over the Yellow Jackets program in 2016. Leading the way is Floridian Deebo Coleman. The 6-foot-5 guard is a big, strong shooter who continues improve his game at a rate that should allow him to see a big role right away. His shooting touch will win games for Georgia Tech in his career. 
Miles Kelly, a Gwinnett County native, flew up the recruiting boards over the last 12 months and became a hot prospect. He left the Peach State for Hargrave Military and should return back to Atlanta with an even-more fine-tuned offensive attack. 
Jalon Moore blew up this summer with the Nike Elite Stars. he was a standout at our Bama Jam and the Alabama Preview camp. In those settings, we saw a long and athletic slashing wing who possesses an upside to get excited about. 
Georgia Tech has three players who, in their own way, should contribute in every year they wear a Yellow Jacket jersey. Coleman should play a lot right away. 
Which signing will help right away? 
Jabari Smith to Auburn. This one is obvious, right? The future NBA Draft lottery pick is the latest stud to leave the state of Georgia for Auburn. Smith should be an All-American selection before he ever plays a game for the Tigers. He's a major talent and instantly the best player in the SEC as a freshman. Have fun guarding Smith, SEC. And have fun trying to figure out how to score down low against him, too. 
Speaking of Auburn…
Which school continues to recruit the state of Georgia the best?
The Tigers have made it a habit to come in and snatch up the best talent the state of Georgia has. Just look at this recruiting run in the Peach State for Bruce Pearl and his staff. The Tigers have signed: 
2021
Jabari Smith
2020
Sharife Cooper
JT Thor
Dylan Cardwell

2019
Isaac Okoro (NBA)
Jaylin Williams
Babatunde Akingbola

2017
Chuma Okeke (NBA) / Final Four
Davion Mitchell

2016
Jared Harper (NBA) / Final Four
Anfernee McLemore / Final Four

2015
Bryce Brown / Final Four
That's an insane run of landing top-end talent. 
Which signing do you like the most from this class? 
Mannie Harris to Georgia Southern. I think Harris has Player of the Year potential for the Eagles. I really do. The Mitchell County guard was one of the best guards I saw all summer long and we liked him so much, we placed him No. 8 overall in the class of 2021 in the state of Georgia. I think he's a top 200 player nationally and one of the best high school prospects to commit to the school in it's history. No pressure, Mannie. Harris is a terrific two-way guard that is equally effective as a scorer and a stopper. Harris is just barely scratching the surface as a player and should shine in Statesboro. What a steal for the Eagles and new head coach Brian Burg. 
Are there any sleeper classes that you like that have a Georgia flavor? 
Oh, you better believe it. Alabama-Huntsville has a pair of players coming to town that should be productive players for coach John Shulman. 
North Gwinnett's Brennan Rigsbee and Sutton Smith of Denmark have both shined in travel and scholastic ball. Moreover, both guys have a competitive edge that Shulman likes his players. UAH identified both guys and went after them hard, landing them early. 
UAH has a really good class coming in 2021 and the Chargers should see the group pay dividends when they have time to develop at the collegiate level. 
Any fun facts stand out to you on the recruiting trail regarding the Peach State? 
I always get asked this question - which assistant coach recruits Georgia the best? My answer is always Jonas Hayes. The Atlanta native is thriving at Xavier. 
He recruited Cherokee forward Elijah Tucker and landed the top five forward in Georgia's 2021 class. The year before he was the catalyst in signing Dwon Odom, one of Georgia's most accomplished HS hoopers over the last two decades. He also spearheaded the effort to land Norcross forward Daniel Ramsey to the Cincinnati school. 
Three years at the school and three Georgia players. I don't anticipate that slowing down at all looking ahead.