Ernest Udeh is down to 10 options, visits on the horizon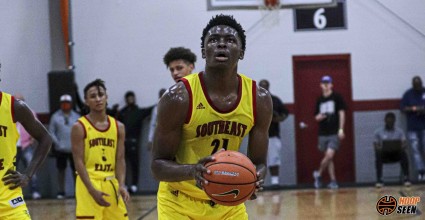 There has been a theme with Florida big man Ernest Udeh since the high school season ended in the spring. Onward and upward. The 6-foot-10 paint warrior from Orlando (FL) Dr. Phillips has been one of the hottest big men in the class of 2022 nationally.
Udeh went from a "could be good" kind of guy in the state of Florida to a player that should be considered for All-American teams. His recruitment has skyrocketed and grown legs at a national level.
What a ride it's been. Udeh, who starred for Southeast Elite, said the journey has been anchored by hard work.
Regional All Access Pass
Subscribe to one of HoopSeen's Regional Passes and get access to all premium articles and player rankings in your area!
SAVE 30% on membership between now and the end of the year. Use code hoopseen30 at checkout!
Already a subscriber? Log In