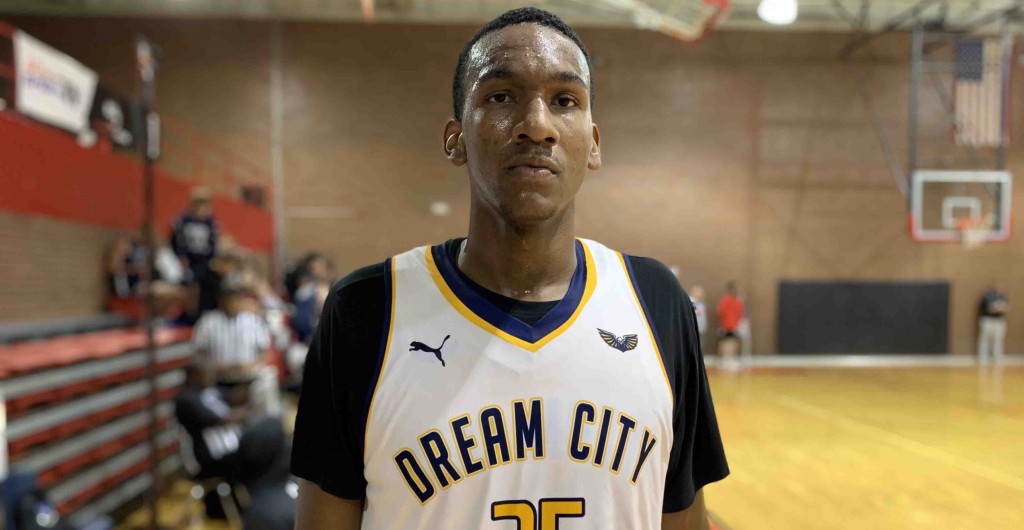 AMERICAN FORK, UT - The Great Western Classic is in the books and the annual fall stage for teams in the West was a huge stage for our team to see some familiar faces and add some new ones to our HoopSeen Search database. Let's take a look at the three big takeaways from Justin Young.
Shawn Phillips is on the upward trajectory
Yohan Traore went down on Friday night to a turned ankle, putting the post purpose on Phillips. That's fine. He started out the action with a bang - a loud one - on opening night and never relented. The future NC State post player uses his unmatched 6-foot-10, 260-pounds well around the rim. There wasn't a player in the field that could contain him and Phillips had himself a weekend.
The Dream City Christian coaching staff have spoken highly of Phillips in the preseason and the work is showing with continued conditioning and dropping weight. Along the way, confidence is raising up.
He looked like a player that pro teams will come in and spend time watching because of two things: 1. His undeniable size. 2. His return to a form put him on the high-level map early on as a youngster. Don't be surprised to see Phillips make a big debut in our national rankings for the class of 2022.
AZ Compass is who we thought they were
Right from the opening night of action at American Fork, the guys in green from Chandler, Arizona played like a team that should stay in the conversation for the top overall team in America throughout the season.
Here's where they're tough - incredible depth, incredible shooting, incredible full-court defense from start to finish. We saw them shine in their first completion against someone other than an intrasquad scrimmage.
There was a moment during the event where the Dragons were up by 20 plus and with six seconds left to play, coach Ed Gipson charged his teams to hurry up and defend and not allow another shot before the buzzer. The team jumped to action and denied a score in the home stretch of the game. That's the kind of focus we saw from them throughout the weekend and probably will the rest of the way..
This team is designed for a final weekend spent at the GEICO National Championship. Hard to say they won't be there in the end. Great first impression for what should be a busy season that goes across the country.
On point: How lead guards led their teams all weekend long
If you look at the top teams in the field there was a commonality to each of the rosters - a terrific lead guard. The top three teams - AZ Compass, Dream City and Wasatch Academy - were anchored by a point guard that could take over a game with his passing and playmaking skill set.
Just look at a program like Wasatch Academy. The Mount Pleasant, Utah school always has a talent at the lead guard position. This year's team has a rich cupboard of talent and is just getting its feet under itself. Having a point guard to tie it all together is critical for its long term success. Koren Johnson, a Seattle native taking the reigns from his hometown mate Nolan Hickman, has drawn the responsibility. He looks up to the task. Johnson is one of the top PGs in the West and played like it throughout the weekend on the Wasatch front. How quickly he can blend all of the talent together is clutch for the Tigers.
Staying in the state of Utah, start-up Real Salt Lake will have a big schedule with big ambition this season and leading the way is 2023 guard Dra Gibbs-Lawhorn. The Indiana native put his team on his back several times and made plays to put his club in a position to win. His gamesmanship will be leaned on this season and we saw that when his team needs him to go into takeover mode, he's quite capable of it.
With Dream City Christian, there wasn't a better pick and roll point guard in the event than Milos Uzan. His control of tempo and decision-making raised the level of play of his teammates, particularly Shawn Phillips who we mentioned at the start of this story. Uzan continues to look like a guy who is on a track that will yield over 80 wins in his four-year college career, wherever he picks.
For AZ Compass, we raved about their backcourt on opening night. There aren't too many clubs that have the kind of wow in the guard position quite like the Dragons boast.