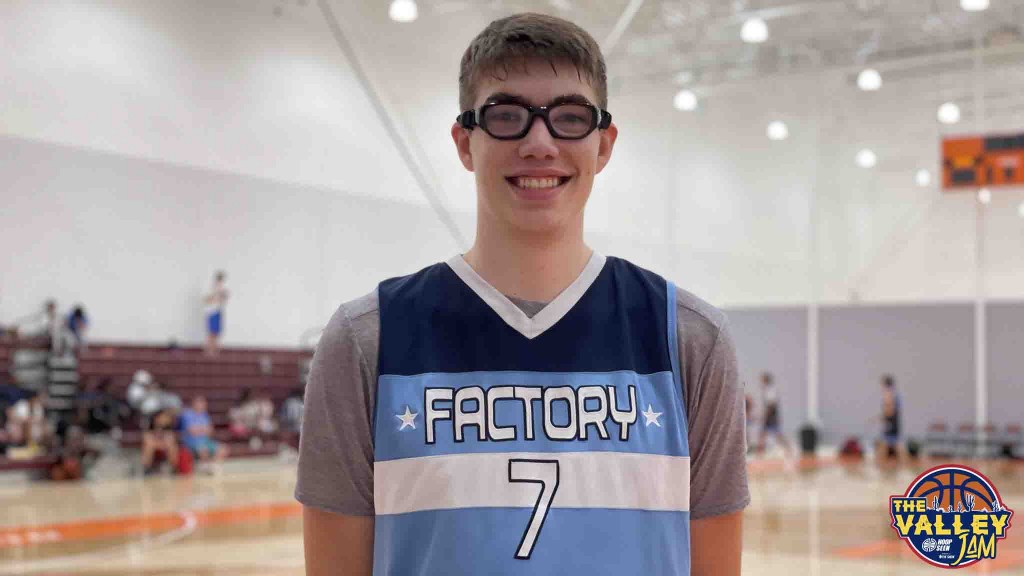 SURPRISE, AZ - The Valley Jam came and went in Arizona. It was the first ever NCAA live period event held by HoopSeen in the West and the first live one in the valley in over a decade. There were 43 teams from the 15 to 17-under levels came to the new beautiful Ottawa University and played four showcase games over the weekend. 
Let's dive into some of the top overall big men from the weekend from the class of 2022, 2023 and 2024.
Terrance Dixon PF 6'8 Desert Vista/AZ (Factory 17), 2022
One of the top shot blockers at the event springs up to alter or erase oncoming attempts. He has a nice touch around the rim with soft hands. He can explode up to dunk the ball with authority off of two-feet and catch lob dunks in style.  
Petia Dogale PF 6'7 200 Bella Vista Prep/AZ (Dreams Become Reality 17), 2022
A fluid forward with springs. He blocks out of area shots and covers so much ground. He seems to get off the floor in a blink of an eye. He can handle the ball decently and fluidly rip through and score through contact. He plays above the rim and will thunder it down. 
Noah Amenhauser C 7'1 Estrella Foothills/AZ (Factory 16), 2023
The massive post player was doubled throughout the weekend and he made them pay by showing off his impressive passing skills for a big man. He is patient in the post and can go to work with advanced post footwork and can flush it down easily. He keeps the ball high and will score it in traffic. He blocks shots and rebounds at a good clip. 
Sawyer Hansen PF 6'6 Middleton/ID (Idaho Premier 16), 2024
A strong forward can play inside or out. He make 3's off the catch and can power his way in the lane and score it. He carves out space with his strength and girth and has a nice touch inside. He injured his leg and attempted to play the last game on Sunday showing his toughness. 
Shane Williams PF 6'6 South Mountain/AZ (Team Rondae Hollis-Jefferson 16), 2023
A natural rim runner and shot blocker. He brings incredible energy to the game and uses his bounce and length to alter or block shots. He can throw it down on the break and is a quick second jumper to leap up to rebound. He is just starting to develop his offensive game and shows upside.
Braylon Johnson F 6'6 undecided (UH Elite 15), 2024
The younger brother of Phoenix Suns forward Cameron Johnson is a highly skilled forward who can shoot it. He has good length and will rip through with his left or right hand and score through contact. He has a nice touch on his shot to the 3pt line. He surprisingly made a couple incredible bounce passes along the way showing his versatility as a player.