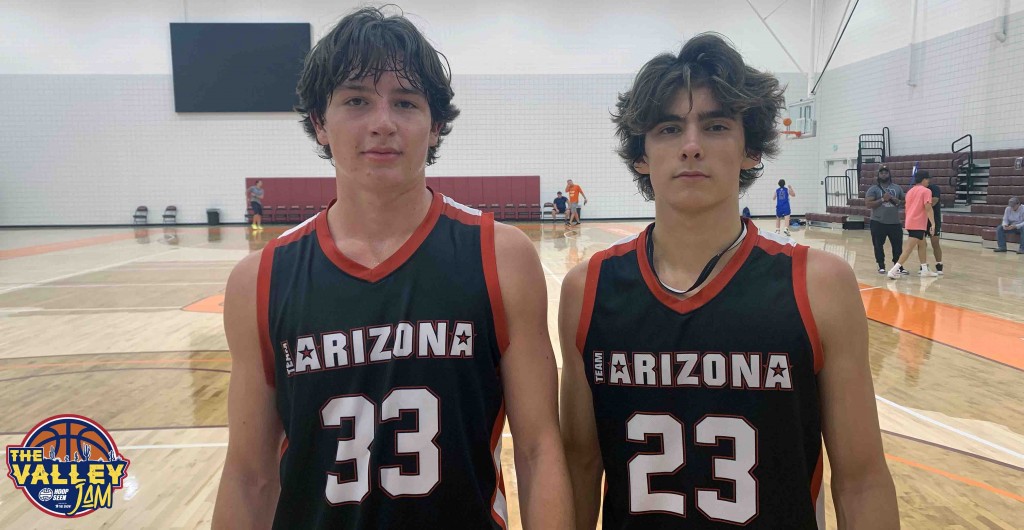 SURPRISE, AZ -- Opening day at The Valley Jam is in the books on a rare rainy night in the northwest summer of Phoenix. The first-ever NCAA Live Period ran by HoopSeen in the west had some good takeaways on Friday night. 
TEAM ARIZONA BLACK SECOND HALF SURGE CLAIMS WIN OVER PRIME

In the best game of the day and the last game of the night, Team Arizona Black made the right plays at the right time on the right night. Team Arizona Black had leaned on the efficient play of Isaiah Kai and Noah Peterson, particularly in the second stanza.
Kai is the kind of point guard you want to have in control when the game is on the line and you need a play to be made. In this game that went back and forth, Kai was poised under pressure and knew how to make his team thrive in the comeback win. We've seen this kind of mastery before from him, and you could make the argument that his steadiness raises the level of production across the board for his team. Talk about a great way to grade a guard.
When you have a guard like Kai, anyone can be a go-to guy, at any given moment, because he sets up his teammates for success so well. On Friday night, Peterson was the guy that benefitted in such a situation. The big strong wing made plays down the stretch that helped Team Arizona Black get the victory.
For Prime, however, they weren't going to go down easily. The play of Nikko Pentelute was brilliant. A wonderful ball handler and a crafty guard, Pentelute plays with a fun wow factor. Pentelute exploded for nearly 30 points in the defeat. Nevertheless, you could make the argument that he was the most exciting player we saw on opening night. 
FUN FACTORY

You'll probably read a lot of things about this program this weekend at The Valley Jam. Rightfully so. The 17 and under team has enjoyed a great July already, coming off the heels of a successful showing in an NCAA Live Period. On Friday night, the play of Jake Lifgren was big. He's a shot maker that plays with good control and uses his smarts and handles. He's had a good summer. He said Cal Baptist, UC Riverside Cornell, Sacramento State UC San Diego, Seattle Pacific, Point Lola are involved.
Class of 2021 big man Jeffery Goodere could be a post-grad player to watch as we finish out the summer. He could take the junior college route to preserve some Division I eligibility and go that route this fall. Goodere has late bloomer potential. He's certainly a player to watch and at 6-10 he's certainly hard to miss.
Grand Canyon University head coach Bryce Drew was on hand to see 7-foot big man Noah Amenhauser. in action. Suffice it to say, the local program has made the class of 2023 prospect a priority recruit this summer. 
ALL EYES ON US

The was a solid showing of college coaches at The Valley Jam on Friday night, as noted above. GCU was on hand, along with UC Riverside, Ottawa University, Arizona Christian, and Western New Mexico were all present for the action.