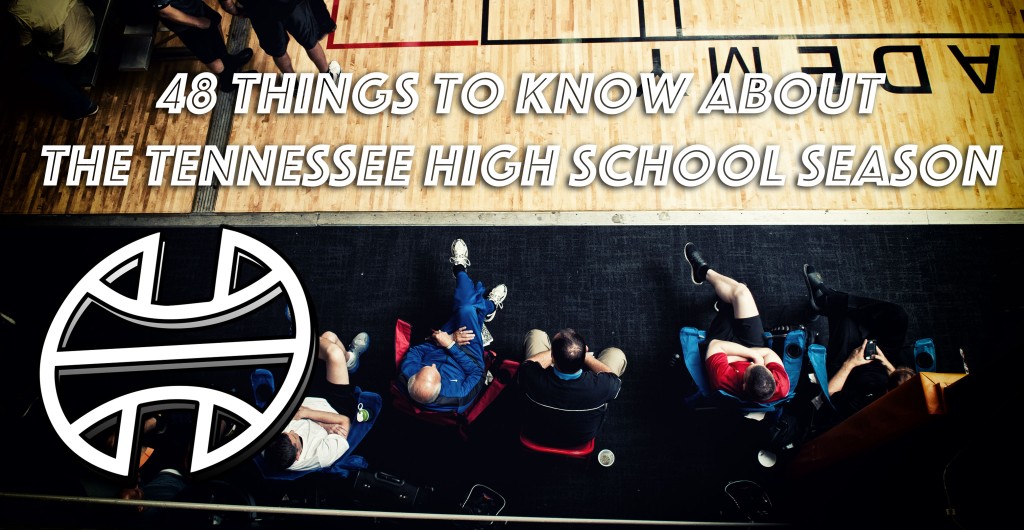 The high school season is upon us here in the Volunteer state and there are so many things to get us pumped for the upcoming campaign.
In the first edition of what I hope will become an annual event, we will dive into 46 things you need to know about Tennessee high school hoops for this season.
1. Can Class A champion Clay County repeat?
The reigning Mr. Basketball and Tennessee Tech commit Grant Strong returns to a perennial state tournament representative so the odds appear to be trending in the right direction. Watch out for loads of resistance from the likes of Harriman and their Mr. Basketball candidate Jordan McCullum.  Fayetteville brings back some depth and always has athletes in the fray and a slew of squads in West Tennessee will look to represent come the ides of March.
2. Can Class AA champion Greeneville repeat?
The Green Devils return the nucleus of their state championship squad but encounter one gigantic obstacle. They are no longer a member of AA. The new classification format has added a fourth classification thus Greeneville will move up to AAA. Challengers for the new AA crown could come from a group led by Alcoa and Tyner Academy from the Chattanooga area. Perennial state tournament regular Bolivar Central, Memphis Mitchell or a newcomer to the West Tennessee game in Power Center Academy from Memphis.
3. Can Class AAA champion Houston repeat?
The new classification has moved Houston to AAAA so this point is also mute. Challengers for this crown, which could be the most competitive of all the classifications includes defending Class AA state champion Greeneville. Knoxville Fulton looks to bring back their annual pilgrimage to the state with a loaded squad of young talent. East Hamilton will turn some heads with their size while Jackson Southside seemingly is always in the mix when it comes to a visit to state. Further West look for a former regular in Memphis Hamilton to back into the state conversation and always talented Fayette-Ware to make some noise as well.
4. Can Class D2/A champion Goodpasture repeat?
The loss of P.J. Smith does hurt the Cougars but the cupboard is far from bare led by the top player in the state in the Class of 2023, Isaiah West. His supporting cast is strong with emerging sophomore Xavier Shegog and exciting freshman King Keary. Goodpasture will be among the favorites to repeat; however, a long list of crashers to the party include Boyd Buchanan and Notre Dame from the Chattanooga area. Columbia Academy has a nice but youthful squad. Webb School is deep and talented and will be a major player in this decision. FACS from Memphis will also stake their claim. This should be fun.
5. Can Class D2/AA champion MBA repeat?
The Big Red lost a lots of firepower but will be in the mix with some talented newcomers. Knoxville Catholic looks to make another run behind Tennessee signee and reigning Mr. Basketball B.J. Edwards. Knoxville Webb makes the move to the larger classification with a loaded lineup of experience and youth. Brentwood Academy and Ensworth will continue to be in the conversation; as will, Briarcrest Christian and Christian Brothers from the Memphis area.
6. Can Grant Strong repeat as Class A Mr. Basketball?
The Tennessee Tech commitment will be the focal point of every gimmick defense this year as he looks to repeat as the Mr. Basketball representative from this classification. He will garner some stiff competition from the likes of Jordan McCullum from Harriman, a rising sophomore who has garnered some national recognition for his skills this summer.
7. Can B.J. Edwards repeat as Class D2/AA Mr. Basketball?
The Tennessee signee will find the going treacherous as he looks to repeat for the top individual honor in our state. Stiff competition will come from several arenas including Florida State commitment Chandler Jackson and Vanderbilt commitment Malik Dia.
8. AAAA brings an extra state champion to the party.
The new classification. Who will bring home the first gold ball? A slew of contenders will vie for the crown. From the East, look no further than Dobyns Bennett from Kingsport who feature a senior laden lineup of well coached athletes. Bearden comes back to the party led by senior scorer Elijah Bredwood. Moving towards the center of the state with a slight veer, Cleveland brings back a slew of good players and wants to represent again. Cane Ridge features the top player in the state in any classification in Alabama commitment and top 20 national prospect Brandon Miller. Staying in the center of the state, Beech is loaded with ETSU signee Kristian Shaw and emerging talent Eli Rice. Lebanon behind junior riser Jarrod Hall will make noise as well. Bartlett brings depth, talent and in  my opinion the favorite status into the season. Memphis East will turn some heads with their youth movement led by sophomore Alijah Curry and junior guard E.J. Smith.
9. Of the 15 players who were named to the Class AAA All-State team only 5 return this season.
That group of rising seniors is led by Brandon Miller, the aforementioned best player in the state. Phillip Dotson who has relocated to Collierville from Arlington. Amarr Knox from Bartlett, Micah Simpson from Morristown East and Keynan Cutlip from Science Hill. All of these players will compete in Class AAAA this season.
10. Of the 15 players who were named to the Class AA All-State team only 7 return this season.
Seniors Dylan Bartley from Sullivan East, Gus Davenport from Cannon County, Belmont signee Jakobi Gillespie from Greeneville, Trey Morrow from Scott, Colby Raymer from Kingston, Reid Satterfield from Greeneville and rising junior Tylon Chatman from Haywood. Majority of the returning players will have moved up a classification.
11. Of the 15 players who were named to the Class A All-State team only 4 return this season.
Senior Grant Strong and Alabama Huntsville signee Zach Ammonett from Pickett County head the group which also included Jaylin Anglin from West Carroll, Jordan McCullum from Harriman, the lone rising sophomore in the group.
12. Of the 15 players who were named to the Class D2/A All-State team only 8 return this season.
Rising senior and SEMO signee Evan Eursher from the Webb School heads the group which includes Tyler Byrd from Tipton-Rosemark, R.J. Casey from FRA, Daniel Egbuniwe from FACS and Jaxson Toney from Harding Academy. Isaiah West from Goodpasture represents the group of returning juniors along with Lukas Walls from Knoxville Webb and Caden Johnson from Boyd Buchanan.
13. Of the 15 players who were named to the Class D2/AA All-State team only 7 return this season.
B.J. Edwards and Malik Dia head this list of returning seniors including Jackson Francis from MBA, Chandler Jackson from Christian Brothers and Trent McNair from Brentwood Academy. Blue Cain from Knoxville Catholic is the lone returning junior while Cooper Haynes from Briarcrest Christian is the only sophomore back in the fold.
14. The Best Senior is?
Brandon Miller takes the honors for the Class of 2022. The Cane Ridge product is a national top 10 or 20 prospect depending on which service you receive and his commitment to Alabama fits his playing style to the letter. Sleek and skilled, Miller is blessed with physical attributes galore, he can run the point; as well as, play on the perimeter or in the paint if need be. He will contend for Mr. Basketball honors in our state and be on the watch list for some of the national accolades including McDonalds.
15. The Best Junior is?
Isaiah West the dynamic lead guard from defending state champion Goodpasture. A top 50 to 75 national recruit, West is a tough and physical lead guard. He can score the ball if needed from every level and his improved outside shot only enhance his overall skill production. He defends like a madman and his willingness to do anything to win make him a very attractive prospect in the Class of 2023.
16. The Best Sophomore is?
Alijah Curry from Memphis East is my selection as the top guy from a vaunted Class of 2024 that will turn heads nationally once the pundits get a real glimpse of this talent. Curry is a long guard who has an advanced skill level complimented by his passion for the game. This kid is a dawg, he has a relentless spirit and motor, he works and has improved in the areas he needs an upgrade. I'm telling everyone this class is special, on a normal year in this state we garner between 20 and 25 D1 kids but this Class of 2024 will be the best class we have had in this state since 2006 and will surpass 30 D1 kids before they enter their final prep season.
17. The Best Freshman is?
Does it really matter? I believe in letting the young players establish an identity for themselves. This list will change several times before they are seniors so let us just see how it plays out. Good luck incoming freshman, show us what you got.
18. The best senior nobody talks about is?
JJ Wheat from Clarksville is one of those players that turns heads immediately upon view. A smaller guard with a strong build, Wheat is a demon on defense, he plays with emotion and is a floor general that coaches covet. His outside shot is adequate but his confidence is high. He is tough off the bounce using that body for tough finishes and he makes everyone around him a better player. Coaches your missing the boat on this kid mark my words someone will be very happy when he gets to campus.
19. The best junior nobody talks about is?
Stephen Olowoniyi from the Webb School. If you attended the NCAA sanctioned team camps held by the BCAT organization this summer, everyone came away asking who was the 6'6 kid with the long arms and the seemingly endless energy on both ends of the floor. He blocked shots, he scored and dominated every higher ranked or regarded prospect and solidified his credentials as someone to serious watch this season. His length is next level, he is just learning the game and his retention is amazing. He soaks in the information and his production shows. As he continues to increase his offensive prowess, my, my we have a major prospect on our hands folks.
20. The best sophomore nobody talks about is?
This was a tough call as I mentioned before this class if loaded. Taj Kimber from Fulton gets my nod here and nobody deserves the credit more. The lanky 6'4 combo guard has a natural feel for the game, yes his body needs work, but his skill level is amazing. His lefty stroke is money from deep and he has incorporated some serious floaters and short jumpers into his arsenal making him very hard to guard. He comes from a very successful program and a very good high school coach who will push him to even greater heights. His coming out party is about to begin, please enjoy.
21. The best team in Shelby County is Bartlett
22. The best team in Davidson County is Ensworth
23. The best team in Knox County is Bearden
24. The best team in Hamilton County is McCallie
25. The best team in Rutherford County is Stewart's Creek
26. The best team in Williamson County is Ravenwood
27. The best team in Montgomery County is Clarksville
28. The best team in Sumner County is Beech
29. The best team in Sullivan County is Dobyns-Bennett
30. The best team in Wilson County is Lebanon
31. The best team in Blount County is Alcoa
32. The best team in Washington County is David Crockett
33. The best team in Bradley County is Cleveland
34. The best team in Madison County is Jackson Southside
35. The best team in Sevier County is Sevier County
36. Hamilton Heights
We can not make an intelligent assessment of the basketball in our state without including the folks at Hamilton Heights. Yes, they are not affiliated with the state organization but this squad has brought some national attention to the state of Tennessee without question. Former players playing in the NBA and all over college basketball. This years squad is no different featuring some nationally ranked top talent including Samto Cyril, a 6'11 Class of 2024 monster, who has the eye of every high major program in the country with his emerging skill level and Olajuwon like presence.
37. Top Games in East Tennessee
Dobyns-Bennett vs. Science Hill 12-17
Bearden vs. Greeneville 1-4
Knox Webb vs. Knoxville Catholic 1-14
Pickett County vs. Clay County 1-18
38. Top Games in Middle Tennessee
Emsworth vs. Webb School 11-20 @CPA
Bearden vs. Beech 12-17 @ Rockvale
Knoxville Webb vs. Goodpasture 12-22 @ DII Challenge
Lebanon vs. Goodpasture 1-22 @ Sonic Shootout
39. Top Games in West Tennessee
Montverde Academy vs. Bartlett 11-25
Christian Brothers vs. Bartlett 12-9 @ Battle in the Bluff
Knoxville Catholic vs. Memphis East 12-9 @ Battle in the Bluff
Knoxville Catholic vs. Bartlett 12-10 @ Battle in the Bluff
40. Top Impact Transfer
I'm going to Beech High School in Hendersonville where the Buccaneers welcome Eli Rice. A 6'7 wing guard who has a burgeoning skill set and is set to make some noise after some injuries and school shuffling. His coaches are impressed with his skill set and length, his ability to run either guard spot and shoot the ball. He has a large reputation that can easily be validated with an outstanding senior campaign. I look forward to following his progression.
41. I think Grant Strong from Clay County will be Class A Mr. Basketball
42. I think Jaylen Jones from East Nashville will be Class AA Mr. Basketball
43. I think Jakobi Gillespie from Greeneville will be Class AAA Mr. Basketball
44. I think Brandon Miller from Cane Ridge will be Class AAAA Mr. Basketball
45. I think Ace Bailey from Boyd Buchanan will be Class D2/A Mr. Basketball
46. I think B.J. Edwards from Knoxville Catholic will be Class D2/AA Mr. Basketball
47. Be sure to follow Andre on Twitter at @TNPrepHoops for great coverage during the HS season.
48. And tag us on Twitter and Instagram with your highlights this season.