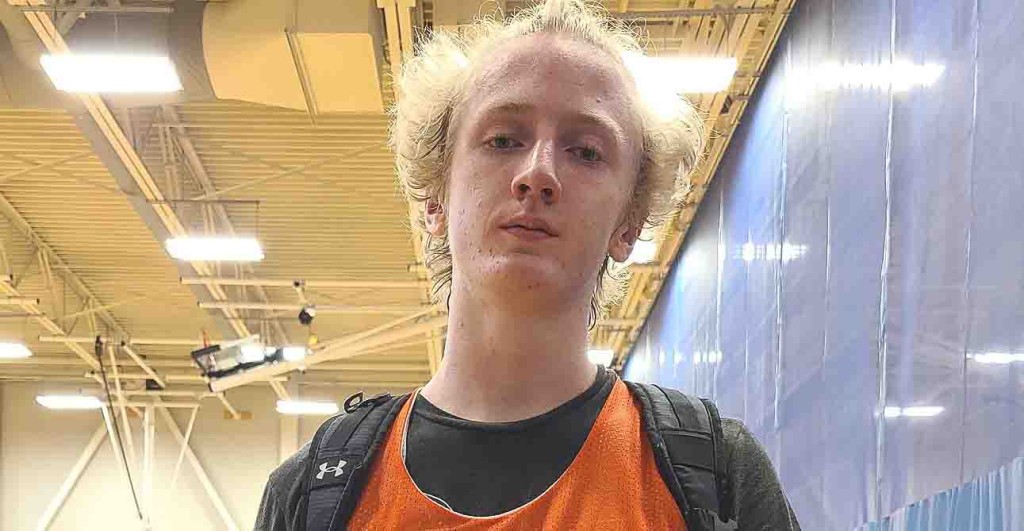 The Rocky Top Fall League has been an East Tennessee staple for over 20 years. We added a very cool innovation with the Rocky Top D-League a few years back that features players in the 9th and 10th grade. This past year the 423 Hoops Fall League was formed in Upper East Tennessee by coaches in the area to give those players a platform and provide us with a solid partner in the development of these players. I have chosen 25 players from the three leagues for profiles here at HoopSeen. Here are those players listed alphabetically for the classes of 2023 and 2024.
Class of 2023
Blue Cain
Catholic
Knoxville, TN
6'4 SG
I could not have been more impressed with the maturation of this kid. Held to a higher standard because of his reputation, Cain was most impressive leading his squad to the league championship averaging 25.3 points per game. He displayed an incredible leadership ability, he has improved in almost every aspect of the game and he played with pace and tempo. His body has filled out and the added strength will catapult him as a national prospect.
Grant Campbell
Heritage
Maryville, TN
6'7 WF
Rising junior came on strong as the league came to a close. His skill level is a work in progress and his athletic ability is a major asset to this development. He has incredible hops, he blocks shots at a fever pace, he dunks put backs and he runs the floor. His body will be the area he needs to make the most improvement, he gets the physicality treatment from defenders because of his rail thin physique but his upside is massive if he continues on the proper trajectory.
Jaylen Roberts
Karns
Knoxville, TN
6'4 SG
Another of the several improved players in the Fall League this year. Roberts was a steady player every week closing at 19.3 points per game for the 2nd place finishers. He has incredible length and athletic skill, his outside shot is adequate and he will defend if called upon. He can finish off the bounce and once he adds some strength and that body matures he could be a serious find for the right level.
Brady Stump
Dobyns-Bennett
Kingsport, TN
5'10 PG
This is the kid every coach covets. He defends like its his job, a creative lefty scorer who can drain the deep shot and has the moxy to finish in the paint. He understands the nuisances of the game and plays with a fervor on every possession. What he lacks in sheer size he more than makes up for in toughness and desire, you cant go wrong with a competitor like Stump. Again the Hilltoppers will be a tough out come March.
Class of 2024
Kyle Cloninger
East
Morristown, TN
5'11 PG
Young guard simply understands the game. He plays with tempo and knows when and where to attack. He has incredible vision, he plays unselfish and he commands the other coaches attention with his intelligence and basketball IQ. He can shoot the outside shot and despite his lack of size, he is a feisty competitor who likes to win. As his body matures watch his stock climb and the accolades accumulate.
Taj Kimber
Fulton
Knoxville, TN
6'3 SG
Exciting young prospect showed much improvement with his overall skill level. He competes on every possession, he can score at every level with ease and he commands attention with his length and ability. Kimber finished the Fall League as one of the only Class of 2024 kids to compete in the upper league and left his mark to the tune of 24.7 per game. His floater is a thing of beauty and his confidence makes him one to watch in this class statewide.
Jalen Pompey
Webb
Knoxville, TN
5'9 PG
Diminutive lead guard has a skill set that truly belies his age bracket. He attack the bucket and has the wherewithal to dish the rock or score at a moments notice. He can shoot the outside shot but will need to continue to make that a staple of his development. His decision making is above board and he competes, diving on the floor for loose possessions and defending like a demon. As his body matures the praise will only escalate, keep him on your radar. He helped lead his team to the D-League championship.
Class of 2025
JaMichael Blair
Bearden
Knoxville, TN
6'2 SG
Physically more mature than his classmates, Blair was a paint bully scoring off the dribble and finishing the D-League campaign at 23.8 points per game. He is a competitive soul who uses his strength to get scoring chances in the lane. As his game evolves look for him to improve on that lefty outside stroke and become more cognizant of his defensive ability. He could become a major defensive threat down the road.
Cade Capps
Stone Memorial
Crossville, TN
6'3 SG
The D-League scoring champion at a gaudy 31.4 points per game, Capps makes shot from anywhere and everywhere on the hardwood. He has a superb stroke from deep and deeper, he has a big first step and understand angles and finishes which allows him creativity in the paint. He rebounds and as his body matures he can become a better defender. He sees the floor well, he passes crisply and he competes. Future is sterling bright my friend.
Shane Cherry
Austin East
Knoxville, TN
6'1 CG
Gifted offensive youngster, Cherry is a point a minute player but his shot selection left some to be desired. I watched his maturation over the course of the season and became a huge fan of this kid. He can make every offensive shot but he showed some lead guard skills wanting to get others involved and the flow of the team was much better. He finished the D-League season averaging 28.0 per game but I was more impressed with his willingness to change and win.
Drake Ingram
Webb
Knoxville, TN
6'0 SG
This coaches son was a pleasure to behold, Ingram has one of the sweetest strokes in the area as was evidence by his 29.2 per game scoring average as he helped lead his team to the league championship and captured the MVP along the way. This kid is a basketball savant, he gets it. He knows situations, he makes plays without the ball, he slides to open areas, he is hard to guard and he competes. As his body matures he will be devastating and unassuming, that's a deadly combination sports fans.
Cade Murphy
Union County
Maynardville, TN
6'4 WF
Skilled young player is very creative with his shot selection. He can score off the bounce, he utilizes several spin moves and quick turns to make scoring plays in the lane and has the ability to knock down the outside shot as well. He helped lead his team to the league title dropping 23.7 points per game. He has excellent length and size and as he matures he will only get tougher on the interior.
Reed Ownby
Sevier County
Sevierville, TN
6'3 SG
Love the skill level this lanky youngster has in his emerging basketball arsenal. Ownby has a classic outside shot he drops with confidence, he can put it on the floor and can make a tough finish inside. His body, as we mention for all young players, needs strength which will catapult him into another level production-wise. Controlling your body language and keeping a calm demeanor will only enhance his value as he rockets up the recruiting charts.