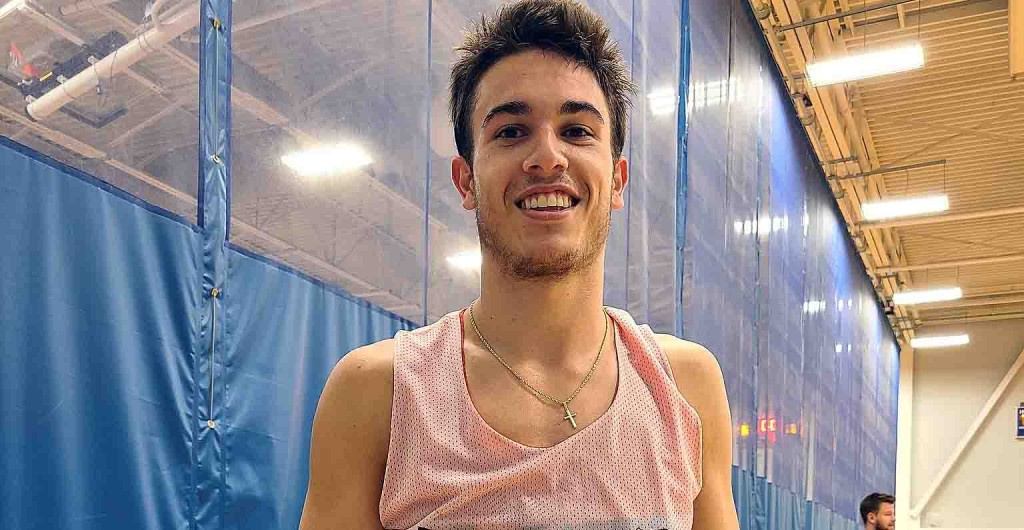 The Rocky Top Fall League has been an East Tennessee staple for over 20 years. We added a very cool innovation with the Rocky Top D-League a few years back that features players in the 9th and 10th grade. This past year the 423 Hoops Fall League was formed in Upper East Tennessee by coaches in the area to give those players a platform and provide us with a solid partner in the development of these players. I have chosen 25 players from the three leagues for profiles here at Hoop Seen. Here are those players listed alphabetically and by class. This looks at the best class of 2022 players from the event.
Will Biven
West
Knoxville, TN
6'3 SG
The fundamentally sound competitor had an outstanding Fall League helping his team to the 2nd place game averaging 22.3 points along the way. Biven is a coaches dream, savvy, high basketball IQ, very coachable and skilled. His outside shot is coming along and he has worked on his ball-handling and off guard play. His college prospects are bright and quite intriguing at the proper level.
Elijah Bredwood
Bearden
Knoxville, TN
6'1 PG
The top offensive threat in the Rocky Top League this year. Bredwood finished the season with a gaudy 46.3 points per game establishing his credentials on this end of the floor. He can make every shot at every level. He is a skilled ball-handler, he makes shot in the paint, he can drill from deep and yoke it on you if you aren't careful. His size will merit some point guard involvement and his defensive prowess will pick up as the actual basketball season rolls around.
Josiah Brown
Grace Christian
Knoxville, TN
6'6 WF
One of the surprises of the Fall League. Brown has excellent size and plays with a very nice tempo. He doesn't try to do things out of his wheelhouse and his skill level is better than expected. He helped lead his team to the title of the league averaging 12.6 per game on the most balanced squad in the league. He will be a steal at the right level.
Keynan Cutlip
Science Hill
Johnson City, TN
6'4 PG
Coaches kid who plays like one without question. Fundamentally sound, much better athlete than he is credited for and a competitor as well. He has a nice stroke from the outside, he commands attention with his size and skill level on both ends of the floor. His strength is an asset as he can guard several positions on the floor. Look for him to have a monster senior campaign.
Jackson Garner
Clinton
Clinton, TN
6'2 SG
If there was a better shooter in the Rocky Top Fall League I didn't see them. Garner is dynamite from deep, he is a competitive joker who is a wonderful help defender but his bread and butter is that stroke. He netted 53 in the final game of the league finishing at 31.4 points per game for the season. He has the ball skills to play some lead guard and will need to develop that skill as his final prep year approaches. He will be a steal at the right level mark it down.
Malachi Hale
Dobyns-Bennett
Kingsport, TN
6'5 PF
The emerging force with his added shooting touch and completive nature. Hale has great size, he plays within himself and is a team guy through and through. He battles on the glass, he will block a shot and he is athletic enough to guard a back to the basket post or an athletic wing. His upside is massive as he continues to mature. Watch for an enormous senior season for this exciting prospect.
Carter Metz
Dobyns-Bennett
Kingsport, TN
6'2 PG
A hard-nosed competitor who craves the competition. Metz is a dynamo on the defensive end, he guards with fury and battles on the glass well for a guard. He can score in the paint with clever moves, he goes hard to the glass and as his outside shot improves so does his next-level opportunities. He is a coach's dream with his fire and intensity, watch for big things for Metz and the Hilltoppers this high school season.
Trey Morrow
Scott
Huntsville, TN
6'4 SG
Unassuming skilled assassin doesn't impress with his overt athletic skills but when you look up he has 25 points, 10 boards and 7 assists and more importantly the win. So smooth with his gait, he understands angles, he attacks when necessary and his shot is always on point. His strength allows him to get into the paint and get any shot he desires. He led his squad to a 3rd place finish averaging 25.3 points along the way.
Hayden Moseley
Bearden
Knoxville, TN
6'4 SG
The most improved player in the league without question. A pogo stick athlete with incredible lift, Moseley has shown marked improvement in his shot and shot selection. He has added some lead guard skills into his repertoire and showed leadership qualities unbeknownst to this evaluator. His quick lift gets him scoring chances in the lane and despite his slight build he is not afraid to defend. He finished the Fall League averaging 22.3 points per game.
Danny Stanton
Sevier County
Sevierville, TN
6'1 PG
Tough competitor who helped lead his team to their division championship and spot in the title game averaging 26.8 points along the way. He defends with passion, he scores on difficult drives and he never gives up on a play. His outside shot is still a work in progress but here is a kid who loves to work and understands where he needs to improve.
Dawson Wagner
David Crockett
Jonesborough, TN
6'2 SG
This rising senior lit it up at the inaugural 423 vs. 865 showcase dropping 31 points in the title game victory. A deadly stroke combined with a competitive nature makes him a delight for those in attendance. He defends with passion and is very creative around the bucket, making difficult finishes and, using the staple that every small guard should possess, the floater in the lane. Watch for a monumental final season for this scoring sensation.
Eli Walls
Powell
Knoxville, TN
6'4 SG
Emerged like a phoenix at this years version of the Rocky Top Fall League. Showed marked improvement every week culminating with a 31 point effort at the 423/865 showdown. He finished the Fall League at 21.6 per game. Walls has excellent length, he can stroke the deep shot, he runs the floor, finishes with a flush and is strength away from being a major contributor on the next level.