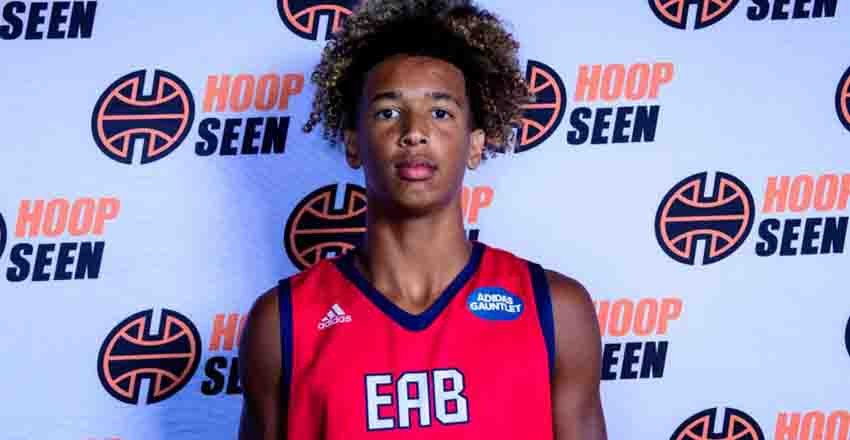 The atmosphere was electric as college coaches from every level were out in force at the BCAT Hoops Tennessee Team Camp held in Memphis. Several sites housed the action as I made my way to spacious Briarcrest Christian to take in two days of top notch competition. I have my top players from the class of 2023 for this HoopSeen discussion. Players are listed in alphabetical order. Let the games begin.
Davaki Garr
5'11 PG 2023
Nashville, TN/Ensworth
Small guard was the quickest cat in the gym. He made everything happen with his aggressive nature on both ends of the floor. His quickness to the bucket is unmatched, he defends, despite his lack of girth, like a veteran and his passion is undeniable. His shooting touch is solid and he commanded attention from the opposing coach with his ability to control tempo. His leadership skills are outstanding and he is the quintessential lead guard.
Jarred Hall
6'8 SG/WF 2023
Lebanon, TN/Lebanon
One of the most discussed players at the event. He has great size, skill and savvy. His outside shot is dynamite and he has the athleticism to turn heads. He understands the game, evident by his insistence on going to the post when mismatches were certain. He can score at every level and has the ball skills to lead an offense to a point. His game will continue to grow as he becomes more aggressive off the dribble and attacks the rim with more frequency. His outside success will create scoring chances off the dribble as the scouting ramps up on his game.
Jack Medalie
6'5 WF/PF 2023
Franklin, TN/Franklin
Hard-nosed kid who continues to shine at every event. He has an amazing basketball IQ and it shows with his burgeoning skill level on both ends of the floor. He has great size and becomes a paint bully when his back is to the basket but has enough savvy to put it on the floor for a few dribble and score in the space that he creates. His outside shot is adequate and will be the area he can make the most improvement in his overall game. He has a strong presence on the court and his teammates seems to gravitate to him.
Steven Olowoniyi
6'7 PF 2023
Bell Buckle, TN/Webb School
Turned heads with his effort and emerging skill level. Long athlete went after every shot, fought for rebounds despite his slight build, guarded every opposing big and blocked shots for three days. High motor, runs the floor, lefty scoring touch around the bucket, huge on the offensive glass, kept possessions alive and played with a fervor intensity. Major upside was the talk of the coaching circle without a doubt. Watch his star shine bright.
Brock Vice
6'10 C 2023
Germantown, TN/Houston
Strong inside presence is quick on his feet and has enough strength to score easily on the block. He can step out and knock down the nice three and is showing a penchant for finding cutters off the double team. He keeps the ball high and goes after boards on both ends of the floor. He has a commanding presence inside and is becoming more comfortable ducking into the center of the lane for quick hooks and easy scoring chances. Watch his game blossom in the coming years.
Lukas Walls
6'4 SG 2023
Knoxville, TN/Webb
Sleek guard turned heads among the coaching community with a deadly arsenal of skills. Good size coupled with excellent handles and a deft shooting touch made him a vital commodity for all in attendance. Walls can play either guard spot, he defends with effort and efficiency. His stroke is perfect and his confidence continues to soar. He showed improvement off the dribble with quick forays to the cup and difficult finishes with either hand. Truly one of the most impressive players at the event.