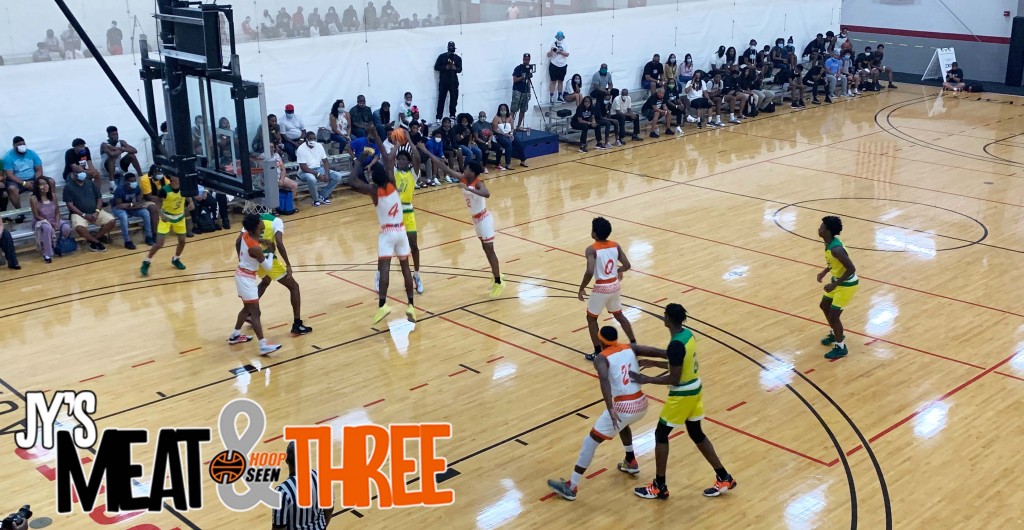 I spent the weekend at Suwanee Sports Academy to take in the action of the Tip-Off Classic and let's just say it felt great to be back. It also feels great to bring back the Meat & Three column. There are things to talk about! So, let's get into it during the lunch time hour. 
THE MEAT: FELT GOOD TO BE BACK
We are living in a grey area for what can and can not be done as far as youth sports are concerned. We are very fortunate to have a place and a stage to watch basketball right now in the state of Georgia. Not every hooper is so fortunate. 
It was great to see so many familiar faces in the gym again. It was therapeutic. Truly. 
Let's do our best to make sure we can continue by masking up and being sensitive to the most strict rules we have ever had to adhere to with youth sports and the places we gather. Crowd control - the sheer number of people in a confined space - will be something that every event tries to manage through. It's tough. We all want to see hoop. We should be celebrating that. But we have to be smart. 
So let's… 
Mask up. Always. 
Wash up. Keep your hands clean and sanitized at all times. 
Be patient with the process. 
Limit going to the gym if you don't have to. 
If there is a stream available, watch it. I thought the team at SUVtv crushed it on the featured games at the Tip-Off Classic. They powered through and delivered a fun weekend of games. I've rewatched some of the best games I saw in person and caught some others that I just couldn't see in real time. 
When we host our HoopSeen Tip-Off this weekend, we will have a stream available via Be the Beast. I'd highly recommend watching that instead of coming out to the event because we will have a very strict policy for capacity inside of the building. We will hold strong to that. 
The current limitations may allow us more freedom. So, let's not be short-sighted in our desire to live in the moment. Enjoy the baby steps in our journey back. 
THE THREE THINGS I LIKED 
Matthew Cleveland is ready for the next step. The super prospect for the Atlanta Celtics looked like the most complete player that i saw at the Tip-Off Classic. There is an effortless approach to his play that presents confidence and deliverability in the moment. Cleveland continues to get better. That's been the story about his game since I first saw him as a freshman at Cambridge HS. I'd feel confident voting for him for the McDonald's All-American team and a top 20 national position. Being a prospect is about consistently getting better and he has done just that. 
Scoot Henderson's first step is something special and quite unique. The five-star guard was the pilot of his team's 4-0 run to the 16 and under championship. Henderson is one of the most dynamic guards there is nationally, regardless of class. His power dribble to the rim is un-guardable at this prep level. Henderson, a Cobb County guard, has had a front seat to some of the best guards we've ever seen out of Georgia from right in his own county over the years. Now it is his turn. The next two years will be quite a ride. He and his team set a high bar for the state of Georgia's 16 and under division. 
I liked the number of players who took full advantage of the stage and played their way into the conversation. I'll be rolling out some of these players in small features on HoopSeen this week. I loved the backcourt of Andrew McConnell, Jaden Harris and Travis Burrus of Team Huncho. I loved the effort of Ezra Ausar of the Atlanta Xpress. I loved the play of ABC Elite forward Nolan Wells. Team Dickerson guard JoJo Peterson is making his separation from the pack known in the 2021 class. Charleston Southern stole a good one in Kalib Clinton. I'm curios to see where Aaron Reddish takes his game with the Atlanta Celtics. Let's talk about Mannie Harris of AC Georgia more. I could go on and on. Fun weekend to see some guys make a jump. 
THE STREAM 
There were a number of high-level games throughout the event but it was the Atlanta Celtics and Team Huncho 17 and under match-up that stood out the most. A back-and-forth affair, these two programs traded buckets throughout. It is worth a rewatch on the SUVtv stream. Enjoy.