It is lunchtime somewhere. So, welcome back to the lunch hour read of the Meat & Three. Every weekday I dive into a big picture topic and three things to get you through a quarantine spring. 
Today we dive into a tweet that took off and explore some fun hoops history, some new rules on the docket in Georgia, one of the best games I've ever seen in the Peach State and, of course, a Ty Freeman picture. 
THE MEAT: THE BEST I'VE EVER SEEN IN PERSON 
I tweeted out a simple question to our HoopSeen Twitter account on Tuesday. 
The best high school player you've ever seen in person...

Go.

— HoopSeen (@hoopseen) March 31, 2020
Less than 24 hours after posting, this tweet has been one of the most engaged dialogues we've ever had since we've had a Twitter account. I figured I should answer my own question. 
The best I've ever seen nationally
Greg Oden. I'll answer this question quickly. He was the best prep player in a span of amazing prep players. Oden was a layer of good that had no rival. 
Oden was the clear cut No. 1 player in the nation. Kevin Durant was No. 2 and no one really debated it. There were NBA executives that I was talking to at the time and several of them said they would have taken Oden No. 1 over Dwight Howard the year before in the draft. 

Oden was different. He was truly generational. 
I remember the first time I interviewed him. He was 15 and his team was playing at the Peach Jam, long before the days of fire code crowds. I approached the young giant and introduced myself. I was doing NBA Draft coverage at the time. 
"You want to talk to me? Me?." he asked, perplexed. "I don't know why you want to talk to me. I'm just a kid." 
I never forgot that interaction. He was legitimately surprised and humbled. The story I wrote was the first national piece on the future hoops folklore star. I think the title of the story was "Meet Greg Oden". 
I'm not sure Greg even knew just how good he is/was. That was the beauty of him and his game. He was a gentle giant. 
But he was also a rim-bending 7-footer that reminded me of Shaq in the sense that he dominated the paint better than anyone I had ever seen. No one wanted to, or could defend Oden. You just hoped you wouldn't get kicked in the face when he dunks and brought his feet up to his chin just like the Diesel did. 
Oden was special. We all knew it. Big men ruled the realm in that era and he was primed to be something special. 
The best I've ever seen in Georgia 
Dwight Howard is the most unique. He is, and forever will be, the most physically dominant player I've ever covered in Georgia. There was no one like Dwight.
I saw teams throw triple teams and, some rare times, quadruple teams. Dwight and his broad shoulders and quick bounce let the bodies fly off of him like a superhero. 
I was there for every game he and his Southwest Atlanta Christian played against Randolph Morris, his travel teammate and arch-rival at Landmark Christian. Morris got the better of Howard two games to one in their senior year. The only other player who gave Dwight trouble was NFL All-Pro Cameron Heyward of Whitefield Academy, who was undeterred by the muscular teenager.  
The best I've ever seen in Georgia II
I sat down with Dwight Howard for an interview at the Parkview Thanksgiving tournament (shout out to the legendary mom's cooking hospitality room). We were posted up in the bleachers. Sitting across from me and the man child were roughly 30 NBA decision-makers there to see Dwight. 
The process of the event was one boys game, one girls game. So on and so forth. So, Dwight and I had a full game to talk about those guys who were seated across the way. That was the story.
But something was happening in front of us. There was a girls game going on and our conversation trailed off. We were both enamored with what was happening. 

Maya Moore was playing in her first big stage of her storied career. She was a freshman at Collins Hill and she dominated every possession in that game and over the next four years. 
We knew, the future NBA Hall of Famer and me, the 20-something-year old reporter, that we were watching someone special. 
I've never seen a player take over an era quite like Maya Moore. She's truly the GOAT. 
THE NOTE
The GHSA State executive spring meeting is coming up at a date and time to be announced. There is one big topic that will be discussed. 
On the agenda from the Basketball Committee is: 
"Proposal to use a 30-second shot clock for varsity games with a three-year phase-in period as follows: 

Year 1 (2020 - 2021): Shot clock used only in approved Holiday Tournaments and Showcase games. Not allowed in region games or postseason games. 

Year 2 (2021 - 2022): Shot clock used in approved tournaments and showcase games. Also used in region play as a region decision. 

Year 3 (2022 - 2023): Shot clock used in all varsity games including the State Playoffs. (Region 5, Class 6A)" 
I hope this gets pushed into actuality. I think the plan allows for adaptation, growth for usage, a runway for coaching and athlete adjustment and time to institute a statewide change. 
THE STREAM 
The 2007 high school season is one of the greatest seasons I've ever covered my career. The talent was everywhere. The players were terrific. The interest in the game was at max capacity. That year in the Peach State was extra special. 
I remember sitting on the baseline on Feb. 24, 2017 at the House of Blue for the state playoff game between Norcross and Wheeler. The two schools were the schools in the Peach State and both were worthy contenders for the title that year. This was a monster match-up and it featured so many talented players. Norcross boasted Gani Lawal (Georgia Tech), Al-Farouq Aminu (Wake Forest), Jordan Demercy (Florida State/Georgia State), Tony Neysmith (Oklahoma/Auburn), Taariq Muhammed (MIami Dade/Blinn College/Morehead State), Denzail Jones (Anderson). Wheeler had a roster deep with talent, featuring Dequan Jones (Miami), JJ Hickson (NC State), Trey Lang (UMass) and Phil Taylor (FIU/Shorter). 
We had four players play in the NBA and two McDonald's All-Americans in this game. That's an amazing run of talent for one high school game. 
The game went down to the wire and it should be considered one of the 10 best games in state history. It certainly ranks as one of the best games I've ever been to. Just amazing. 
THE TY FREEMAN PHOTO OF THE DAY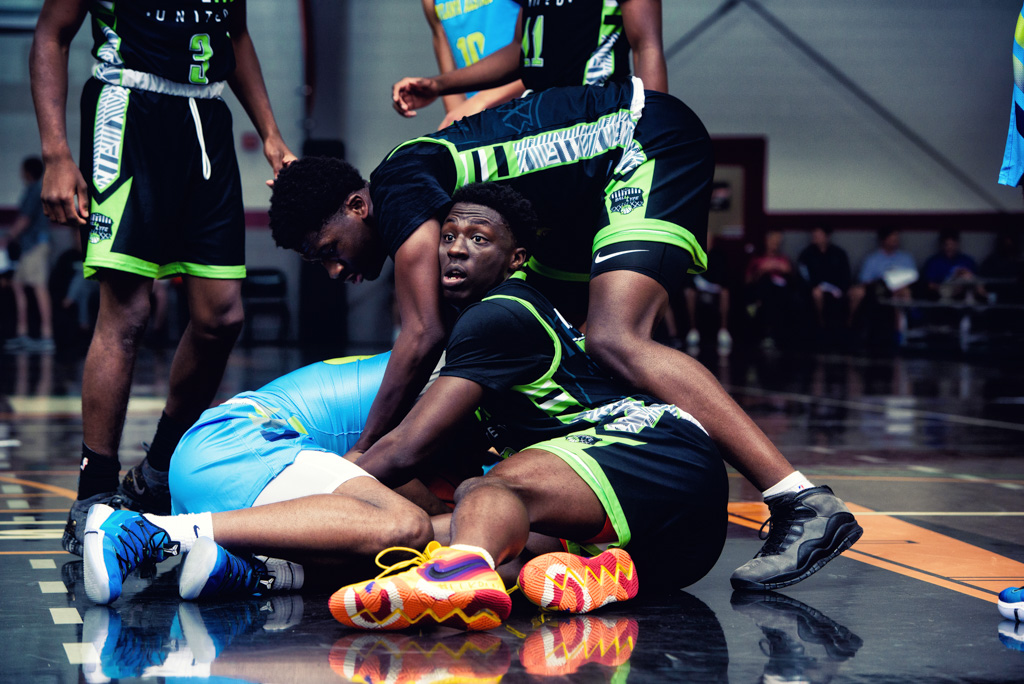 Poste