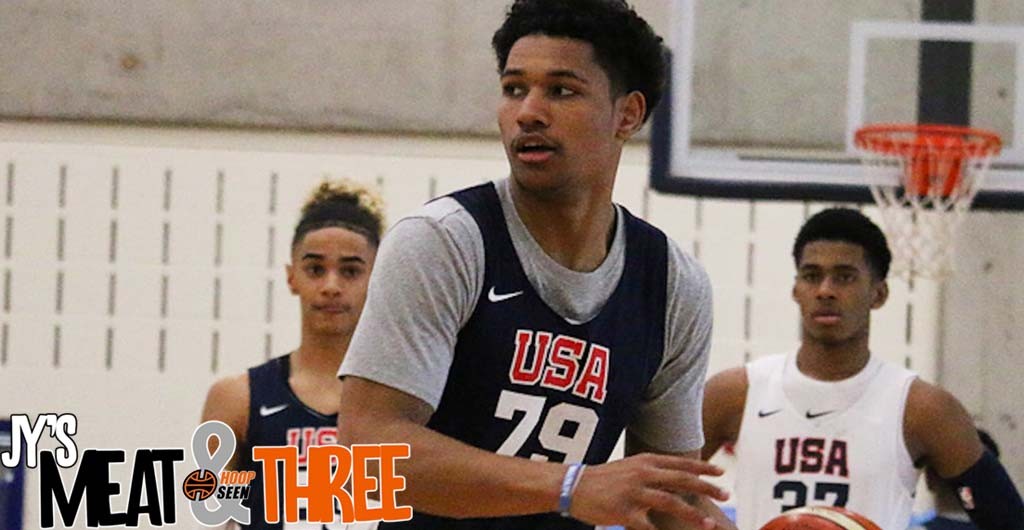 It is lunchtime somewhere. So, welcome back to the lunch hour read of the Meat & Three. Every weekday I dive into a big picture topic and three things to get you through a quarantine spring. Today's meat is an exploration to a new recruiting battle to watch, a good Roy Williams conversation about Michael Jordan and of course, the Ty Freeman photo of the day. 
THE MEAT: THE NEW RECRUITING RIVALRY
We have a new recruiting rivalry. And things got heated quickly. We are now in the era of the G-League vs. the Blue Bloods of college basketball. 
The latest player to choose the pro path is Las Vegas point guard Daishen Nix. He was committed to play at UCLA. Nix is a dynamic passer and one of the best point guards in high school hoops. 
I don't mind the pro path. I really don't. If that's the route you want to go, go. I have no problems with that. I'm always going to side with the player in this respect. Do what you believe is right for your life. Who am I to judge? 

Also, not every blue-chipper is going to consider the G-League. In fact, I could surmise who will. There is a common theme to the non-traditional path to the NBA Draft/G-League. What's a common thread between these players - Jalen Green, Isaiah Todd, Daishen Nix and LaMelo Ball? All four played at non-traditional high schools. 
Green was a Prolific Prep, a California-based program that travels across the country to compete against other like-minded programs. Todd was at three high schools in four years, the last being Word of God in N.C. WOG competes in the Southeast Bible Belt Conference but not associated with the NCHSAA or the NCISAA. Nix played at Trinity International, a basketball-centric program that competes in the Grind Session. Ball was at Aspire in Ohio before leaving for New Zealand. Aspire also competes against other non-traditional schools. 
You could make a case that such schools play a schedule similar to a travel basketball team. The G-League is essentially an extension of the same sort of idea, but at the pro level and a controlled situation by the NBA itself. 
There isn't an attachment to pageantry, to a game day experience on a campus. They don't have those at basketball factories like schools that compete in the Grind Session league or these coast-to-coast, built for showcases types of programs. 
I've gone to a lot of games that feature these types of teams. I've been to crowds of thousands that all come to see the hoops factory teams. But I've also been to more that have maybe 20 people in the crowd. It isn't a fun experience. The G-League falls more in line with that.
Players who go to places like the prep schools in the NEPSEC (in the New England area), Montverde Academy or IMG Academy in Florida, have more a high school experience with classes with "regular" students, consistent crowds and things of that nature. I'm not sure these programs will be as likely to see players go pro vs. the non-traditional schools that Green, Todd, Nix and Ball went to. 
Todd and Nix made the decision to go the G-League route after they had committed to play college basketball at Michigan and UCLA, respectively, leaving both blue blood programs in a tight spot to fill their space in the incoming recruiting classes. 
I've talked some of the blue blood programs, the ones that actively recruit the one-and-done programs. They're concerned. Trust me. They should be. Will we see a shift in philosophy? Will the bluebloods that have landed the one-and-done type of players move to sustainable players - guys who will stick around for a while. 
Let's take a player like Efton Reid more seriously? He attends the Steward School in Richmond, Virginia and has spoken openly about his desire to seek out a place where education matters. Reid is a 7-foot prospect who has potential for the next level but he doesn't seem to be in a rush to get to the highest level of hoops. 
Will a player who doesn't need to go pro right away and someone who wants to have a college experience take priority over a guy who is projected to be a top 10 pick in the draft? 
The bluebloods have a new head to head battle to fight. But they also could be shifting their approach to who they go after. That's a storyline worth watching moving forward. 
THE NOTE
There were 159 players on the NBA Early Entry list for the 2020 NBA Draft that were either a freshman, sophomore or junior. There were 27 freshmen, 46 sophomores and 86 juniors. 
THE STREAM 
Roy Williams joined Colin Cowherd to discuss Michael Jordan, the Last Dance and cool stories from MJ's time at the University of North Carolina. 
THE TY FREEMAN PHOTO OF THE DAY 
The lens of Ty Freeman catches it all. This week we look take a look at the perspective that Ty brought from the 2019 Bob Gibbons Tournament of Champions.