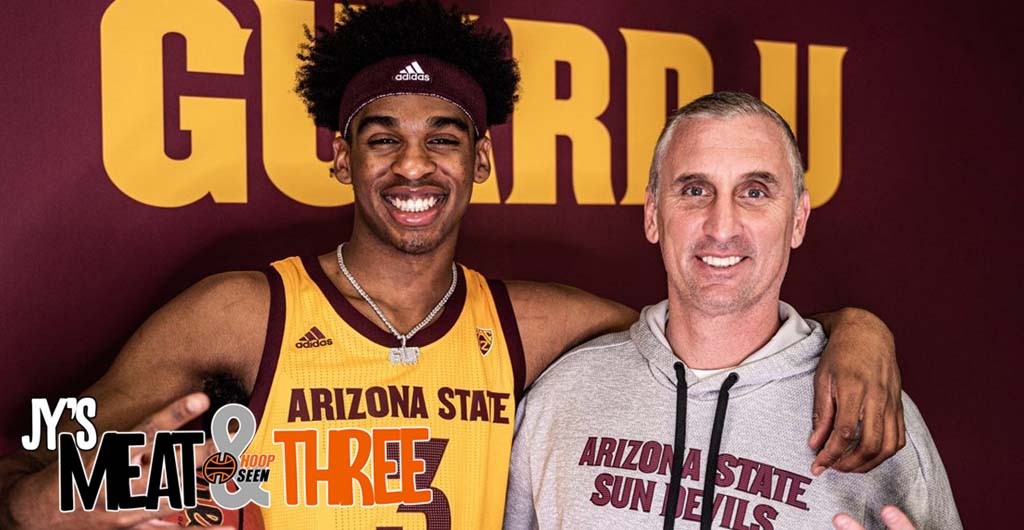 It is lunchtime somewhere. So, welcome back to the lunch hour read of the Meat & Three. Every weekday I dive into a big picture topic and three things to get you through a quarantine spring. 

It was another day of going against the narrative as Josh Christopher made his college choice known on Monday. And another hit for Michigan came shortly thereafter. Also, 0ur MJ stream of the week continues with a big-time NBA Finals performance and, of course, the Stan Johnson photo of the day. 
THE MEAT: SURPRISE, SURPRISE 
Never push all-in when it comes to recruiting. You just never know. Josh Christopher's recruitment felt like a football player, teasing fans on Twitter, posting baited things and enjoying the process. 
Christopher was a 100 percent crystal ball pick 24 hours ago to Michigan on 247 Sports. One hundred percent. By the end of the day, there was Now, that's not scientific nor is it an exact predictor. But Christopher's decision surprised darn near everyone in college hoops recruiting. 
When decision day came, he popped for Arizona State. Arizona State. The Sun Devils have produced six NBA Draft picks since 2000. James Harden was the No. 3 overall pick in 2009 and Christopher is the highest-rated player to pick ASU since Harden did back in 2007. 
I've seen stories that say Christopher is the highest-rated player to commit to ASU in program history. Not exactly. We had Harden at No. 11 overall on the rivals.com rankings. Christopher is currently No. 16 on the HoopSeen.com rankings, but could actually drop from there in our final rankings. Make no mistake about it, Harden was a much better prospect at the same age.
Can Christopher's addition help the Sun Devils right away? Can his addition help the Devils continue their upward trajectory in the NCAA Tournament? That's where value is measured. 
THE NOTE
The hits just keep on coming for Michigan, too. Isaiah Todd, the prized 5-star recruit from North Carolina, decided to take his game to the pro routes rather than play in college. 
Since 2000, there have been only four players that have bypassed college basketball to play overseas that have been drafted by an NBA team. They are: Terrance Ferguson, Brandon Jennings, Jeremy Tyler and Emmanuel Mudiay. 
LaMelo Ball and RJ Hampton are 2020 draft-eligible.
However, there are a number of NBA scouts and execs that I have talked to who have said Todd isn't a player on their draft radar as a one-and-done type of player. 
"He could be a second-rounder, but could is a heavy word," one scout told me. 
"Juwan (Howard) would have helped him in a lot of ways," another NBA scout texted me.
Will there be more players who make such a move in the coming years? The narrative in college hoops says, yes, and we've heard there would be several others in the 2020 class. But Todd is the only one, as of right now. 
THE STREAM 
The documentary we've all been waiting for is almost here. The Last Dance, a 10-part docuseries, focuses on the 1997-1998 Chicago Bulls. Each episode will be an hour long and aired on ESPN. 
The series will begin April 19 and run through May 17. 
To ramp up for what should be a terrific run of Michael Jordan and his Bulls teams, we will focus on five of MJ's most memorable games. Yesterday we shared "The Shrug" game. 
Today we dive into "The Flu Game" against the Utah Jazz in 1997 for game 5 of the NBA Finals. Jordan went off in typical Jordan fashion after staying up all night throwing up and battling through the flu. "I really feel horrible," Jordan said before the game in Salt Lake City. 
THE STAN JOHNSON PHOTO OF THE DAY 
I asked our guy Stan Johnson to send me some of his favorite shots from the 2019 season on our HoopSeen platform. We begin his gallery today in the Meat & Three.