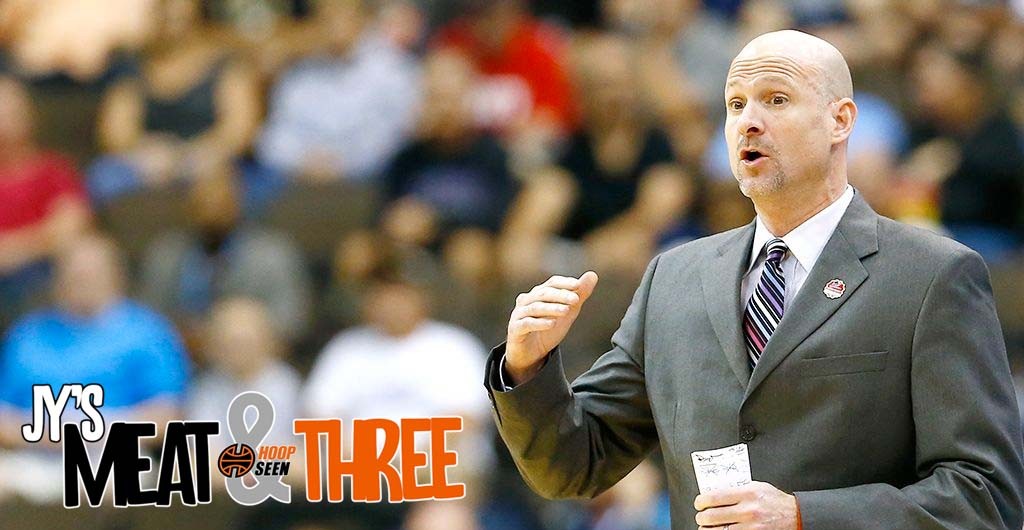 It is lunchtime somewhere. So, welcome back to Meat & Three. Today we dive into the how quickly the job market spins with college coaches, how the state of Alabama has felt that a lot over the last three seasons, a terrific NBA Draft documentary to watch today and a great snapshot of the Georgia Cup. 
THE MEAT: THE EVER-SPINNING COACHING CAROUSEL & IT'S IMPACT IN THE STATE OF ALABAMA 
The downside to college coaching is the job carousel never stops moving. It sucks. It truly does. Jobs open and coaches are left without a place to go to work in a time where no one wants to be without employment. 
Rob Ehsan was let go at UAB, despite going Ehsan went 76-57 and had two 20-win seasons in his four years at the helm of the program. 
Replacing him is former Ole Miss head man and former UAB player Andy Kennedy. He was 245-156 in his 12 seasons at the helm of the SEC program. 
Kennedy has been a star on television, much like Bruce Pearl was before he took over the Auburn job. Both guys are engaging, entertaining and great developers of talent. Kennedy should thrive at UAB. Ehsan and his staff did a great job of setting the table for that with the health of the program and the value of the brand. 
Kennedy has proven himself as a coach who can find sleepers and then develop them into studs. He shines outside of the blue chip category. Just take a look at a guy like Terrence Davis, who is now in the NBA with the Toronto Raptors. He picked Ole Miss over Cincinnati and Louisiana Tech.
Guys like Chris Warren, a sub six-foot guard from Orlando (FL) Dr. Phillips went to Oxford and finished his career as the No. 3 scorer in school history at Ole Miss. 
Years later Stefan Moody, another sub-six footer from Florida, led the SEC in scoring as a senior and was a two-time first-team All-SEC player after a year at Kilgore JC in Texas and FAU as a freshman. 
Don't be surprised to see the junior college ranks be a priority and then exploring the Deep South when the Blazers go out and recruit again. 
The state of Alabama has been quite a turnover state for college basketball coaches. After Samford hires a new coach, there will be seven new head coaches in the state since 2018. 
Alabama: Nate Oats, 2019
Alabama A&M: Dylan Howard, 2018
Alabama State: Lewis Jackson, 2005
Auburn: Bruce Pearl, 2014
Jacksonville State Ray Harper in 2016
North Alabama Tony Pujol in 2018
Samford: Currently open
South Alabama Richie Riley in 2018
Troy: Scott Cross, 2019
UAB: Andy Kennedy, 2020 
THE THREE: What to know, what to watch and what to look back on
THE NOTE 
If HoopDirt.com isn't in your regular rotation of websites to visit this time of year, make it part of your dot com discipline. The site has a constantly updated list the moving part of the coaching carousel. You can find it HERE. 
THE STREAM 
Th I got sucked into my version of the hoops universe via the NBA Draft. I, like most hoop heads, love the NBA Draft. I have watched every one intently for decades and pay close attention to every pick. 
I didn't watch the 1984 draft. I was seven. If I did, I don't remember it. But who was picked that night, I certainly remember.
This NBATV documentary looks back on arguably the best draft class ever. There were five NBA Hall of Famers picked in this draft. Steve Nash is the host. 
The draft featured Hakeem Olajuwon, Michael Jordan, Charles Barkley and John Stockton. Any guesses on who the fifth Hall of Famer is?
Push play. Enjoy it. I did. 
THE TY FREEMAN PHOTO OF THE DAY 
We were supposed to start our travel basketball season tonight. The Georgia Cup I was scheduled to tip-off at 6 p.m. 
Today's picture is a look back to last year's Georgia Cup. I love these kinds of shots from Ty. 
We'll be back.