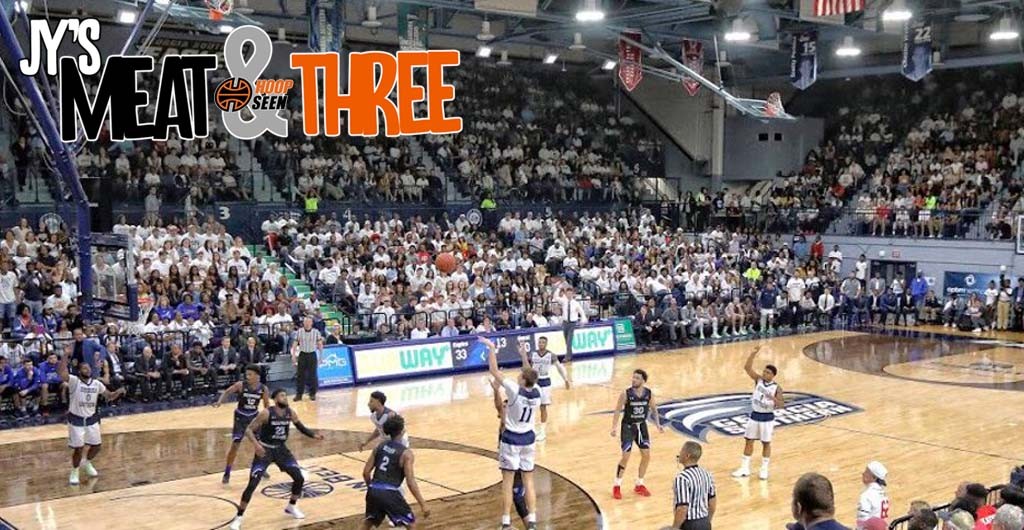 In today's edition of the Meat & Three, I offer up some thoughts on where Georgia Southern should start it's search for a new basketball coach, a game that I won't soon forget in Georgia from the HS season, some data that you're sure to like if you appreciate the Peach State and the pic of the day. 
THE MEAT: WHERE GEORGIA SOUTHERN SHOULD START THE SEARCH FOR A NEW COACH
Can you imagine trying to hire a new basketball coach in a time like this? 
Well, Georgia Southern is in that position. Mark Byington accepted the James Madison job after a strong seven years in Statesboro. The Virginia native had an opportunity to be closer to his roots and upgrade a conference and join a school with shiny new facilities on the horizon. 
Now the Eagles need to find a new head men's basketball coach. But first, Georgia Southern's new athletic director Jared Benko has to get to his office. This is his first go at the big chair of an athletic department. The 37-year-old Benko comes to Statesboro from Mississippi State. 
In a time where schools and universities are looking at lost revenue from sports and lack of students on campus, this is a challenging time for college athletics administrators. Now you throw in the fact that Georgia Southern hasn't been a school known for its basketball prowess in it's a 42-year history of hoops. 
Georgia Southern isn't an easy job. The program hasn't been to the NCAA tournament since 1992. The pay scale is on the lower half of the Sun Belt. 
Byington is the first coach in Georgia Southern history to parlay his work onto another Division I head coaching job. 
The Eagles have won 20 games or more for three straight seasons. The only time that has happened was in the late 1980s when Jeff Sanders and Michael Curry played for the Eagles before stints in the NBA.
Current associate head coach Andrew Wilson is a great place to start the search. Wilson, a Harrison High School and Florida State University grad, has been the right-hand man for Byington in Statesboro for the last seven years.
We've seen one simple thing for mid-major schools that has allowed success to sustain when a program goes through a coaching change - continuity.
There are numerous examples of programs that hire from within that maintain a high-level of basketball. Look at what Bob Richey has done at Furman. Look at what VCU has done. Look what Xavier has done. 
Keeping the roster intact may be the toughest thing to do in college hoops these days. Roster continuity is the secret sauce in an ever-changing game. 
If Wilson stays, so does the roster. All of the players are off campus right now, a situation that nearly every school is in. Communicating to current players is one of the most crucial things a coaching staff can do during this time of uncertainty.
During Wilson's time at Georgia Southern, there has been at least one All-Conference guy every year. A staunch recruiter of Georgia and Florida, Wilson is a well-respected coach among decision-makers in the talent-rich GA-FL recruiting area. 
Where should the Eagles start their search? Start from within. If there is ever a time to do it, now is it. And in this case, it is totally justified. 
THE THREE: What to know, what to watch and what to look back on
THE NOTE
I like a good trivia question. And I like numbers, especially the ones about winners. So, I went to the archives and wanted to see which programs in Georgia have been the most successful in the Peach State since 2000. 
Here is the list of state champions since 2000 from the state of Georgia: 
9: Wilkinson County
7: Miller Grove 
6: Wheeler 
5: Columbia, Greater Atlanta Christian, Norcross
4: St. Francis
3: East Hall, Greenforest Christian, Morgan County, Pace Academy, Whitefield Academy
2: Berkmar, Buford, Calhoun County, Dublin, Dunwoody, Hancock Central, Jonesboro, Langston Hughes, Mays, Milton, Mitchell Baker, Randolph-Clay, South Atlanta, SW Atlanta Christian, Taylor County, Tift County, Upson Lee, Wesleyan, Westlake
1: Aquinas, Brunswick, Carver Columbus, Chattahoochee, Cross Keys, Dougherty, Dutchtown, Eagle's Landing, Glenn Hills, Griffin, Jenkins, Sol C Johnson, Jordan, Laney, Liberty County, Manchester, Marist, McEachern, Meadowcreek, Mitchell Baker, Seminole County, South Gwinnett, Swainsboro, Therrell, Thomasville, Tri-Cities, Tucker, Westover, West Laurens, Woodward Academy
THE STREAM
Today's stream is a good one. One of the best games we had in the Peach State in the 2019-2020 season was the Grayson-Milton overtime thriller at the Jared Cook Classic. It was one of the best games of the season and one of the best guard pairings we saw in high school hoops nationwide with Devion Smith of Grayson taking on Bruce Thornton of Milton. Both were named to our HoopSeen 7A All-State 1st Team. 
THE TY FREEMAN PHOTO OF THE DAY 
This was scheduled to be our HoopSeen Tip-Off week around these parts. Our loaded event will be back, in some capacity and on a future date. We've got your back. Just hang in there. 
The Tip-Off stage has been something to behold over the years. We've seen stories start and stories continue on this platform over the years. 
Last year we saw the first event of what became a monster spring and summer for EAB's Keon Johnson. The future Tennessee Vol began his five-star run at the Tip-Off. He's written so many of his chapters on our HoopSeen stage. Johnson is, without any debate whatsoever, one of the 25 best players to ever play on our stage over the last decade. 
In this amazing picture from Ty Freeman, time stood still.