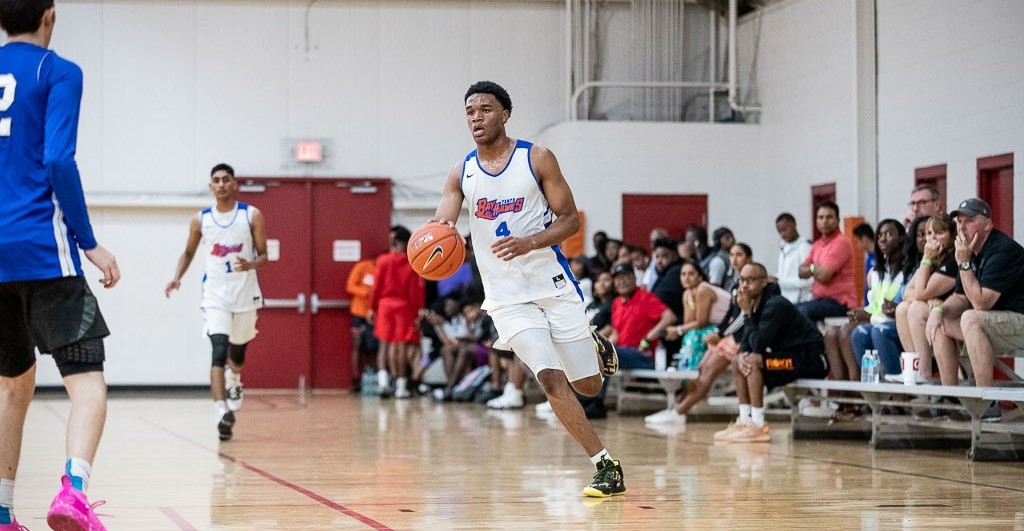 In this week's Just a Minute with Justin Young, we put a bow on our coverage from the National HoopFest in Tampa, revisit a special riser in Georgia's 2022 class and explore some post-season action in the Peach State. 
PUTTING A FINAL TOUCH ON THE ARS/RESCUE ROOTER NATIONAL HOOPFEST IN TAMPA
The best players I saw at the National HoopFest in Tampa were: 
Isaiah Cottrell, Huntington Prep (WV): The future West Virginia forward was great in the weekend that wasn't so great for the WV prep school. Cottrell scored 22 points a game, shot 20-28 from the floor and was three of six from three. He should be a day one producer in the Big 12 and, to be quite honest, is best incoming power forward for the league next season. We saw some good things from him on the offensive end of the floor in this setting. 
Selton Miguel, West Oaks (FL): Like I've said in past writings, I think he's going to be an All-Conference player for Kansas State. Miguel gets better every time I see him and he's proven himself to be threat in several categories. He's a scorer, passer and defender. Miguel has been as productive as any guard in the country this high school season. 
Anwar Gill, Montverde Post Grad (FL): The LaSalle bound guard played with a different level of toughness and got it done for his team in a rivalry game against the IMG Academy post grad. When it came to closing the gap and then taking over the lead, Gill was the guy who wanted to be the go-to option. He was the toughest player I saw at the event. 
Mike James, Oak Ridge (FL): We featured him in our One-on-One conversation. That's a justified spotlight. James looks even better from when we saw him at the Hoop Exchange Fall Festival. He's 6-foot-6 and one of the toughest players in the class of 2021 to defend from the wing to rim. James plays with a level of physicality that should translate well to the next level. 
Jerrell Colbert, Cornerstone Christian (TX): The five-star big man was the best long-term prospect at the Tampa version of the National HoopFest. The 6-foot-10 big man is what the modern-day big man is all about. He's good inside and out all the while being a presence as a rebounder. He reminded me, at times, of USC-bound Evan Mobley. 
The best-unsigned seniors I saw at the National HoopFest in Tampa were: Jordan Wood, Cornerstone Christian (TX), Keegan Harvey, Montverde Post Grad (FL) and Darius Miles, IMG Post Grad (FL). I wrote about all three in my Friday notebook. All three bring something different to the table. All three should warrant a deeper dive for college coaches looking to add talent to their rosters with the 2020 class. 
HI, MY NAME IS… 
Let's talk about D'Ante Bass for a second. I travelled to Savannah last week and had a chance to see the young forward in person. Let's just say he didn't disappoint. 
The 6-foot-7 forward is as bouncy and active of a rebounder that I can remember in some time from the state of Georgia. He's the best college prospect I've seen from my favorite coastal Georgia town since former UAB great Chris Cokely. 
Bass is a rebounding machine and one of the best long term prospects I've seen from the 2022 class. Looking at our initial list of players in the state from the sophomore group, he's probably going to be a top 10 guy and a player that draws some national attention. Check out our One-on-One conversation after his monster 21-point, 22-rebound outing in a win over Sol C Johnson. 
STAYING ON THE GEORGIA COASTLINE…
As we look ahead to the post-season in Georgia there are a number of seniors who stand out in bracket play. 
Camden County could be a team from South Georgia that just wrecks your bracket. Tucked away in Georgia's Region 1-7A, the Wildcats are out of sight, out of mind for the rest of Georgia's biggest classification. Like Tift County of year's past, Camden could be that squad in 2020 to make a run. 
One of the reasons why Camden County (20-5) could be a threat is the play of senior Kent Garard. He's a grinder, a tough guy and just a hard dude to stop on either end of the floor. 
Garard is posting 18.1 points, 9.8 rebounds and a 1.6 blocks and steals a game. Keep an eye on the 6-foot-5, 205-pound senior. He's one of those guys that could really make a huge push in the homestretch of the season. We saw a similar run from Americus-Sumter's Josh Lusane last year in the postseason. Lusane ended up at Campbell. 
ADMIN NOTES FOR THE GHSA POST-SEASON & BEYOND 
We are hosting our annual Senior Showcase camp on Saturday, March 14 at Suwanee Sports Academy. The camp is an 80-player, invite-only stage for serious college-bound senior hoopers. High school coaches, please send your nominations to jyoung@hoopseen.com. Please send me information about senior (background on the player, his academic status - GPA/Test Scores, and any other pertinent information). I'm currently in the process of sending out invites and sign-up links. 
Gathering the region tournament schedules is not an easy task to do in Georgia. So, Kyle Sandy has taken that upon himself and posts them to his blog. You can find it HERE. This is a massive help for anyone trying to navigate the state and the post-season. 
The state playoff brackets can be found HERE. 
The Georgia high school playoff locations for the state tournament Final Four are: 
7A: Buford City Arena 
6A: Buford City Arena 
5A: Fort Valley State 
4A: Fort Valley State 
3A: Valdosta State 
2A: Georgia College
Class A Public: Valdosta State 
Class A Private: Georgia College
Our HoopSeen stage is designed to provide the best exposure opportunities for top independent programs. Tons of coaches, social media exposure, and elite competition are some of what you'll find at our events. For more information on our 2020 events, visit our events page, or call our hotline at 470-266-8862.