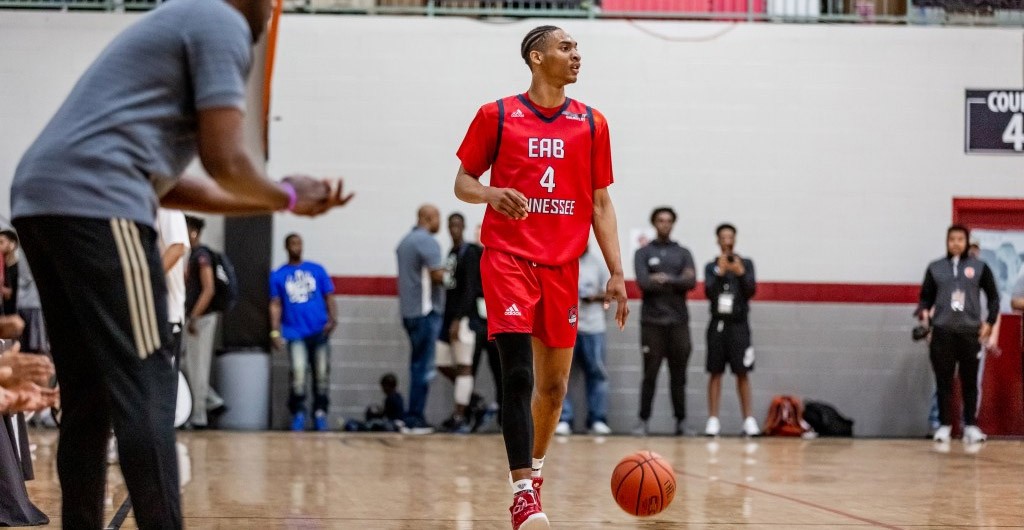 After a long two months of coverage on the road at some of the very best high school events in the country, our staff has been in the war room and reshuffled our class of 2020 rankings. 
These rankings don't come by happenstance. They are well thought out and actively debated and discussed internally. All rankings are subjective, especially player rankings. Sometimes you catch a player on a good day. Sometimes you catch him on an off day. That's just the nature of it. We didn't feel a need to go anything further than 65. What's the difference between 66 and 99? Not much.
Most every player was evaluated in person. When needed, we watched a player multiple times on film. That's the nature of it. But for the most part we watch players in person. 
WHERE WE WERE
With that said, we were at the following events in November and December: 

SWD Showdown (Decatur, GA)
Georgia Elite 8 Tip-Off (Powder Springs, GA)
Jared Cook Classic (Suwanee, GA) 
Hawks Naismith Tip-Off Classic (Atlanta, GA)
Sunshine State Tip-Off Classic (Fort Lauderdale, FL) 
Holiday Hoopsgiving (Atlanta, GA) 
Lighthouse Classic (Corinth, MS)
Hoop Hall West Classic (Scottsdale, AZ)
Charlotte Hoops Challenge (Charlotte, NC)
National HoopFest (Washington, DC)
Hawks Naismith Holiday Classic (Norcross, GA) 
Bojangles Bash (Columbia, SC)
City of Palms Classic (Fort Myers, FL)
Chick-Fil-A Classic (Columbia, SC)
John Wall Invitational (Raleigh, NC)
Pete and Jameer Nelson Play-by-Play Classic (Philadelphia, PA)
Beach Ball Classic (Myrtle Beach, SC)
Slam Dunk to the Beach (Lewes, DE)
Big South Classic (Atlanta, GA)
All-State Sugar Bowl Classic (New Orleans, LA)
National Hoop Fest (Memphis, TN) 
EXPLAINING THE TOP
Our top five has a shake-up. Cade Cunningham, the most versatile player in the class of 2020, remains at the top of the list. The future Oklahoma State guard is the pilot of the best high school team in the country. The native Texan has been our No. 1 guy for over a year and probably won't change by the time the players graduate from the class of 2020 and move onto the next chapter of hoops. 
From the number one spot, however, things change up. 
Jalen Green, the always-entertaining guard from Prolific Prep in California, comes in at No. 2. He dazzled on both coasts and everywhere in between this high school season. His game is about athleticism and scoring. And that translates so well into the pro game right now. That is why he comes in at No. 2 overall. Green is total offense in one of the healthiest offensive periods in the history of the game. 
At No. 3, we break the mold a bit here. Scottie Barnes, the always productive and versatile forward from Florida moves up in our rankings. He was ranked this high before. But then we overthought things. That happens. We've reset that train of thought and moved the future Florida State forward into the third spot. He was the MVP of the loaded City of Palms (for the second time in his high school career) and was as dominant of a player on the defensive side of the ball that we've seen in high school hoops. He's going to thrive in Leonard Hamilton's style of play. 
Evan Mobley is one of the very best players to ever sit at the No. 4 spot in national rankings. Believe that. And putting him there wasn't easy. He's certainly talented enough to be the number one player in the nation, as some national ranking services have him. The future USC forward is the modern-day big man. We saw him in action a couple of times this month and love how his game will project at the highest level. 
Another Californian moves up in this rankings update. Sierra Canyon's Ziaire Williams slides up to the No. 5 overall spot. The 6-foot-8 do-everything wing has some Tracy McGrady ability. He's not played a lot this season at Sierra Canyon due to transfer rules but we are catching glimpses at why he's the best available wing prospect in the nation. 
RANKINGS RISERS 
Keon Johnson, an all-time great on the HoopSeen stage, just keeps getting better and better. The Tennessee-bound shooting guard was outstanding at USA Basketball. And since then, he's becoming an absolute threat in the backcourt. He checks in at No. 12 overall, the highest ranking in the industry. (He's pictured above.) 
Future Florida wing Samson Ruzhentsev comes in a No. 22. The big wing for Hamilton Heights is a pro prospect. Don't anyone tell you he's not. He has been stellar all season long and a player that is registering with NBA teams. 
INSIDE THE NUMBERS 
Both California and Florida have nine players in our top 65. That's a 27 percent holding of the top 65 rankings. Now, not all of the players at the California or Florida schools are native to that state due to transfers, but that is where they are playing high school ball for their senior season. 
From there, Georgia comes in next with six inside the top 65. New Jersey and Virginia each have four. A host of other states have three players in the rankings. They include Arizona, Minnesota, New York and North Carolina. 
There are 17 total state represented in the top 65 national rankings. 
Of the top 65, only nine are uncommitted to a school. Of those nine, three are inside the top nine overall. They are - Jalen Green, Ziaire Williams and Greg Brown. 
Kentucky and Duke each have six players inside the top 65. That is 18 percent of the top overall players in the nation going to just two schools. 
The ACC will be home to 17 of these players inside the top 65. The SEC is next with 14 players. The Big Ten checks in with eight players while the Big 12 has five. The Big East and Pac-12 have four. The West Coast Conference has three, all going to Gonzaga. 
RELATED: 247 Sports Composite Rankings | 247 2020 rankings | Rivals 2020 rankings