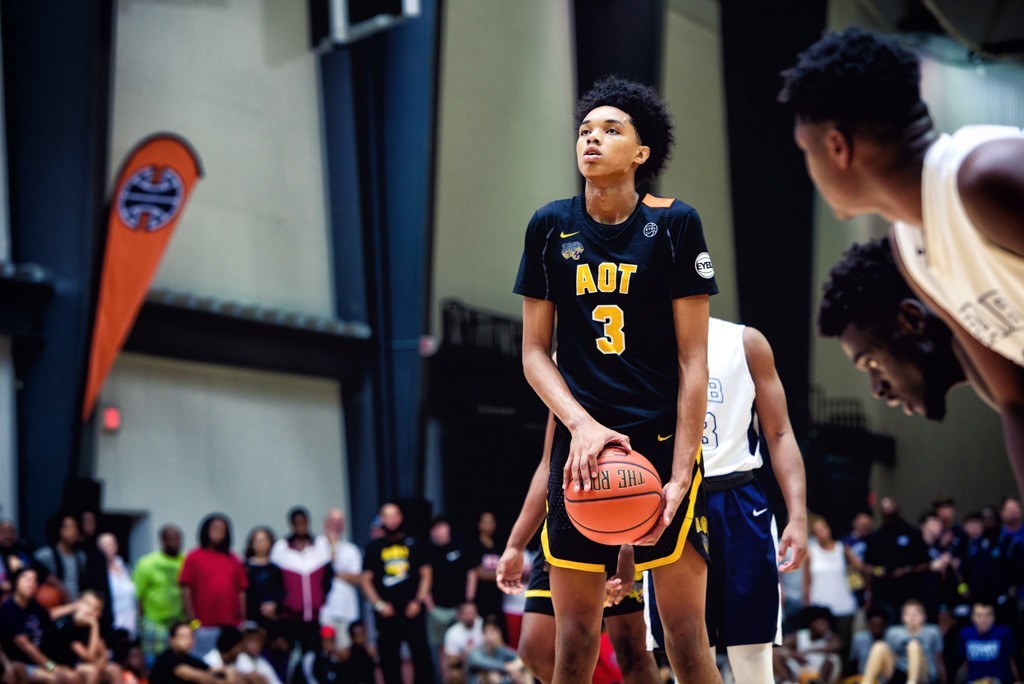 The high school basketball community has been keenly focused on the HoopHall Classic in Springfield, Mass. this week. So have we. And with that, the top of the class of 2020 is in full focus. 
SOME THOUGHTS ABOUT THE TOP OF 2020 PLAYER RANKINGS
The HoopHall Classic has been a terrific stage to see some of the very best teams and players in the nation. We've seen all of the top teams and players already in person and have had talked about the class quite a bit in this space and here on HoopSeen.com. So, bear with me as this topic gets revisited. 
There seems to be a conversation about who should be the No. 1 player in the nation at this point in the season. I'm a big fan of debate but this is a topic that I think is baked and finished. Montverde's Cade Cunningham has been our No. 1 player for a while now and that isn't changing. He's the ultimate pro-level prospect.
This season we've seen further development in his three-level scoring, including his perimeter game. But it is his passing and creativity that just continues to shine through. We don't see bad games from him. 
Moreover, you play to win the game. Right, Herm Edwards? 
Sometimes when I look at rankings - team or player - I have to always go back to Rule No. 1. https://t.co/J9zK8Izf7x

— Justin Young (@JustinDYoung) January 20, 2020
So, these won't change at the No. 1 spot. 
That leads me to this thought… Scottie Barnes is the consummate pro prospect in today's versatile, multi-positional NBA. The do-everything forward for Monteverde is one of the hardest players to guard and, arguably, the toughest player to play against in the class of 2020. The future Florida State player is No. 3 in our overall rankings. That's higher than the industry average. 
Montverde is stacked with talent across the board and the talent on the roster makes for a collective nightmare for opposing teams. The Eagles won again - staying undefeated - against IMG on Sunday night. Barnes played a big role in that. Will he rise in the upcoming national rankings? Hope so. No. 3 seems like a great spot. 
Jalen Green, our No. 2 overall player in the national stack, played like the future NBA All-Star and scoring leader contender. Corey Evans and I texted back and forth on Sunday night about Green. He was adamant about Green being No. 1. He wrote such an opinion today. Good debate from my friends at Rivals. 
Evan Mobley, the stud big man from Rancho Christian (CA) sits atop every rankings list from those who legitimately go out and see players year-round. The 6-foot-10 big man from USC is a special talent and sits at No. 4 in our list. 
But here's a thought for you hoop heads to marinate on… Can future Kentucky guard Brandon Boston be No. 4? You could argue he's been the best performing player in the class this HS season. And Sierra Canyon is playing an insane, nation-wide schedule. I think we need to have a more serious conversation about this very thing. Boston has been awesome. 
I think we lock players into a narrative after their junior year of travel ball. But guys get better - sometimes significantly better - in the back half of their senior season. And senior season improvements are highly valuable for the next two levels of hoops. 
Here's the takeaway - the class of 2020 is outstanding at the very top, so very good at the top. It is so very good. We talk about how unpredictable and sometimes we talk about just how bland college basketball is. 
The truth of the matter is this - we gauge college hoops on the talent level of the freshmen class. This incoming group is special and it has star power. Be patient. But get excited. Because when opinions of "who is the best" circle around the top of rankings, that means we have a great, perhaps amazing, next wave of players coming to college hoops. 
RELATED: Class of 2020 National Rankings
DREAM CHALLENGE UP NEXT 
Today's Just a Minute is a short one. I'm off to the Dream Challenge at Maynard Jackson High School in Atlanta. I'll have thoughts from that event this week. 
Today at Maynard Jackson. pic.twitter.com/U4WCYqHT0P

— Justin Young (@JustinDYoung) January 20, 2020