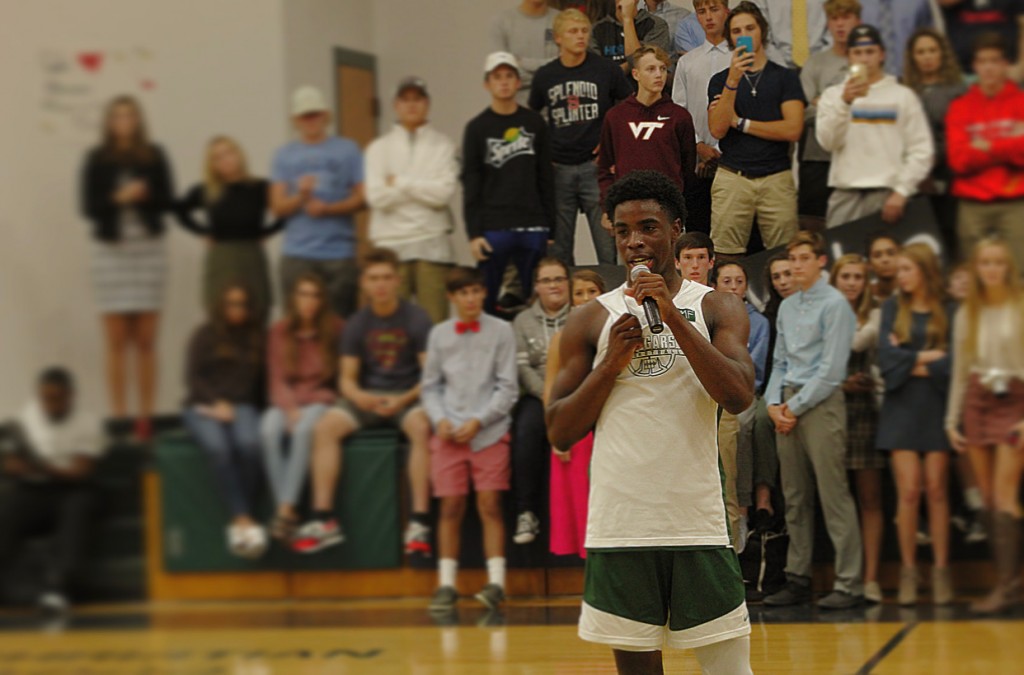 The college basketball season tipped-off last night and the high school season is starting up over the next two weeks. In this Carolina Corner we take a look at Iowa State's newest commitment, Fayetteville standout picks Ivy League school, a son's farewell game to his father and the HoopState in the NBA. 
 Dubar Picks Iowa State 
Former Charlotte standout Darlinstone Dubar who spent some of his high school career at Mint Hill (NC) Rocky River before transferring to Athens (TN) Prep and Greater Beckley (WV) just took an official visit to the Ames campus before deciding on the Cyclones. The 6-foot-6 Dubar was one of the most exciting players to cover during his time in Charlotte because of his raw athleticism and ability to play above the rim. Iowa State Assistant Coach William Small was the lead recruiters on this one and just keeps that Carolina connection going. Small helped secure Blythewood (SC) HS standout Tre Jackson a year ago. 
McLean Headed to the Ivy League 
Fayetteville (NC) Village Christian guard Zavian McLean committed to Columbia late last week. The 6-foot-4 McLean chose Columbia over Brown, Campbell and Dartmouth. "I want to be one of the best to ever do it, both on the court and off the court. When it is all said and done, I want people to look back 10, 15, 20 years from now and I want them to say, how did we miss this kid." 
One Last Game
KJ Garrett's father, Kevin Garrett, bought his son dribbling goggles at a young age to improve his ball-handling, that KJ said he hated. "He taught me how to shoot, he also coached three of my recreational league teams when I was younger. He was the head coach of my first and second year of rec league and was an assistant with Carolina Preps." 
Kevin and his wife were told they would never be able to have children, but after 7 years their "miracle son" was born. Kevin made it home from Operation Iraqi Freedom with 30 minutes to spare before KJ's birth. 
Kevin is a retired major from the National Guard and was deployed to Operation Iraqi Freedom. He taught JROTC at Greensboro (NC) Grimsley High School and was an athlete himself, playing football in high school.
KJ is a standout junior guard at High Point Christian Academy and has already picked up two offers, New Hampshire and North Carolina A&T. 
Kevin has stage 4 Urachal cancer. Like many of you I was unaware what Urachal cancer was, KJ's mother informed me it is a cancer of the umbilical cord that occurs in roughly 1 in 1 million people. Kevin has been battling it for five years and doctors have only given him days to live.
High Point Christian Academy and Caldwell Academy agreed to play a scrimmage game on Monday night so that Kevin could see his son play one last time. Kevin wasn't able to make it to the game because the cancer has spread to his intestines. The doctors have started him on pain medication until he drifts into sleep as peaceful as possible. So Kevin watched some of the game from his phone as students and fans streamed the game. 
KJ scored 30 points KJ wore a patch on Monday with FMF on it. "For my Father." While playing I was just trying to make him happy, hit the top-of-the-key jump-shot that we have been working on since I was five. After the game KJ headed straight to the hospital. "It put a joy in my heart seeing him smile even though he wasn't at the game, I felt his presence." 
As a promising athlete, KJ will continue to play for the rest of his career with his father's memory with him in his heart and on a patch. 
Waverly Picks Up UNC-Greensboro Offer 
6-foot-3 guard Javonte Waverly of Henderson (NC) Collegiate helped lead his team to a state championship game appearance last season and his work over the summer and fall has landed him an offer from Wes Miller and UNC-Greensboro. The junior doesn't get caught up in changing his pace of play. He is one of the smoother guards I have seen this year and let's the game come to him. 
HoopState in the NBA 
Running through some of the top performers and some new names doing some work at the NBA level from the HoopState. 
It's been an unbelievable start to the NBA season for Kinston native Brandon Ingram. The New Orleans Pelicans forward is averaging 25.9 points per game and had a career high 40 points last night. 
Havelock (NC) alum Kyran Bowman is making the most of the Stephen Curry injury situation for The Golden State Warriors. He is averaging 7.4 points per game while playing almost 20 minutes per game. 
Former Raleigh (NC) Broughton standout Devonte' Graham is averaging 17.3 points per game for Charlotte and is doing so while playing 31 minutes per game. He scored a career-high 35 points last night. 
Caleb and Cody Martin who spent their senior season at Mouth of Wilson (VA) Oak Hill Academy after a standout career at Davie County (NC) HS are both on the Charlotte roster this season. Caleb is getting 9.5 minutes a game is averaging 2.0 points. Cody is averaging 11 minutes and 1.8 points per game.